Beloved American rapper Mac Miller is known for songs such as '2009' and 'Grand Finale,' but what was the original song the kickstarted his career?
Mac Miller was such a prolific musician that it's near impossible to pinpoint his first song; he began rapping at 14 and has dozens of unreleased songs and mixtapes. However, his first hit song was 'Kool Aid & Frozen Pizza' in 2010, and he released his first mixtape, 'But My Mackin' Ain't Easy,' in 2007. 
The fact that it is so difficult to pinpoint precisely when his career began is a testament to the musician's passion for his craft, and his prolific discography is another reflection of this.
Early Mixtapes
Mac Miller, born Malcolm McCormick, was a self-taught musician, and by the time he was 15, he was well-known in the local Pittsburgh rap scene. He released his first mixtape in 2007, 'But My Mackin' Ain't Easy,' under the stage name Easy Mac.
He also collaborated with fellow Pittsburgh native Beedie to form The Ill Spoken; the collaboration between the two musicians resulted in a mixtape called 'How High.'
By 2009 he settled on the name Mac Miller and released a couple more mixtapes, 'The Jukebox: Prelude to Class Clown' and 'The High Life.' A year later, he had a record deal with Rostrum Records; he released three mixtapes during this time in addition to two full-length studio albums.
The three mixtapes were 'K.I.D.S.' which stood for "Kickin' Incredibly Dope Shit" and was inspired by the 1995 film of the same name, 'Best Day Ever' which featured the song 'Donald Trump' and kicked off a feud between the two, and 'I Love Life, Thank You' which he released after gaining one million Twitter followers.
Discography
Mac Miller's first studio album with Rostrum Records was 'Blue Slide Park' in 2011. It debuted at the top spot on the Billboard charts and received mixed critical reviews.
His sophomore album was 2013's 'Watching Movies with the Sound Off,' which showcased an evolution in Mac Miller's musical style, debuting a more introspective lyrical style. Music review website Pitchfork described the album as a "quantum leap in artistry."
Mac Miller then left Rostrum Records and signed with Warner Brothers. Soon after, he released his third studio album, 'GO:OD AM.'
'GO:OD AM' features the track '100 Grandkids,' which is split into two parts; in the first part, Mac Miller promises his mother grandchildren, and in the latter, he raps about making his first 100 grand. Critics praised the album, saying it demonstrated a continuous evolution in Mac Miller's sound.
Mac Miller followed 'GO:OD AM' up with 'The Divine Feminine' in 2016. The album charted at number two on the Billboard 200 and featured the single, 'My Favorite Part,' with fellow musician Ariana Grande.
He also released a music video for the song starring him and Ariana Grande, with whom he had a relationship, that features them singing in their separate apartments after a chance meeting in the rain.
Mac Miller's fifth album was 'Swimming' in 2018, which Rolling Stone described as "a continuation of 2016's 'The Divine Feminine,' with a silky, deep vibe redolent of the L.A. alternative soul scene."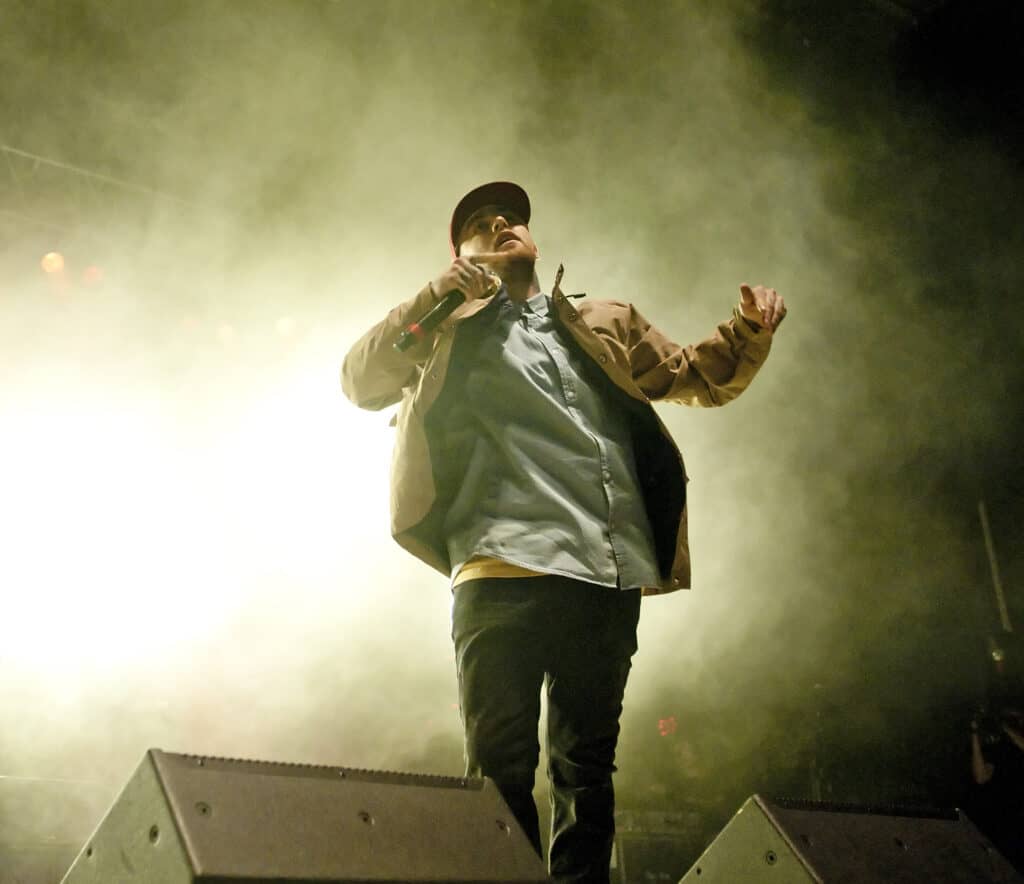 Tragically, it is impossible to know where Mac Miller's ever-evolving sound would have gone next, as he died a few months after the release of 'Swimming.' His career often felt like a long progression, with Mac Miller continually improving and building on his artistry; it was cut short before this progression could be fully realized.
In 2020 the album 'Circles' was released posthumously to widespread acclaim. According to The New York Times, he had initially planned to record a trilogy of albums, with 'Swimming' and 'Circles' being the first two and the third album being a "pure hip-hop record," according to producer Jon Brion.
In addition to all these albums and mixtapes, Mac Miller has tons of unreleased songs and early projects floating around the internet – he was a prolific musician driven by his passion for the art form.
Mac Miller leaves behind a legacy of growth and someone striving for self-improvement. His lengthy discography is a clear statement of his efforts and his love for music.
Mac Miller said it best in a Vulture interview.
"The people that have the best chance of knowing me, that would like to, would just be by listening to my music."