A multi-time Grammy Award winner, Miranda Lambert is one of the most popular singers in country music today. What was Lambert's first song?
Miranda Lambert's first studio single was 2004's "Me and Charlie Talking", co-written by herself, her father, and singer-songwriter Heather Little. She independently released an album prior to this, "Miranda Lambert", so that album's first song "Somebody Else" could also be considered her debut.
For more on Miranda Lambert's early life and how she broke into the music industry, read on.
Growing Up
Miranda Lambert was born in Longview, Texas on November 10, 1983. She is the daughter of Rick Lambert and Bev Hughes and was named for her great-grandmother, Lucy Miranda.
Lambert's parents met while her father, a former Dallas police officer, was working as an undercover narcotics officer at Southern Methodist University. At the time, her mother was studying at SMU and the two became a couple a few years later.
Rick also played in a country-rock group, the appropriately named Contraband. Lambert, who has Irish and Native American ancestry, also has one younger brother.
Rick and Bev became private detectives and worked on the Clinton impeachment. The family endured difficult times after an oil crisis damaged the Texas economy.
As the economy recovered, so did circumstances for the Lambert family. They founded a ministry, offering their home as shelter for people affected by domestic abuse.
Early Music
Surrounded by music from an early age due to her father's passion for the guitar, Lambert was a keen singer. While in high school, she sang with "The Texas Pride Band" and as part of the house band at the local Reo Palm Isle venue in her hometown.
When she was 16, Lambert performed at the Johnnie High Country Music Revue talent show in Arlington, Texas. Displaying obvious talent, she was granted a recording session in Nashville, Tennesse but felt she was asked to sing pop music rather than the genre of country music she enjoyed.
When she returned home to Texas, Lambert asked her father to teach her to play guitar, enabling her to write music independently. With this expanded set of skills, she began writing her debut album.
Lambert's first album, "Miranda Lambert", was self-released on September 21, 2001. The album featured 10 tracks and, although it was not a major-studio release, the first song, "Somebody Else", could be considered Lambert's debut.
The album helped raise Lambert's profile locally and she performed as a supporting act at various venues around Texas.
She successfully auditioned for the first season of "Nashville Star", a music talent competition, which aired in 2003. Lambert ultimately earned third place in the competition, behind John Arthur Martinez and winner Buddy Jewell.
Despite not winning, Lambert impressed show judge Tracy Gershon, who was also an executive at Sony Music. Gershon convinced her colleagues at the label to sign Lambert.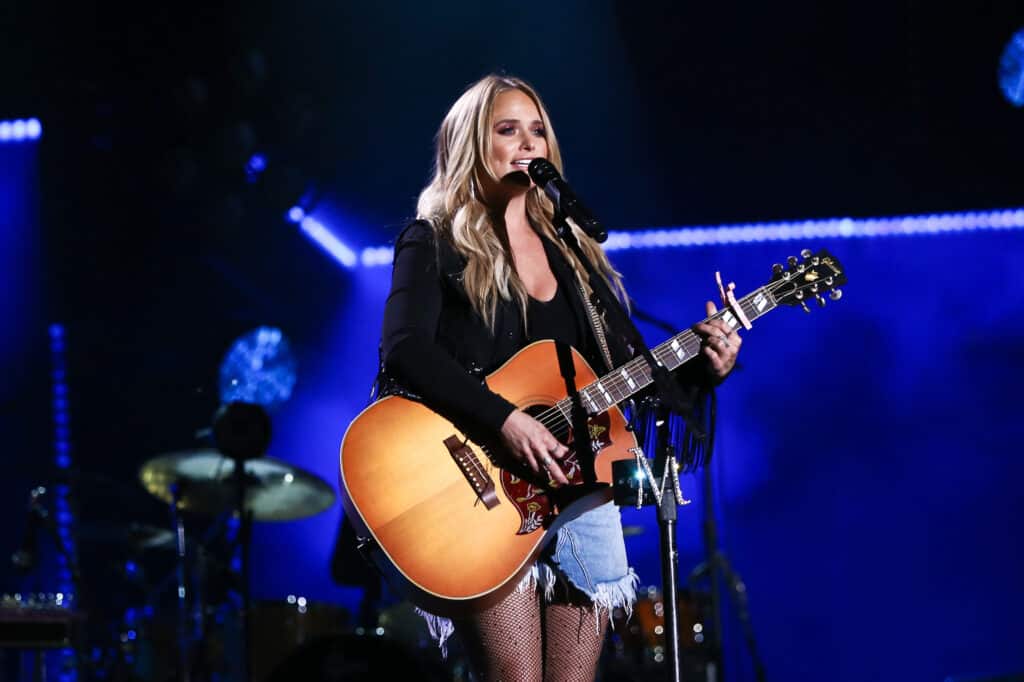 Studio Releases
Lambert signed with Sony's Epic Records label and set to work on creating her debut major-studio album. The album, "Kerosene", was largely written by Lambert, with the singer receiving a writing credit on all but one of its 12 songs.
The album's lead single was released on October 23, 2004, about five months before the release of the album itself. "Me and Charlie Talking", written by Lambert, her father, and singer-songwriter Heather Little, is considered Lambert's true debut single.
The song reached number 27 on Billboard's Hot Country Songs chart but was overshadowed by the album's title track, "Kerosene". "Kerosene" reached number 15 in the country chart and number 61 on Billboard's main Hot 100 chart, making it the album's best-performing track.
Despite struggling to produce successful singles, the album as a whole enjoyed much stronger sales. It debuted at the top of the Billboard Top Country Albums chart and eventually granted a Platinum certification from the RIAA, signifying that it has shipped more than a million copies.
Since these early releases, Lambert has gone on to enjoy much greater success. As of 2020, she has topped the Country Albums chart with all seven of her albums and even had a number one on the main Billboard 200 chart with 2014's appropriately named "Platinum".
"Platinum" received widespread critical acclaim and earned Lambert her first Grammy Award for Best Country Album, cementing her place as a future country music icon.