'So What,' P!nk's a rockstar – but what was her first song?
Pink's debut single was the song 'There You Go' in 2000. The song was also her first hit single that peaked at number seven on the Billboard Hot 100. 
Since then, Pink has released countless hits for people to adore and has cemented her icon status as a powerful singer and songwriter.
Early Career
Pink, whose real name is Alecia Beth Moore and whose stage name is sometimes stylized as P!nk, got the inspiration for her moniker from the Quentin Tarantino movie 'Reservoir Dogs.' In the film, actor Steve Buscemi plays the role of Mr. Pink, who in her words, "the one with the smart mouth."
Pink had roles in some ultimately unsuccessful girl groups called 'Basic Instinct' and 'Choice,' respectively, but they disbanded without releasing albums. L.A. Reid of LaFace Records then asked Pink to go solo instead, and she agreed.
She signed a record deal with LaFace Records, who have also represented artists like TLC, OutKast, and Usher.
Soon after, they released her debut album, 'Can't Take Me Home,' which was certified platinum in the United States, the United Kingdom, Canada, and went double-platinum in Austrailia.
Then came 'Lady Marmalade.' Pink collaborated with Christina Aguilera, Mya, and Lil' Kim to cover the 1974 song 'Lady Marmalade' for an upcoming movie, 'Moulin Rouge!'
It was a massive hit.
In the era when MTV would air music videos on television, the song's accompanying eye-catching music video of the four musicians in burlesque outfits garnered huge blocks of airtime. Pink herself compared the video to a "circus on acid."
The song became Pink's first number one hit single. She would continue to do great things, including releasing seven more albums and getting a star on the Hollywood Walk of Fame.
Standout Songs
Pink has an extensive discography, but there are a few choice songs that stand out. In a 2017 interview with Vulture, she chose five songs out of her entire discography that she considered 'the best.'
Notably, she chose the song "I Don't Believe You,' from her 2008 album, 'Funhouse,' which she penned about mending her marriage with professional motorcyclist Carey Hart.
Pink said of the song, "It's the first time I've ever given my power away. It's very vulnerable saying, 'I don't believe that you don't want me anymore.' It's a very vulnerable thing for an alpha dog to sing. I had to swallow my pride."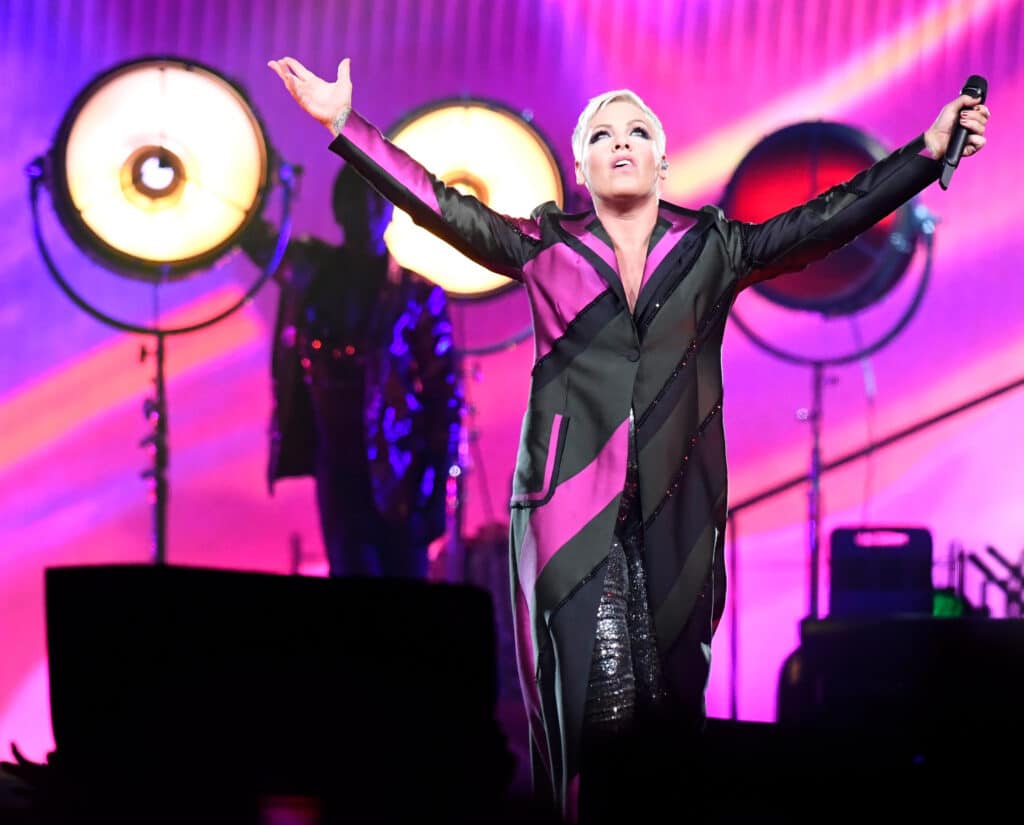 She also picked a 'Family Portrait' from her sophomore album, 'Missundaztood.' She said that penning the song was a cathartic experience for both her and her family, adding that "There were a lot of tears for many days; it was like picking up the rug and getting the dust out. Really just ripping the band-aid off.
Pink's ability to craft emotionally-driven ballads and balance them with rock has given her a varied discography running the gamut from early-2000s party anthems like 'Get the Party Started' to more serious fare such as 'Please Don't Leave Me.'
Thankfully, Pink does not keep her songwriting talents all to herself. She's written songs for other musicians as well, such as the song 'Outside of You' for Hilary Duff, 'Recovering' for Celine Dion, and 'Whataya Want From Me,' which was one of American Idol runner-up Adam Lambert's most successful songs.
However, out of all Pink's songs, there should be one that stands out as the most successful, right? Well, it's complicated.
'Just Give Me a Reason' off her sixth studio album was her most streamed song, with 70.2 million listens and 259,000 downloads. However, her collaborative cover of 'Lady Marmalade' counts as the most physical album copies sold, in addition to being her biggest chart-topper.
In a 2002 interview with Rolling Stone, they asked Pink how she wants to be viewed by listeners. She answered, "I'd like people who never thought they'd listen to a Pink album to be enlightened about how an artist can take control of her life, do what she wants, and f*ckin' break the mold and be successful."
Some odd decades later and Pink has proven to be a talented singer and songwriter who can span multiple genres with ease. She certainly did break the mold.