Brothers Aaquil and Khalif, the two partners-in-crime that formed hip-hop duo Rae Sremmurd, have been making music together since long before they went under that banner. Although they've created music both individually and on other lesser-known projects before their work as Rae Sremmurd, which song was their debut under the new moniker?
Rae Sremmurd's first song was "No Flex Zone", released as a single for the then-upcoming album SremmLife. They were discovered before this from their work on a promotional single, but "No Flex Zone" was their first official release.
Surprising for their age, both Aaquil and Khalif have had quite the journey in their music-making history, going through multiple name changes and group lineups in their attempt to find their sound and style.
The combination of that experience and the right partnership with fellow producer and rapper Mike Will Made It, gave way to their first single. That single reaped the rewards of years of hard work and managed to give Rae Sremmurd their first taste of success.
Previous Works
You might know them as Slim Jxmmi and Swae Lee from their work in Rae Sremmurd, but the two brothers have been putting their time into the hip-hop world since long before they chose those names.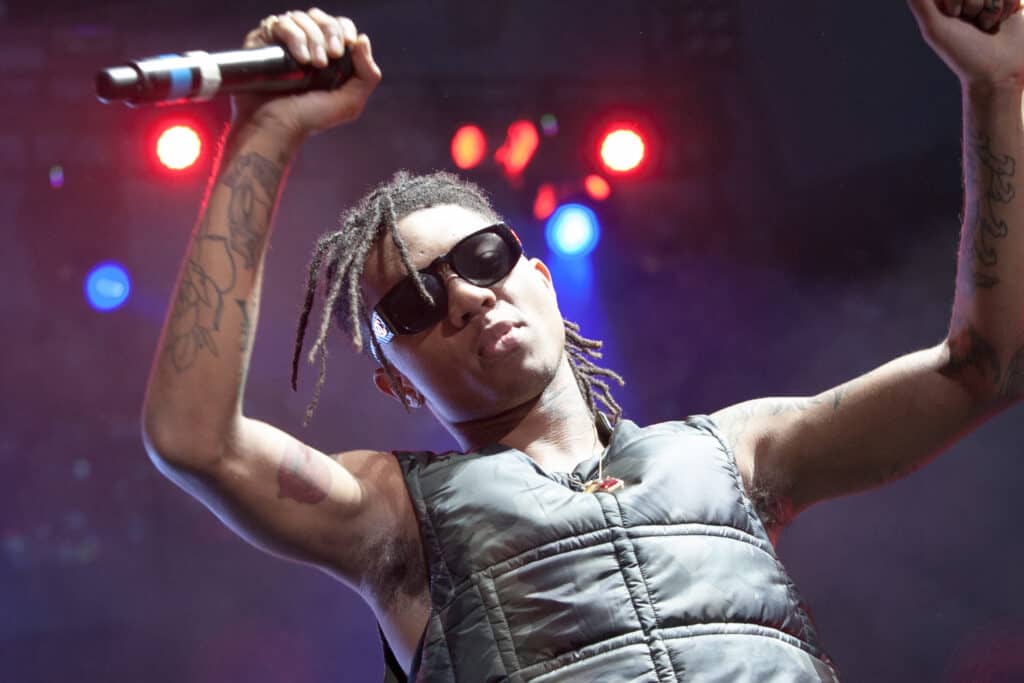 The pair were already experimenting with the creation of music alongside a passion for singing and writing music as children, but it was at the age of 10 that the event that could be seen as the catalyst for their future success happened. After seeing someone making beats using Fruity Loops, a powerful music production suite, the two were set upon their path of making rap.
Seemingly far out of reach of the fame of Rae Sremmurd, their first step on the road to success was to form a hip-hop group with like minded Jemiah Middlebrooks, a boy from their local neighborhood where they lived at the time. The group was called "Dem Outta St8 Boyz", possibly a reference to the fact that they had moved so often and so far from their home state of California.
Pouring all of their time, money, and effort into getting their music career off the ground finally culminated in the production and release of their first-ever single as Dem Outta St8 Boyz, the track "Party Animal".
Although it wouldn't be destined for the charts, or for any kind of global renown, they had managed to garner some fame by getting airtime on local radio. The song was infectious, and soon they had started to build up a solid fanbase in their area, managing to claim multiple unexpected groups as fans thanks to clean lyrics and a kind of catchiness usually reserved for chart toppers and larger studios.
Meeting Mike Will Made It
Their local achievements continued to grow, as they were managing to reach more and more of an audience with their tracks, albeit still within their local area. Their continued work up until this point had one extra benefit to it, however, which was the fact that they made a connection with future record label executive and producer Mike Will Made-It.
The group was put in touch with another artist who was working together Mike Will Made It under his record label. The road to finally getting a contract wasn't an easy one and was lined with numerous ups and downs, including financial difficulties and no easy to access recording arrangements.
They were, however, just on the cusp of releasing their first single. Having already signed to Mike Will Made-It's "Made-It Mafia" label, the duo had been continuing to perform in shows whenever they got the opportunity and working on future music.
Eventually, in a moment of synchronicity, Mike finalized the founding of his new label together with Interscope Records, which also prompted Aaquil and Khalif to adopt a new stage name commemorating the fact that they were the first artists to be signed. Dem Outta St8 Boyz became Rae Sremmurd, a reversal of the newly formed record label they had just been signed to, EarDrummers.
It was shortly after this, at the South by Southwest music festival, that "No Flex Zone" finally got to debut to a live audience, a full two months before the single was released. Their first song as Rae Sremmurd, and the first song to usher them onto the stage, both literally and figuratively into the world of mainstream music.