Robin Thicke shot to international fame in 2013 with his controversial hit single "Blurred Lines". What was Thicke's first song?
Robin Thicke's first single was "When I Get You Alone", released on August 27, 2002, from his debut album "A Beautiful World". The song failed to appear on any of Billboard's charts, but Thicke greatly surpassed this with later releases.
For more on Robin Thicke's career in music and his first song, read on.
Growing Up
Robin Alan Thicke was born in Los Angeles, California on March 10, 1977. Thicke came from a show business family: his father was Alan Thicke, an actor, and composer, and his mother was Gloria Loring, an actor, and vocalist.
Thicke discovered a passion for singing at an early age, growing up in the LA suburbs. He recorded a demo when he was 14 years old and it was heard by R&B legend Brian McKnight.
McKnight saw potential in the teenage singer and took him under his wing, earning Thicke the nickname "Brian McWhite". McKnight used his music industry connections to help Thicke get a recording contract with Interscope Records.
Early Work
Though Thicke's ambition was to become a performer, he achieved most of his early success as a songwriter. In the 1990s, he contributed to the writing of songs for Christina Aguilera, Brownstone, Mya, and Marc Anthony, among others.
He also wrote most of Jordan Knight's self-titled album "Jordan Knight" in 1999. While making his living as a songwriter, Thicke continued working on his debut album, "Cherry Blue Skies".
Advance copies of the album circulated in 2002 but either Thicke or the label or were dissatisfied, shelving the album before making significant alterations, including its title. The newly named "A Beautiful World" featured actress Paula Patton, Thicke's future wife, on the cover.
The album was released in 2003 and was largely unsuccessful, peaking at number 152 on the Billboard 200 albums chart. Its lead single, "When I Get You Alone", achieved some success internationally, hitting the top ten in New Zealand, the Netherlands, and Belgium.
"When I Get You Alone" was Thicke's debut single, released on August 27, 2002. The song samples Walter Murphy's instrumental "A Fifth of Beethoven". Despite its international success, it failed to chart on any of the US Billboard charts.
Thicke would have to wait a few years for his next shot at stardom. He began working with the Neptunes, who signed him to their Star Trak Entertainment label, a subsidiary of Interscope.
He released his second studio album, "The Evolution of Robin Thicke", in October 2006. The album was far more successful than his first, peaking at number 5 on the albums chart and finally establishing Thicke as a successful recording artist.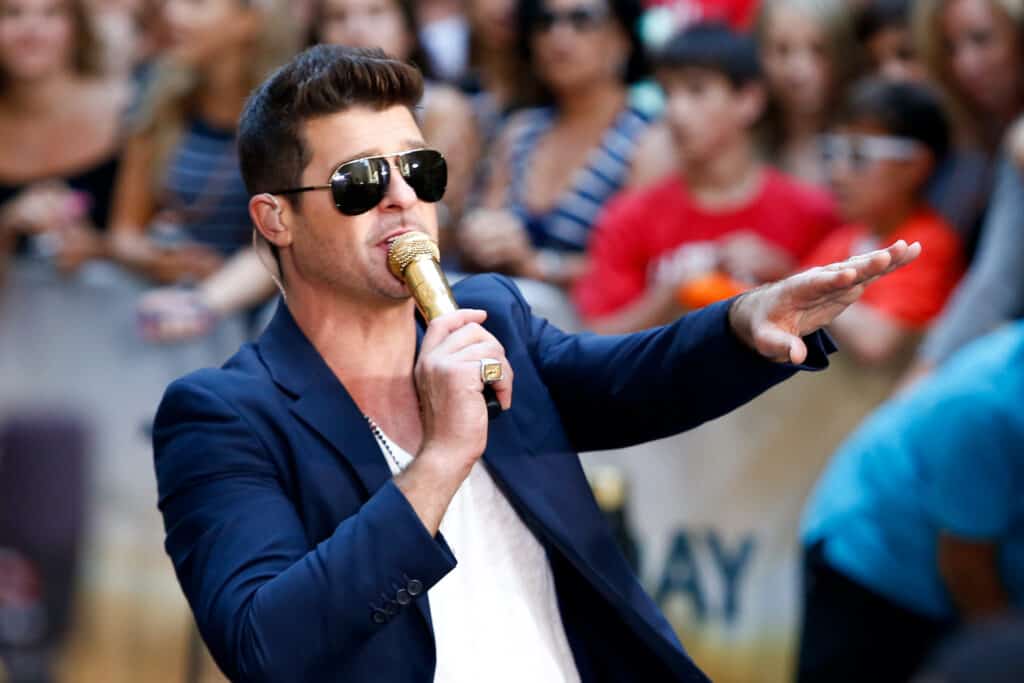 The album also provided his most successful single to date, with "Lost Without U" peaking at number 14 on the singles chart and topping the R&B songs chart. The album would eventually go platinum, a sign that Thicke had become a star.
The success of this album marked the beginning of a lengthy run as a respected singer. Thicke, who was always heavily influenced by the music and style of the 1970s, has often displayed a sense of self-awareness and been willing to poke fun at himself.
His next album, "Something Else", peaked at number 3 on the albums chart, a sign that Thicke was continuing to move closer to topping the charts.
Blurred Lines
Thicke achieved his greatest notoriety and sales in 2013 when he collaborated with Pharrell Williams and T.I. to create "Blurred Lines". The song's drumming was heavily inspired by Marvin Gaye's "Got to Give It Up", to the point that a federal jury decided that Gaye must receive a posthumous songwriting credit.
Both the song's lyrics and its video proved to be controversial. Its critics claimed that the song was misogynistic and promoted date rape, leading to some institutions in the UK banning it, including university campuses.
Its video, featuring models Elle Evans, Jessi M'Bengue, and Emily Ratajkowski, was also criticized for featuring the women topless and for its questionable subject matter.
The controversy did nothing to discourage sales, peaking at number one in at least 25 countries. "Blurred Lines" became Thicke's first chart-topping single and was the best-selling single of 2013 in the United States.
The single has gone on to sell more than 14 million copies, also making it one of the best-selling singles of all time.