If you're trying to romance someone, Usher's music is most people's go-to – but how did the 'My Boo' icon get his start in the music industry?
Usher's debut single was 'Call Me a Mack' on the soundtrack to the 1993 film 'Poetic Justice.' It was also released on its own in 1996.
Since 1993 Usher has released scores of songs that have won the hearts of fans around the world, and his career has evolved into one of the most successful musical careers of all time.
'Call Me a Mack' and Early Career
Although he was relatively unknown at the time, Usher featured on the 'Poetic Justice' soundtrack in a move that helped kickstart his career. The romance film, which co-starred Tupac Shakur and Janet Jackson, had a soundtrack that featured big names in the music industry, including 2Pac himself, Stevie Wonder, and TLC.
The music video to Usher's song 'Call Me a Mack' features some amazingly 90s fashion sense, a 14-year-old Usher sitting in the backseat of a car as he was too young to drive, and clips from the film 'Poetic Justice.' Needless to say, it is a fantastic piece of R&B musical history as the debut of an artist that would become one of the industry's most beloved.
The song itself peaked at #56 on the Billboard charts. Although his debut song didn't do massive numbers on the charts, Usher's success was just beginning.
Usher had signed with LaFace Records but quickly ran into a huge challenge – the young star's voice was changing due to puberty, and he completely lost his voice. Although they considered dropping him from the label, this thankfully didn't happen.
In an interesting turn of events, this is why the young Justin Beiber was not dropped from his label when his voice changed; Usher had gone through a similar experience and rooted for the budding pop star.
Instead, the label sent Usher to live with Sean 'Puff Daddy' Combs to learn the ins and outs of the music business. Puff Daddy eventually co-executive produced Usher's self-titled debut album.
The rest is musical history.
Discography and Accolades
Although 1994's 'Usher' was not a huge success (fans had a difficult time listening to a 15-year-old sing songs with explicit content), it paved the way for Usher in the music industry.
Usher's second album, 'My Way,' was well-received.
Usher released 'My Way' in 1997. The album included the singles 'You Make Me Wanna…' and 'Nice & Slow.'
'Nice & Slow' peaked at the number one spot on the Billboard Hot 100 charts in 1998, and Usher began gaining a larger fan following. 'You Make Me Wanna…' won Best Male R&B/Soul Single in 1999's Soul Train Music Awards.
Usher was on his way to musical stardom, and he was doing so his way.
Usher's third album was released in 2001. '8701' featured the ballad 'U Remind Me,' which won Usher a Grammy Award for Best Male R&B Vocal Performance and arguably cemented him in the hearts of fans everywhere.
He was on a roll, and there was nowhere to go but up. 'Confessions,' Usher's fourth album, came out in 2004.
'Confessions' sold over a million albums in its first week alone. In a 2004 interview with Rolling Stone, he spoke about his high-profile breakup with TLC's Rozonda 'Chilli' Thomas, what his childhood was like, and how he handled fame.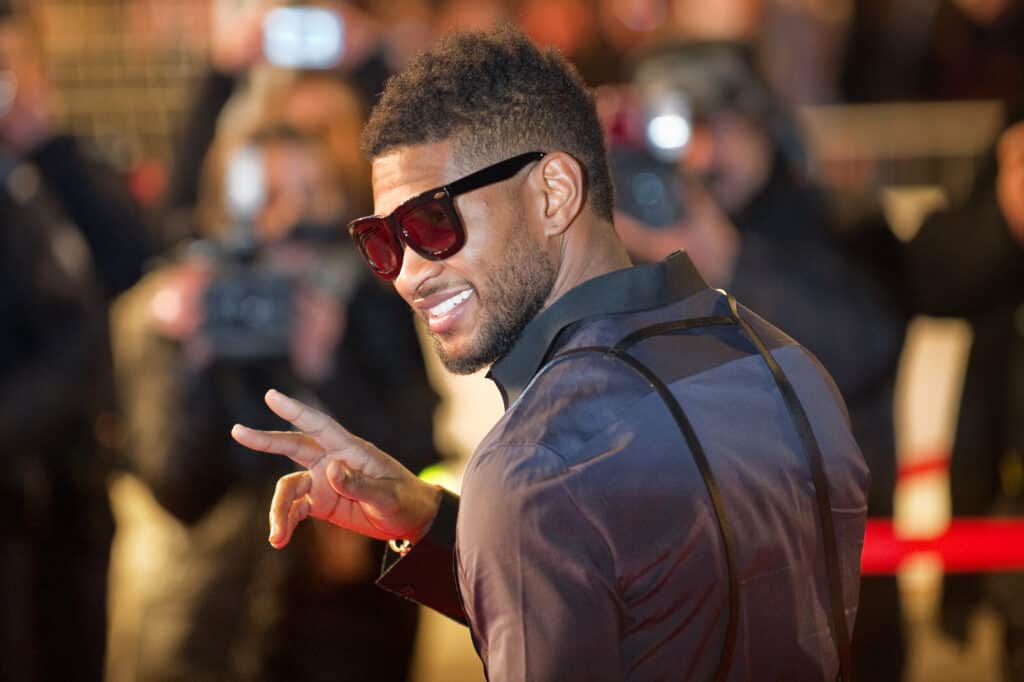 "I see millions of albums, huge houses, much prosperity — I'm going to be one of the richest [people] in the world," he said in 2004. The interview was titled 'Usher's Wild Ride,' but they had no idea what was to come.
Usher released five more albums; 'Here I Stand,' 'Raymond V. Raymond,' 'Looking 4 Myself,' 'Hard II Love,' and 'A,' which was a collaboration with Zaytoven.
In 2019, Billboard ranked Usher at number 14 on their list of the 100 greatest artists of all time. Usher has won eight Grammy Awards and has an approximate net worth of $180 million.
In addition to his musical successes, Usher has also appeared in several movies and television series, notably as a judge in the competitive singing show 'The Voice.' He also, hilariously, appeared as a guest star in an episode of the sitcom 'Parks & Recreation.'
Usher is – to put it simply – a cultural icon. There's no doubt that he will continue to release hits that will have everyone shouting, 'Yeah!'