Edward Lodewijk Van Halen was a Netherlands-born American guitarist and singer who was best known by his stage name, Eddie Van Halen. Nicknamed 'The Guitar God', he was a phenomenal guitarist as well as a loving father, brother, and husband whose death deeply saddened his fans and many musicians around the world.
Eddie Van Halen's last words have not yet been revealed by the family members who were present at his Saint John's Health Center bedside. However, his last words on social media were "Happy birthday Al!!" to celebrate his brother and former bandmate's birthday.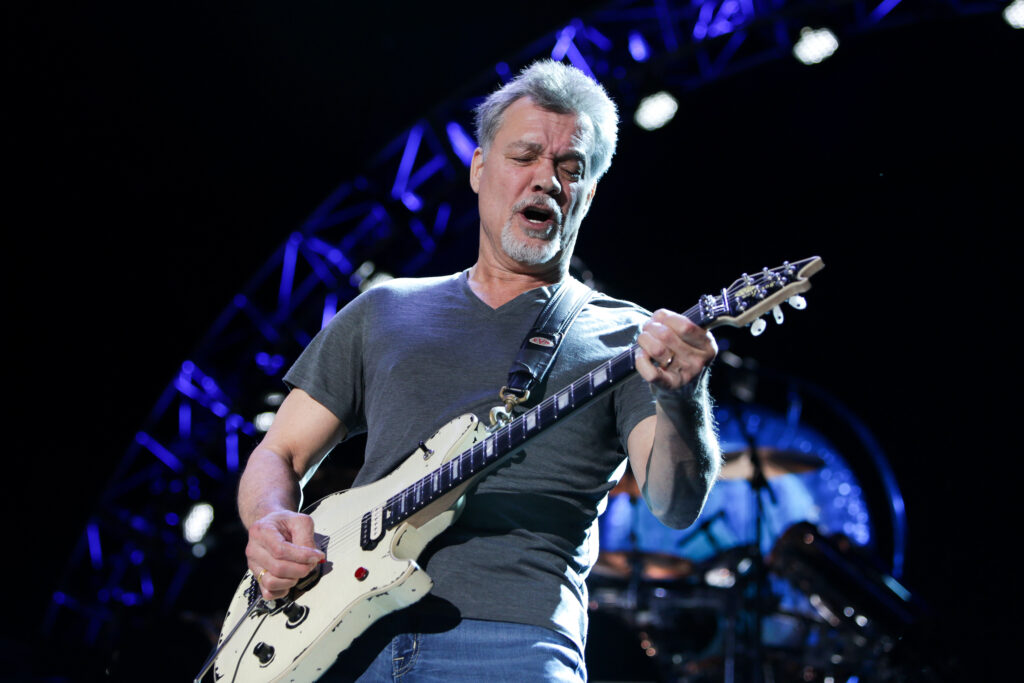 On 6 October 2020, the rock world lost an icon, an innovator, and an incomparable talent. Let's take a closer look at Eddie Van Halen's last words, his last post to social media, his death, and how his life has impacted so many others.
Eddie Van Halen's Death
It's no secret that Eddie had spent most of his life battling drug addiction and alcoholism and his unhealthy lifestyle took a major toll on his body. Eddie was diagnosed with avascular necrosis in 1995, had hip replacement surgery in 1999, tongue cancer in 2000, had emergency surgery for diverticulitis in 2012, throat cancer in 2019, and lung cancer in 2020.
On 3 October 2020, Eddie's health began to rapidly deteriorate and he died just three days later on 6 October. The prodigy passed away in Santa Monica's Saint John's Health Center with his son, his brother, wife, and ex-wife by his bedside.
His son broke the news on Twitter in a heartbreaking tweet. Wolfgang wrote "I can't believe I'm having to write this, but my father, Edward Lodewijk Van Halen, has lost his long and arduous battle with cancer this morning. He was the best father I could ever ask for. Every moment I've shared with him on and off stage was a gift. My heart is broken and I don't think I'll ever fully recover from this loss. I love you so much, Pop."
Eddie's death certificate reads like an autobiography of a life lived almost exclusively on the wild side. While the official cause of his death was a stroke, contributing factors were listed as myelodysplastic syndrome, lung cancer, squamous cell carcinoma, and atrial fibrillation.
As per his last wishes, Eddie was cremated and his ashes were given to his son to be scattered off the coast of Malibu, California, where he spent much of his life. There was speculation as to whether his favorite guitar, the custom-made Frankenstat that was built by Eddie himself, was cremated with him but this has yet to be confirmed or denied.
Eddie Van Halen's Last Words
Understandably, Eddie's family were devastated by his passing and as such, they haven't revealed what his last words were before his death. Despite Eddie's status as a rock legend, he was a pretty private guy and so is his family.
Eddie's last words on social media were a birthday wish to his brother and former bandmate. Alex Van Halen, which read simply "Happy birthday Al!!" followed by an assortment of hashtags including "#family, #rock, #rockband, #love".
Before that, he posted about his son Wolfgang in a touching birthday tribute. He uploaded a photo of a newborn Wolfgang and captioned it "The Best Day Of My Life. Happy Birthday Wolf! I Love You So Much!! Your Pop <3"
Eddie Van Halen's Legacy
Though he may be gone, Eddie's legacy lives on through his beloved son and former bandmate, Wolfgang William Van Halen, and the music he makes. When speaking of his father's legacy, Wolfgang told People Magazine "I think it's impossible to ignore the legacy my father left on the instrument, the world of rock, and music in general. There will never be another innovator like him."
But it's not just his son who continues to honor him, as fellow musicians do as well. At the Billboard Music Awards of 2020, Eddie was honored by American guitarist G.E. Smith, The White Stripes' Jack White, Charlie Benante from the heavy metal band Anthrax, and country music singer and songwriter Dierks Bentley.