Ronald Reagan lived a life full of accomplishments often seen in the public eye. But not much is known about his death, especially his final hours.
The family of Ronald Reagan has not released his last words but they have commented on the concluding moments of his life. His final moments consisted of him looking into the eyes of his wife, Nancy, while surrounded by his family.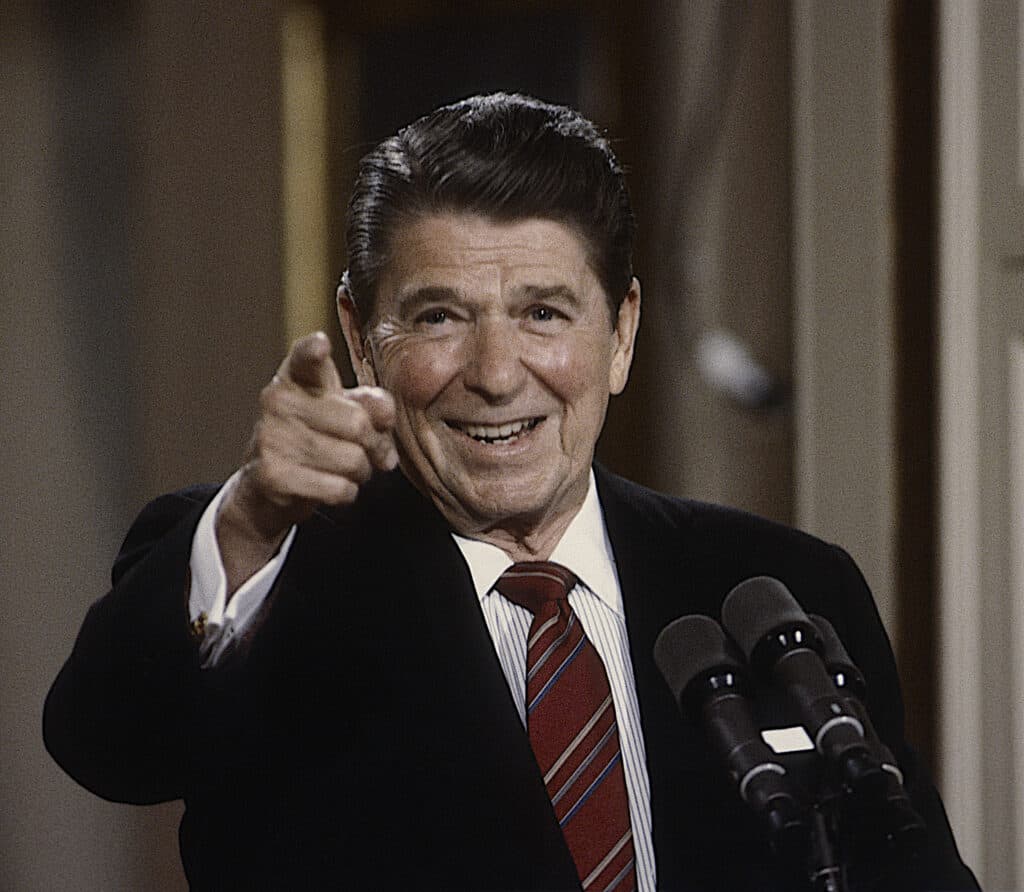 While there is some mystery about Reagan's ultimate minutes, much of it has been revealed by the family.
Reagan's Life and Political Success
Ronald Wilson Reagan was born on February 6, 1911, in Tampico, Illinois. Ronald had one other brother, Neil, who would later become an advertising executive.
Young Reagan attended high school at Dixon High, where he became interested in sports and acting. It would be the acting interest that would shape his future.
After high school, Reagan attended Eureka College, a liberal arts school in Eureka, Illinois. He quickly made a name for himself in the areas of politics, sports, and theater.
Reagan was quite popular with his fellow students. He was elected student body president.
After college, Ronald Reagan became a radio announcer for a while before getting hired to announce games for the Chicago Cubs.
While on the road with the Cubs, Reagan landed a contract with Warner Bros. Studios. His early acting career consisted of minor roles in the B-film unit.
Reagan got a lot of work in Hollywood and appeared in 19 films in only two years. His turn in the film Kings Row would be his breakout role and made him into a major Hollywood star.
Reagan was married to actress Jane Wyman in January 1940 and they had two children together while adopting a third. The couple argued about politics and eventually divorced in 1949.
That year, Ronald met Nancy Davis. Nancy would later say that their meeting was "pretty close" to love at first sight. The couple began dating and would marry in 1952 before having two children.
Political Rise
Ronald Reagan was originally a Democrat but became a conservative Republican in the 1950s. He was soon lending his voice to major political causes and gained national attention for his work on behalf of presidential candidate Barry Goldwater.
Reagan officially became a politician in 1965 when he ran for governor of California. He handily won the election.
There was talk of Reagan running for president only a few years later in 1968 but it wouldn't be until 1976 that he formally ran for the highest office in the land.
Reagan had an exciting and energetic campaign but ultimately failed to defeat President Gerald Ford's reelection effort. After his loss, Reagan remained involved in political causes.
The former actor would run for president again in 1980 and won in a landslide against incumbent Jimmy Carter.
Reagan's eight years in office consisted of the end of the Cold War, the rise of AIDS, and the War on Drugs. He left office heralded as a hero for his causes and is still considered a champion of conservative interests.
Later Years and Death
In August 1994, Reagan was diagnosed with Alzheimer's disease. He informed the nation of his diagnosis through a handwritten letter, in which he said "I now begin the journey that will lead me into the sunset of my life."
The persistent disease ravaged Reagan's mind in the following years, limiting his mental capacity and robbing him of memories and recognition.
The former president stayed active even as his health declined, taking walks with Nancy and playing golf regularly.
Reagan's public appearances became less frequent as his disease progressed and in the final years of his life Nancy allowed very few visitors because of his deteriorating state.
Reagan's Final Moments
Ronald Reagan died of pneumonia, complicated by Alzheimer's disease, on June 5, 2004. Nancy released an official statement confirming her husband's passing.
Ronald's daughter, Patti, would later comment on the final moments of her father's life. Though the family would never release his last words, she did say that in his final moments "he opened his eyes and looked straight at my mother."
Patti said that Ronald recognized Nancy in his final moments and his eyes were "clear, and blue and full of love."
"In his last moment, he taught me that there is nothing stronger than love between two people, two souls," Patti said about her father's passing.
The family chose to keep any other memories from Ronald's passing private.