ASAP Rocky, born Rakim Athelaston Mayers, is an American rapper and record producer. He belongs to the ASAP Mob, a hip-hop group in Hollywood. But when and how did ASAP Rocky get into the rap game?
ASAP Rocky started rapping when he was eight years old but came to the limelight when he was older.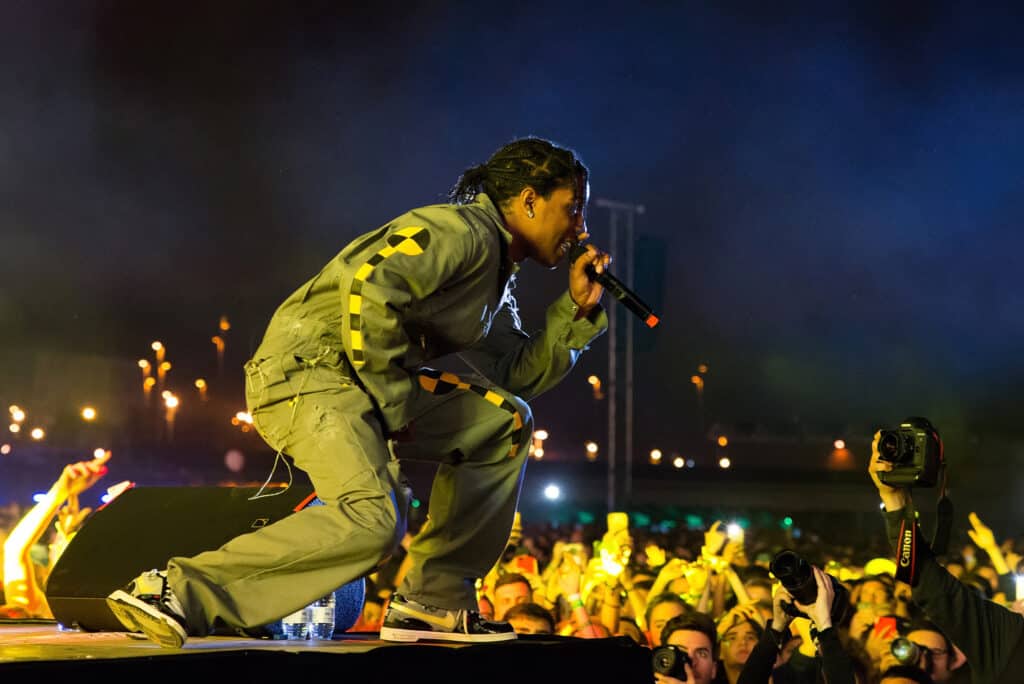 Here's all we know about ASAP Rocky's rap career and his rise to fame.
How did ASAP Rocky start rapping?
When ASAP Rocky was eight years old, he listened to rap music that his older brother played around the house. It almost felt like he found his purpose because he immediately took an interest in rapping.
So he started practicing, and it didn't take long for his rap skills to become evident. Little Rocky probably had no idea that what he picked up for fun would become his breakthrough in the music industry.
When did ASAP Rocky start making music?
Growing up in a community ridden with poverty and criminal activities can have adverse effects on the lives of children.
When Rakim was 12 years old, his father was arrested for drug peddling and died from pneumonia after leaving jail. Then in 2001, the rapper lost his brother to a gang shootout.
His family's living situation was terrible, and they had to live in different camps with his sister and mother. It must have been devastating for the would-be rapper because he also started peddling drugs when he was around 14 years old.
His aim wasn't to live a luxurious life with the money he got–he just wanted to support his mother.
All the events in his life motivated him to make music. In 2007, he joined ASAP Mob, a crew of artists and creatives based in Harlem, New York. "Purple Swag" was the single that brought attention to the budding rapper.
What is ASAP Rocky's net worth?
ASAP Rocky has released many songs under his record label and earned around $1 million annually. The rapper also charges $100,000 per show, and he goes for an average of 12 shows yearly.
In addition to the money he makes from his music, ASAP Rocky has been an ambassador for various luxury brands. He has worked with Christian Dior, Adidas, Alexander Wang, GUESS, and Courvoisier.
How old was ASAP Rocky when he became popular?
ASAP Rocky released his first official single in 2011 when he was 23. However, he came into the limelight when he was 19.
Everything started when a Parisian found his rap video online and shared it. Then one of his songs got leaked online, and many record labels recognized and reached out to him.
His rise to fame came seems to have begun at 19.
He then signed a record deal with RCA and Sony entertainment. But it wasn't until he turned 23 years old that he started professional studio recording and releasing tracks.
Rappers that inspired ASAP Rocky
ASAP Rocky got his inspiration from many rappers when he was younger. But it's not surprising seeing that art is an intricate subject. Artists can't thrive if they don't have sources of inspiration because creative block exists.
Born in 1988, ASAP Rocky must have been inspired by prominent rappers dominating the airwaves during the 90s. He's said to have grown up listening to Snoop Dogg, Mobb Deep, UGK, and Bone Thugs-n-Harmony growing up.
He also took inspiration from early rap greats such as Run DMC and Wu-Tang Clan.
Did Rihanna make ASAP Rocky popular?
ASAP Rocky became popular in the late 2000s after his music got leaked online. But some fans keep speculating that the rapper became famous because of his relationship with Rihanna.
These speculations seem right to the fans propagating them because she's more mainstream than him, having joined the industry earlier. There is no denying Rihanna's fame and influence, but she wasn't the reason ASAP Rocky became popular.
Was ASAP Rocky born rich?
ASAP Rocky spent most of his childhood in shelters because his mother could barely feed him and his sister. As a child, ASAP Rocky watched his father go to jail for pushing drugs, and his brother died during a shootout with a rival drug lord.
The rapper, whose father is from Barbados, had to join in the same line of business because he had to support his family. He was arrested for two weeks during the period. He also got a scar on his face when he was 15 years old from being hit with a gun.
ASAP Rocky didn't have a rosy childhood. But he continued pushing and made music the crux of his life. He eventually got into the limelight and amassed millions of fans and followers.