One of the Founding Fathers of the United States, Alexander Hamilton played a significant role in defining the nation and its government. Where did Hamilton grow up?
Alexander Hamilton was born in Charleston, Nevis in the Caribbean. He grew up on Nevis until the death of his mother, after which he relocated to the American mainland, where he lived in Boston and then New York City.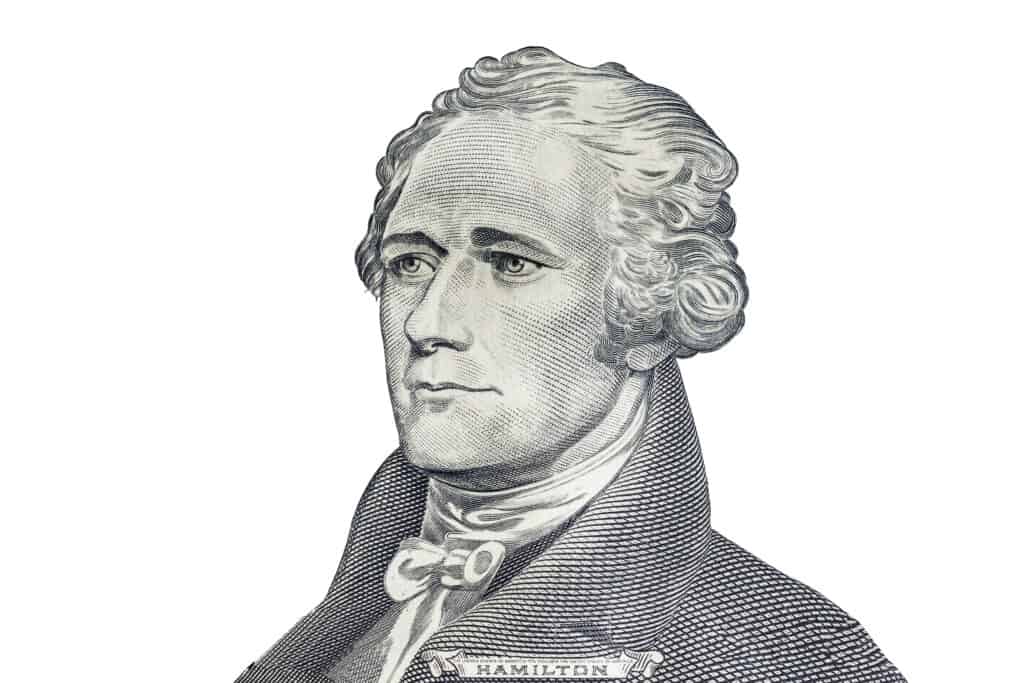 For more on Alexander Hamilton's upbringing and his role in the formation of the modern United States, read on.
Growing Up
There is some debate regarding Hamilton's birthdate but he was born on January 11 in either 1755 or 1757. He was born and raised in Charlestown, Nevis in the Leeward Islands.
His father was James Hamilton, a Scottish trader. His mother was Rachel Fawcett, the daughter of a French physician living in the West Indies. Hamilton had an older brother, James Jr.
Rachel was already married to Johann Michael Lavien and had been living with James Hamilton for multiple years when Alexander was born but was eventually divorced by Lavien in 1758.
James Hamilton abandoned his family, leaving Rachel and her two sons with nothing. Rachel opened a shop and sent Alexander out to work.
It has been said that James abandoned Rachel to prevent her from being charged with bigamy after Lavien stated his intention to divorce on grounds of desertion and adultery.
Alexander Hamilton became a clerk, working for Walton and Cruger, two merchants who had recently relocated to St. Croix. His mother died from yellow fever in 1768 and Lavien seized her estate in probate court.
The majority of Rachel's possessions were auctioned off but a friend purchased the family's book collection and gave them to Hamilton as a gift. Hamilton was sent to live with Rachel's relatives.
His manners, personality, intelligence and initiative saw him quickly advancing in his career, progressing from bookkeeper to manager. Hamilton's education had been stifled due to his being refused entry to a church school.
This was because both he and his brother, James, were born out of wedlock, meaning they would not be admitted membership to the Church of England.
After relocating to New York City, Hamilton's friends saw great promise in him and arranged for him to join the Elizabethtown Academy, a preparatory school in New Jersey.
In 1773, Hamilton enrolled at King's College, New York, later renamed Columbia University. Hamilton was highly ambitious and his discipline and work ethic made him a successful student. Hamilton's academic life was interrupted by the American Revolutionary War.
Political Career
Hamilton's connections in New York saw him commissioned as a captain in the Continental Army. After distinguishing himself in numerous battles during the war, George Washington invited Hamilton to join his staff.
Hamilton understood the importance of money and influence and married Elizabeth Schuyler, the daughter of a distinguished New York family. He served in Washington's personal staff for four years, handling his correspondence.
He repeatedly asked Washington for an active command but was denied until Hamilton left Washington's staff in protest. He and Washington remained friends and, with the war effectively over in 1781, Hamilton moved to Albany, New York, to complete his studies.
Hamilton was appointed to the Continental Congress in 1782. He argued for a strong central government and felt that the Articles of Confederation were only weakening the new United States.
He was part of the New York delegation that traveled to the Constitutional Convention in Philadelphia in 1787, sharing his view that the government should have absolute power over every state. Hamilton was largely ignored during the convention.
New York had only sent a delegation with the intention of supporting a revised set of Articles of Confederation but Hamilton took it upon himself to sign the Constitution on behalf of the state.
Following a distinguished administrative career, Hamilton founded the "New York Evening Post", supporting the Louisiana Purchase and criticizing Aaron Burr, the Republican candidate for New York governor.
Burr was defeated in the election and challenged Hamilton to a duel. Hamilton disliked dueling, having lost his son, Philip, in a duel three years earlier, but was compelled by his sense of honor to accept the challenge.
They met on July 11, 1803, in Weehawken, New Jersey, the same place where Philip had died, agreeing to duel with pistols. Hamilton was killed by a shot from Burr's pistol but his legacy as one of America's first great administrative geniuses lives on.