Eminem. One of the most famous, infamous, and most controversial rappers in world history. A rapper loved by millions, hated by millions, but has no doubt defined and redefined hip hop and rap music culture for decades to come. However, the real question is, where did it all begin for Slim Shady?
Eminem grew up between two major states; Missouri and Michigan. Spending most of his life in several places throughout Missouri, he spent most of his teenage and most influential years in Detroit, where he started his rap career and musical journey.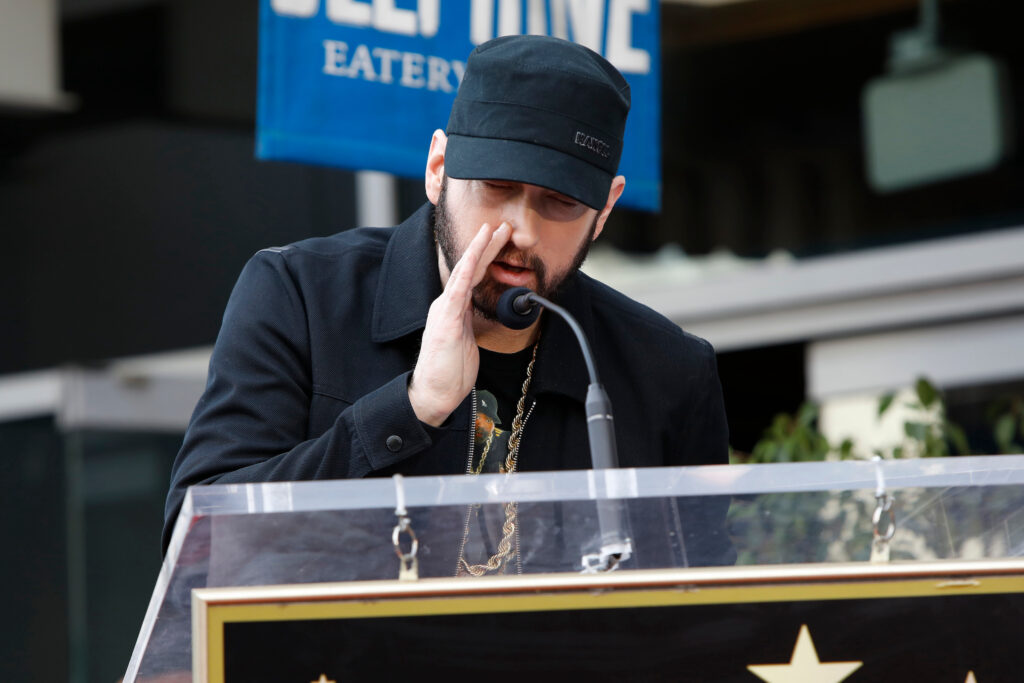 In today's post, we're going to dive deep into the legacy of Slim Shady's childhood, exploring where this music prodigy came from and how it got from an average child to a worldwide megastar that everyone knows him for being today. Let's go.
Where It All Began
Let's start on day one.
Eminem was born Marshall Bruce Mathers III on October 17th, 1972, to his father, Marshall Bruce Mathers, and his mother, Deborah Rae, who was commonly called Debbie, who was 18 at the time. Shockingly, his mother nearly died in childbirth, the labor period of which reportedly lasted an incredible 73 hours.
During Marshall's childhood, he was moved between Michigan and Missouri, but it wasn't until his teenage years when things started to hit home. Eminem's father wasn't around, and while Marshall wrote to him, his mother stated that all letters came back stamped as 'Return to Sender.'
There are also many reports about how Marshall was a bit of a loner in school and was bullied, one incident of which severely injured his head and ended in an unsuccessful lawsuit. It was around this time that Marshall was spending most of his time around the Black neighborhoods of Detroit.
It was here he was introduced and experienced rap music, and with such a love for storytelling, believed it was something he wanted to get involved in himself. And thus, his musical legacy began.
The Beginning of Eminem
Eminem actually got his music name all the way back when he was 14 years old. Marshall, and his friend Mike Ruby, started to really get into rap music and came up with the names 'Manix' and 'M&M,' and we're sure you can see where that was going.
While rapping with Mike, they would also regularly sneak into the Osborn High School, despite being 14, to get involved with the lunchtime freestyle rap battles.
His love for hip hop continued well into the weekends, where he would perform in open mic contests on West 7 Mile (suspiciously close to the name of Eminem's movie '8 Mile'), which was considered the main hub for rap music within the Detroit area.
Despite being a predominately black music scene, Eminem persevered and was well respected by most of the industry. He continued performing in live rap battles and kept writing music, developing his own voice and style of rap.
It wasn't until 1997 when he created the Slim Shady persona, wrote and recorded The Slim Shady LP, and suddenly it seemed that everybody was looking in his direction. It was from here that Eminem's career really started to snowball.
The following album, The Marshall Mathers LP, was released back in February 1999 and became the fastest-selling album of the year, even trumping the most popular musicians and album releases at the time.
It even beat Britney Spears with her Hit Me Baby One More Time and even beat Snoop Dogg's Doggystyle album release, making Eminem the fastest and biggest-selling hip hop artist in the world at that time.
Over the years, Eminem has released nearly a dozen albums, including the most popular editions being The Eminem Show, The Marshall Mathers LP II, Recovery, Encore, and Relapse. All these albums, aside from his first album Infinite (1996), have sold millions of copies worldwide and have been classified as Platinum or over.
With all this in mind, it should come as no surprise that Eminem has changed the music industry forever.
How Eminem Changed the World
From his flow to his music videos, Eminem's impact on the music industry is incomprehensible. Let's take his music videos, for example, a classic being the original Slim Shady video.
Never had the world seen a video production like this, which helped draw so much attention. It was unique. Crude. Out there. And it was in the charts in the public eye. Eminem has always been a bit of a weird person, but he never tried to hide it but instead embraced it and allowed this to carry him to success.
You think as well that the idea of a white rapper in general back in the 90s was unheard of, but many believe that Eminem paved the way for more white rappers to be accepted onto the scene. It's true, and many popular modern rappers, such Macklemore or Post Malone, may not have even existed if it wasn't for the efforts of Slim Shady himself.