As a multi-time NBA Champion and NBA Most Valuable Player, Kevin Durant is one of the best basketball players of the 21st Century. Where did Durant grow up?
Kevin Durant was born in Suitland, Maryland, and grew up in the thriving basketball scene around Washington DC. He attended college at the University of Maryland after becoming one of the nation's most highly-rated prospects during high school.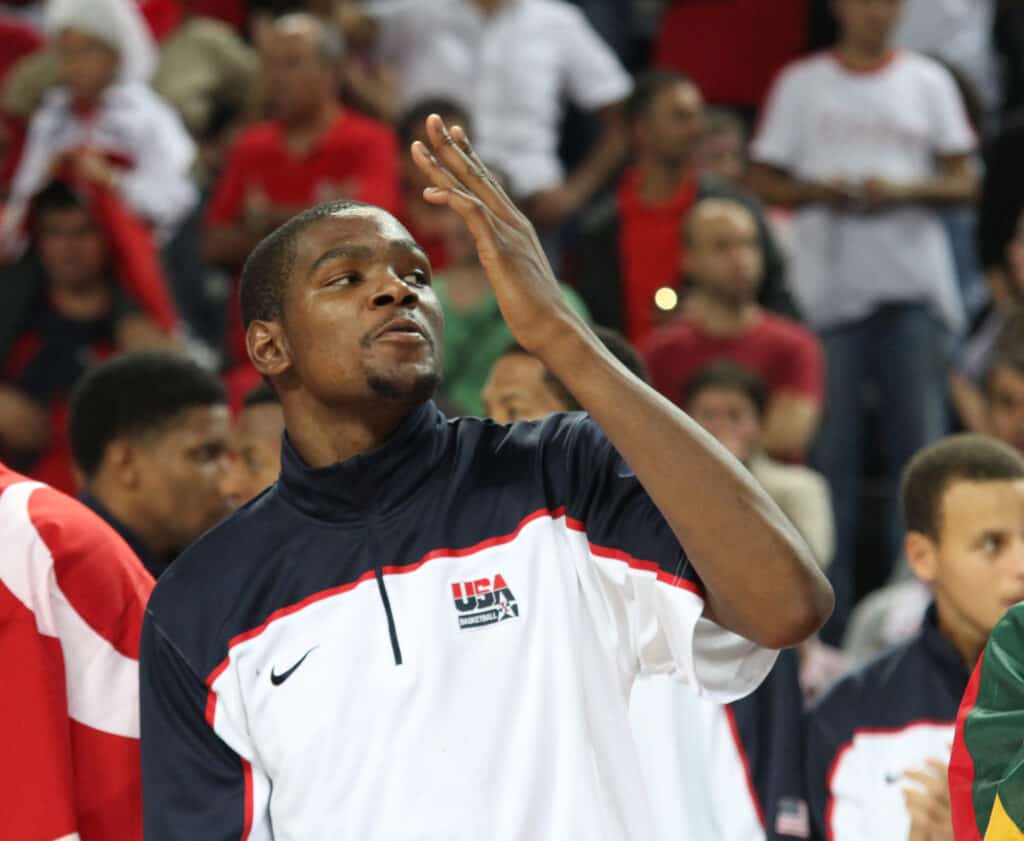 For more on Kevin Durant's background and the early years of his basketball career, read on.
Growing Up
Kevin Wayne Durant was born in Suitland, Maryland on September 29, 1988. His parents were Wayne Pratt and Wanda Durant; he also has a sister and two brothers.
Durant discovered a passion for sports at an early age with his brother, Anthony, also playing basketball. At school, Durant was frequently teased for his height but his grandmother, Barbara, reassured him that his height would be beneficial in the long run.
Durant's first success came when he began playing with the PG Jaguars, a youth team based in Prince George's County, Maryland. The team competed in the Amateur Athletic Union and won two national championships during the time that Durant played with them.
Durant's AAU coach, Charles Craig, died at just 35 years old and Durant has worn the number 35 jersey throughout his career in honor of his mentor. Durant's ambition was to play for the Toronto Raptors, the home of his favorite player, Vince Carter.
By the time Durant finished high school, he had grown to 6'9″ and he played for both the National Christian Academy and Montrose Christian School in Maryland. As a teenager, he also played for the Oak Hill Academy in Virginia, a school that is highly regarded in basketball circles.
College Basketball
When Durant graduated from high school, USA Today listed him as a "First Team All-American" and Parade magazine listed him in their high school "First Team". This excellent press greatly increased Durant's profile and made him one of the chief targets for the nation's college basketball recruiters.
Several Division, I colleges offered Durant a place and he was encouraged by a friend, Taiwan Lawson, to reunite and play together at the University of North Carolina. Ultimately, Durant chose to sign with the University of Texas Longhorns instead
A Longhorns assistant coach, Russell Springman, was also a Maryland native and had been in contact with Durant throughout the young player's high school years.
Durant was near unstoppable on the college court, averaging 25.8 points per game in his freshman year. These statistics were enough to make him the highest average scorer in the Big 12.
Durant scored a record 92 points in the Big 12 Tournament and was named tournament MVP. The Longhorns reached the second round of the NCAA Tournament but were eliminated by the University of Southern California.
He was given both the Oscar Robertson and Adolph F. Rupp awards, becoming the first freshman in history to win both.
Going Pro
Durant declared his eligibility for the 2007 NBA Draft, having played just a single season of college basketball. He was selected second in the draft and joined the Seattle SuperSonics.
A clear sign of the immense hype surrounding Durant, Nike signed him to a seven-year endorsement deal for $60 million, second only to LeBron James's contract with the brand.
Durant did not disappoint, averaging more than 20 points per game during his rookie season and being named NBA Rookie of the Year. The SuperSonics relocated to Oklahoma, becoming the Oklahoma City Thunder and Durant was the obvious star of the franchise.
He won multiple NBA scoring titles, All-Star selections, and was named NBA Most Valuable Player in the 2013-14 season. Durant has also won Olympic gold medals with the United States basketball team.
After years of excellent performances but no rings, Durant signed with the Golden State Warriors in 2016. Many questioned the decision, saying they felt that Durant had chosen an easy path by joining an already dominant team.
In any case, Durant's decision was justified when he scored 39 points in Game 5 of the 2017 NBA Finals and clinched his first NBA championship. When Stephen Curry sprained his MCL in the following season, Durant showed his leadership by getting the team to the finals again.
With Curry recovered, the Warriors swept the finals and won another championship, with Durant named finals MVP for the second year in a row.