If you like to stay up to date with the ever-changing landscape of political happenings then you'll no doubt have had the opportunity to see Rachel Maddow and her political musings on her MSNBC late-night show. She's a big political pundit now, but where did she grow up?
Rachel Maddow grew up in Castro Valley, in California, where she spent the majority of her youth. Her first time leaving Castro Valley, but still remaining in California, was when she went to Stanford University.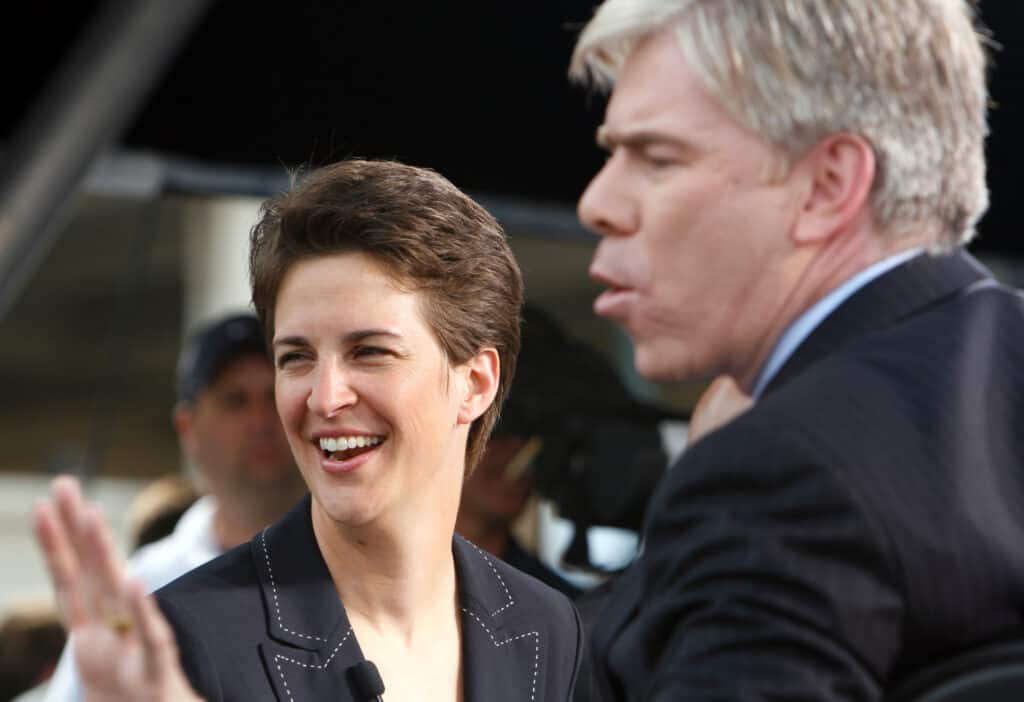 A self-described liberal, Maddow has been a feature of television and the mainstream media since the mid-2000s. How much of her upbringing in California colored both her political beliefs and the course that she has taken in life?
California Beginnings
The philosophy and temperament of politics within each state varies wildly from one to another, and so does the political history. You might think that Maddow's own political leanings have been informed by growing up in what is perceived to be a largely liberal state, though that couldn't be further from the truth.
Born on April 1, 1973, Maddow was the second child to her parents Robert and Elaine Maddow. Her parents, whom she gets along with well, are described by Maddow as being not only a devout Catholic family but as also being "very conservative."
Where she grew up, in the Bay Area, was a conservative town in general according to Maddow, not just a viewpoint limited to her parents. Largely, though, it sounds as if Maddow was able to really get into a stride of her own at her high school, where she was an accomplished athlete across three different sports.
Apparently, the influence of family and surroundings wasn't enough to suppress her instincts on both matters of politics and of the heart, however.
Maddow had already begun to come to the conclusion that she was more than a little different from the people around her, not just because of her physical prowess, but because of the fact that she was slowly coming to the realization that she was gay.
Whether simply because of the environment that she grew up in, the time and the culture, or that she simply wasn't ready yet, it wouldn't be until she went to university that she finally revealed her true feelings to her friends and family.
The Makings of Rachel Maddow
Maddow's first step away from Castro Valley, after graduating high school, was to attend Stanford University, still in California. Learning what her chosen field of study was to be should come as no surprise to anyone familiar with her work, the degree that Maddow began to pursue was in public policy.
University was the root of two incredibly important points that were formative to Maddow's character, both as a person and as a future political pundit. For starters, her chosen degree in public policy and the subsequent scholarship that she earned, and secondly her coming out openly as a lesbian.
Many of Maddow's achievements in her life have been colored in a variety of ways by those two permanent features of her life, from the way that her academic interests led her into the world of television, to the fact that her out status made her the first lesbian host of a news show.
Even the scholarship that she earned, the Rhodes Scholarship to study abroad, marked the first time that a lesbian was the recipient. As could perhaps be expected of someone with her vibrant and at times joyously confrontational character, Maddow came out in a way that many would find outrageous for the level of publicity that she did it with.
Maddow and her friend chose to make the coming out as public as you could imagine: in the college newspaper. Thinking of her character, it actually makes perfect sense that then young and energetic Maddow would decide to come out in such a pugnacious manner.
Although it was largely a positive event for Maddow, one unfortunate byproduct was the fact that due to a mistiming of the article's release, she didn't get a chance to tell her parents beforehand.
An imaginably shocking piece of news to read in a newspaper, Maddow herself spoke about how much of a strain the situation put on the relationship between herself and her parents. Thankfully, however, that's now completely resolved.