Football is undoubtedly a popular sport and many Americans are interested in players, specifically from the teams they are rooting for. Interest in players ranges, including where they attended college.
In the case of Sam Darnold, he attended the University of Southern California (USC), where he majored in communication and played college football for the Trojans.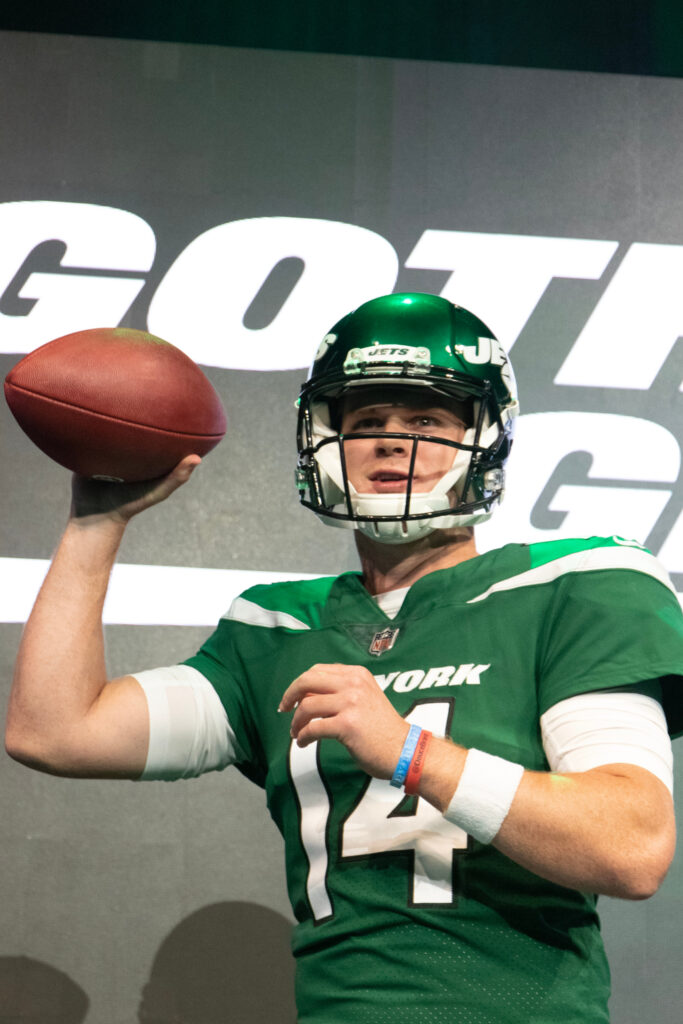 Here are more details on Sam Darnold:
Who Is Sam Darnold?
Sam Darnold is an American Football player, playing as a quarterback for the Carolina Panthers for the National Football League(NFL). He started off playing college football at USC and was ranked overall back when he played for the New York Jets in the 2018 NFL draft. In 2017, even as a college freshman, he won the 2017 Rose Bowl at USC.
In 2018, he was the youngest player to post a quarterback rating higher than 110 in the entire NFL's history and did this as the youngest opening-day starting quarterback at age 21.
Samuel Richard Darnold was born June 5, 1997 in Capistrano Beach, California. He grew up with his father, Micheal Darnold, his mother, Chris Darnold, together with his older sister, Frankie. His family was indeed a completely athletic one, so it wasn't long before Darnold found his way around the basketball. In fact, he started playing basketball when he was just 5 years old.
Micheal Darnold, Sam's father, was an offensive lineman at the University of Redland and his mother, who is currently a P.E teacher, played volleyball back in her college days. So it was only normal to have their energetic and charismatic son indulge in one form of sport to another, from basketball to soccer and even taekwondo. 
What High School Did Sam Darnold Attend?
Sam Darnold's basketball and football career excelled in high school. He went to San Clemente High school, San Clemente, where he played baseball as a freshman.
But it was his excellent basketball skills that led him to win South Coast League Most Valuable Player twice. He played a lot of defense while playing basketball, which gave him an edge as a quarterback.
Sam Darnold had enough of basketball in his first year of high school. He joined his school football team in his sophomore year, playing receiver and linebacker. When the opportunity came for the starting quarterback after the initial starting quarterback was wounded, he grabbed it with zero hesitation.
He earned the respect of a quarterback when he became infamous for breaking the record for the most touchdown passes. He suffered a foot injury later on in a game against Tesoro High School and had to stay off the game for some time.
He returned a couple of weeks later as a receiver and linebacker till he resumed as the official quarterback in his senior year. Summing up, his record totals 3000 passing yards, 39 touchdowns, 800 rushing yards, and 13 rushing touchdowns.
Sam Darnold's Career
Many colleges such as Utah, Oregon, and Northwestern came knocking on Sam's doorsteps with scholarship offers, but he accepted USC. He played in the Trojan football program and was redshirted in his first year.
Unfortunately, he lost in his first game with Utah Utes but overcame that when he rewrote history as the first quarterback to capture five consecutive passes.
In 2016, he was recognized as the Fresh Man Offensive Player Of The Year and, in 2017, led his team to win over the Stanford Cardinal team, Texas Longhorns.
He finished USC early to be drafted by the New York Jets in the first round of the NFL picks. He signed a contract worth about $30 million. They led a 17-0 win against the Atlanta Falcons and have faced even tougher teams. He currently plays for the Carolina Panthers.
More of Sam Darnold's Achievements
Sam Darnold won the Pac-12 Offensive Freshman of the Year in 2016. He was also the winner of the Archie Griffin Award for 2016. He won the Rose Bowl Champion in 2017 and grabbed the First-Team All-Pac-12 award in 2017.
Is Sam Darnold Married?
The 25-year-old ex-college footballer isn't married. Not yet, at least, although he is in a relationship currently with Claire Kirksey. They met at USC and have been a couple since 2017.
What Is Sam Darnold's Net Worth?
According to Playerbio, the talented athlete has an annual salary of about $7 million and an estimated net worth of around $30 million.