Actress Uma Thurman is adored today for her famous roles in films like 'Pulp Fiction' and 'Kill Bill.' Although she may be a super-glamorous movie star now, we all grow up somewhere, and Uma's childhood is fascinating.
Uma Thurman grew up mainly in Amherst, Massachusetts. However, she also received a Buddhist upbringing and spent two years in the Indian town of Almora.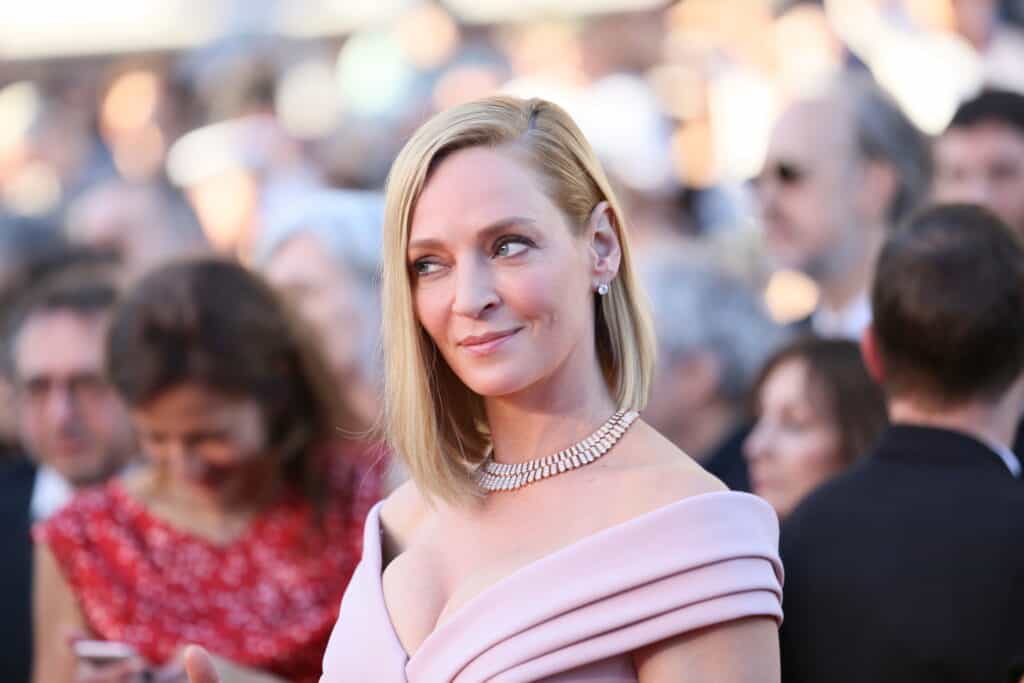 Uma Thurman has a storied career, starring in some of the most iconic roles in film history. Read on to see how she became the movie star she is today and what she's been up to since 'Kill Bill.'
Early Life
According to her IMDB biography, Uma Thurman was born in Boston, Massachusetts, to parents Nena and Robert Thurman. Her mother was a model, and her father was an academic who studied Buddhist philosophy.
Her household was unconventional, but perhaps that is why she became the woman that she is today. The Dalai Lama, the highest spiritual leader in Tibet, was a frequent guest of the Thurman household.
To many today, this sounds fascinating and enlightening; at the time, it did not benefit Uma Thurman socially. Her family moved often, and her peers often picked on her for things she couldn't control, such as her nose, height, and large shoe size.
This just goes to show that bullies do not know much, as later in life, these features were considered striking and certain directors, such as Quentin Tarantino, even focused film shots specifically on Uma Thurman's feet.
It's an interesting thought to wonder if the kids who picked on Uma Thurman in her early life are aware that the subject of their ridicule is now the subject of articles in Vogue.
Luckily, Uma Thurman had a supportive family and found an outlet for these challenges.
She began acting in plays and found out that her build made her the perfect model. She picked up a few acting roles, notably in the 1988 drama 'Dangerous Liaisons.'
Notable Roles
One of Uma Thurman's most notable early roles is Mia Wallace in the darkly comedic Quentin Tarantino vehicle, 'Pulp Fiction.' Her characterization of the freewheeling and dangerous gangster's wife became iconic, and it's hard not to know about her character's now-signature haircut and dance moves.
If you haven't seen Uma Thurman bust a move as Mia Wallace, you can watch her do so below, alongside fellow movie star John Travolta, who played Vincent.
Uma Thurman also starred as Poison Ivy in the 1997 critical failure, 'Batman & Robin.' Although the film was not a huge success, it has become something of a cult classic for the actor's campy line deliveries and cartoonish stylistic choices.
Additionally, although the film itself panned, many critics were quick to note that Uma Thurman stood out in her role, and a critic at the Houston Chronicle said she "seems to be doing Mae West by way of Jessica Rabbit."
She acted in another Tarantino film, the two-part action movie, 'Kill Bill,' released in 2003, and the film's second half in 2004. Quentin Tarantino has said that he wrote the film's main character, Beatrix Kiddo, specifically for Uma Thurman.
One fun fact about the role is that her character's name was technically not said until the second part of the film; however, eagle-eyed fans noted that it was printed on a plane ticket in the first half of the film. Otherwise, her character was referred to as 'the bride.'
Where Is She Now?
Uma Thurman is so beloved that she even has a song named after her. American rock band Fall Out Boy released their song, 'Uma Thurman,' in 2015.
Thurman was apparently quite flattered about the tune and the fact that the band asked her permission to write about her, saying on the Today show that "It's very, like, unbelievably polite and gracious of them. So sweet. I'm so happy for their big success."
Many people might wonder what Uma Thurman is up to now, considering that she has not loomed so large in the spotlight lately as she did earlier in her career. Although the actress is still taking roles, many of the films hit the smaller screen, such as Lars von Trier's 2013 art house film 'Nymphomaniac,' or were not critical successes, such as the 2006 superhero film, 'My Super Ex-Girlfriend.'
Whatever roles Uma Thurman chooses, her status as a Hollywood legend remains uncontested – but we have no doubt that if it were, she could defend it. The actress has some serious skills with a samurai sword.