Aaron Rodgers is an American football quarterback for the National Football League team (NFL), the Green Bay Packers. He started his football career in college, where he set multiple records and later became drafted by the Packers in the first round of the NFL draft in 2005. Rodgers led the Packers to a Super Bowl victory in 2010, earning an MVP award.
Aaron Rodgers, originally from California, lived in Wisconsin with the retired race car driver, Danica Patrick, during the NFL season until 2017, and in their gorgeous beach house in California during the offseason, which they live in full-time now.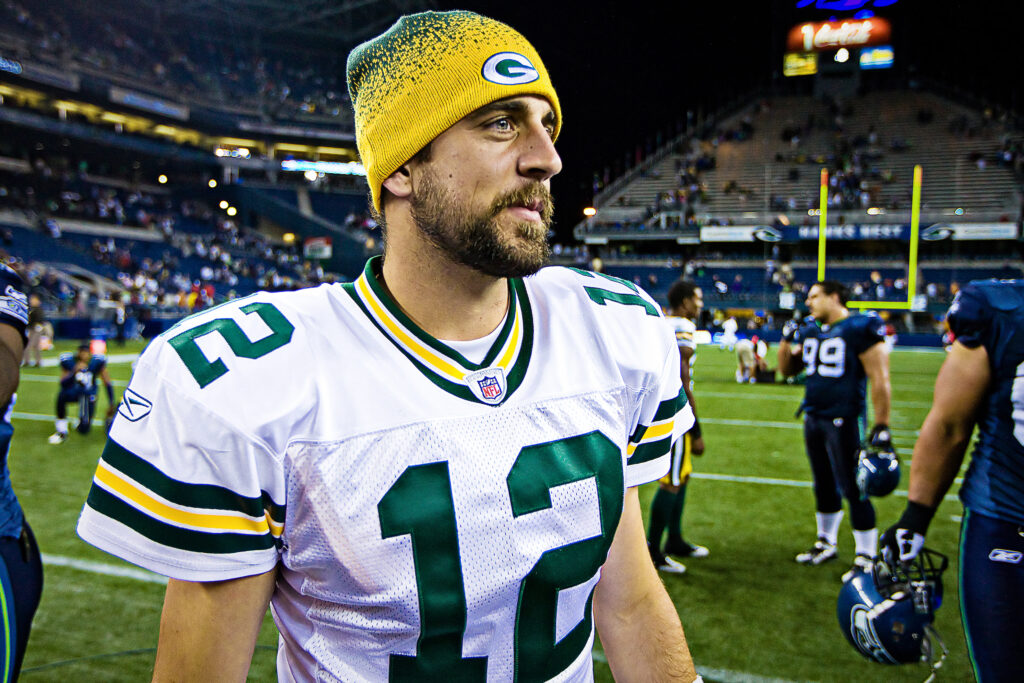 Aaron Rodgers is undoubtedly admired by NFL fans, as he is one of the best players in the league. His killer winning streak and multiple victory leads have led him to become a three-time MVP and even won him an ESPY award for best NFL player.
He and his girlfriend, Danica Patrick, live a sort of double-life, staying in Wisconsin for part of the year before moving back to the Golden State. That's quite the difference between Midwest views of cornfields and the beach views of the ocean.
Aaron Rodger's Primary California Home
Aaron Rodgers is originally from California, and it seems like it's quite hard to take a Californian boy out of the Golden State. Despite playing for a Midwestern team, Aaron Rodgers and retired race car driver, Danica Patrick originally from Roscoe, Illinois, call California their home.
Rodgers originally purchased a home in Del Mar, California back in 2009, and that property is currently valued at approximately $10 million. The home features 5,771 square feet of space, four bedrooms, five bathrooms, a pool, sauna, theatre, putting green, gym, huge basketball court, and spa.
That's quite the home for an athlete!
The couple decided to upgrade to a Malibu beach house in December of 2019. The home was previously occupied by Robbie Williams and purchased for $28 million.
The Malibu residence was the third-highest valued home in the area, and although this home is smaller than the previous Rodger's home in Del Mar, it has unbeatable ocean views. Featuring 4,636-square feet of space, four bedrooms, four bathrooms, gourmet kitchen, 2-bedroom guest house, and swimming pool, this place looks luxurious.
The villa is only steps away from the gorgeous beach and the master suite boasts a full view of the ocean. The entire house has an open floor plan, allowing for tons of natural lighting and salty air from the Pacific.
With Malibu's median home price sitting at around $2 million, the Super-Bowl-winning quarterback sure did splurge on this beautiful home. However, with his $134 million Green bay Packer's contract, everyone could say it was worth it.
Aaron Rodger's Former Home in Wisconsin
When the NFL season is in session, of course, you have to see the Packers quarterback in the home state for training, press, and games. He has become a Wisconsin resident, becoming a registered voter in the state, having a Wisconsin driver's license, and getting involved with the community in the Midwestern state.
The fact that Aaron Rodgers lives in Wisconsin part-time has been a great marketing tactic for real estate agents, as houses in his neighborhood that have been put up on the market have "be Aaron Rodger's neighbor" as part of their listing. What a great way to get football fanatics' attention through the real estate market.
Aaron Rodgers bought a 4,012 square foot home in Suamico, Wisconsin for $442,500 back in 2005. However, the football quarterback did stir up some drama in 2017 when he decided to put the home back on the market.
The home did end up selling in 2017, but it had quite a run being Aaron Rodger's residence for 12 years. It was a ranch-style, quite humble home that did not look like a mansion.
The home was a 4-bedroom, 3 bathroom residence, with nice amenities and had a "country-cabin" feel to it. It did not distinguish itself from any other houses in the area, and that might actually be a good thing for the football star.
When Rodgers originally put the home on the market, he transferred it to RFI Holding, LLC which is apparently his own company. Although he still lives in the Green Bay area part-time during the football season, not much is known about his new home there or where exactly he resides currently.