As a trailblazer for plus-sized models, Ashley Graham has also innovated styles for curvy women. Where does Graham get her clothes?
Ashley Graham has collaborated with clothing brands such as PrettyLittleThing and Addition Elle. After finding that many of her favorite designers did not create clothes for curvier women, she worked with Christian Siriano, Prabal Gurung, and Vivienne Westwood.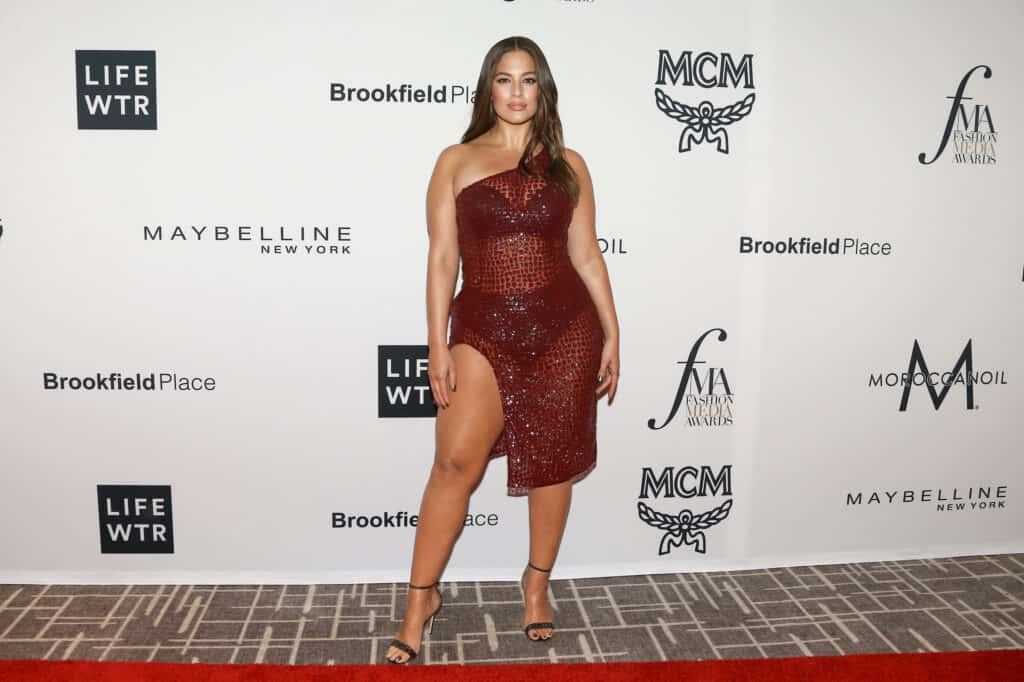 For more on Ashley Graham's style and which brands she wears, read on.
Ashley Graham
Ashley Graham was born on October 30, 1987, in Lincoln, Nebraska, and moved to live in the city during her childhood. She has two younger sisters and was diagnosed with dyslexia and ADD in her youth.
Graham was spotted by a modeling scout in 2000 while visiting the Oak View Mall in Omaha. She signed with Wilhemina Models in 2001 before signing with Ford Models.
She stood out for her stunning looks, her five-foot nine-inch height, and curvy figure, a term she prefers to the commonly used "plus-sized" classification.
Graham and other curvy models appeared in a Lane Bryant commercial "This Body" in 2010, with ABC and NBC refusing to air it. Lane Bryant representatives said that the networks refused outright, while NBC claimed to have only asked for minor edits due to implied nudity.
In 2016, she became the first size 16 model to appear on the cover of Sports Illustrated's annual "Swimsuit Issue", and has also appeared in the magazine. She was a judge on "America's Next Top Model" and has been a proponent for body positivity and size acceptance.
Fashion
While a model on Ashley Graham's level likely isn't having to buy many of her own clothes anymore, some of the brands she wears aren't out of reach for the average shopper. PrettyLittleThing, in particular, is a highly popular brand that creates clothing for women of every size and shape.
During her pregnancy, Graham continued to exhibit her confidence by wearing form-fitting and glamorous outfits. Just as she defies expectations by wearing outfits that display her curvy figure rather than hiding it, Graham also believes that restrictions on how pregnant women should dress are outdated.
She wore a stunning transparent gown from Norma Kamali while attending a Fenty x Savage runway show in September 2019. Then, at the CFDA/Vogue Fashion Fund Awards in November, she wore an attention-grabbing dress designed by Christopher John Rogers.
In 2017, Graham began working with celebrity stylist Jordan Foster, who revels in finding ways to highlight and flaunt the model's curves. One of the first issues they addressed was that there were several brands that Graham admired and wanted to wear, but discovered were unavailable in her size.
To address this, Graham and Foster began approaching leading designers to collaborate on making clothes that were suitable for every body type. Christian Siriano, Prabal Gurung, and Vivienne Westwood were some of the major designers who were keen to work with Graham.
She has also collaborated with popular but more affordable brands such as PrettyLittleThing. She began working with lingerie brand Addition Elle in 2013 and has worked on multiple ranges of beautiful and delicate lingerie designed for curvier women, something that she previously felt was missing from the fashion market.
Style Tips
Like any other body type, Graham's curves can be flattered in a number of ways, with some frequent features among her many outfits.
Graham often wears something around her waist to emphasize her hips, whether this is a corset over a dress or a belt around a trench-coat. This enhances her hourglass figure while accessorizing her outfit.
Her outfits usually focus on one color from head to toe, a popular practice regardless of body type. This has the effect of making the body appear longer, as well as meaning that your outfit doesn't look as though it was thrown together at the last minute.
Another trend that Graham often exhibits is wearing something tight on the lower half of her body and something looser on the top half. This can take the shape of something like a jacket, again with a waist belt, matched with something form-fitting such as skinny jeans.
This contrast of loose and tight has the effect of making the legs appear longer and slimmer. Graham also occasionally wears something sheer, though she usually pairs it with something more reserved such a long skirt to keep the look classy.