Jackie Chan, formally known as Chan Kong-sang, is a Chinese martial artist, actor, filmmaker, and stuntman that is recognized in the entertainment industry for his acrobatic fighting style and innovative stunts. He is one of the most popular action film stars of all-time and has been in the industry since the 1960s. Jackie Chan is recognized worldwide as one of the most influential people in the cinematic world and even has a star on the Hollywood Walk of Fame.
Jackie Chan has main residences in both Hong Kong and Beverly Hils. He has supposedly invested in property all over the world, but keeps a relatively low-profile when it comes to real estate.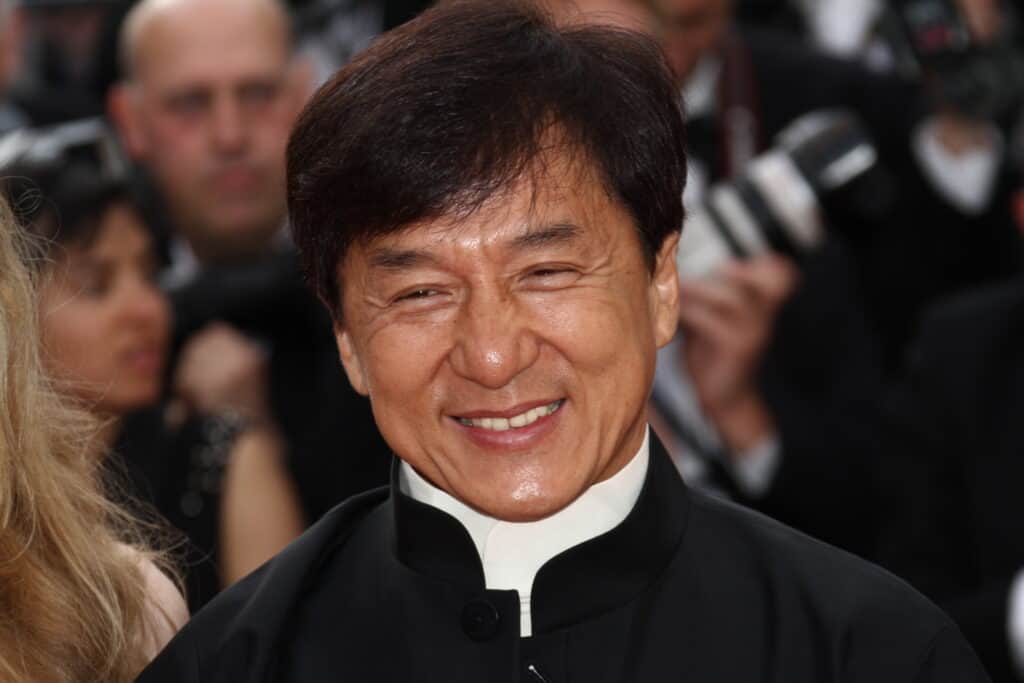 Jackie Chan tends to be more private with his personal matters, and although he has become a household name throughout the years, not much is really known about where exactly he spends a lot of daily life and what he likes to do in his free time. What we do know, however, is that he makes frequent trips between his home country of China and the entertainment capital of the world, Hollywood, to work on different films and projects.
Jackie Chan's On-Screen Career
Jackie Chan was born in Hong Kong, China in 1954 as Chan Kong-sang. His parents moved to Australia when he was seven years old, but he stayed in China to study at the Chinese Opera Research Institute, a boarding school in Hong Kong.
While at the boarding school, he studied martial arts, drama, acrobatics, and singing, being subjected to corporal punishment if he didn't do his absolute best or if he performed poorly in any area.
When he was eight years old, Jackie Chan starred in his first film called "Big and Little Wong Tin Bar". He later went on to be featured in a number of musical films.
When he finally graduated from the boarding school in 1971, he found a job as an acrobat and stuntman for the film "Fist of Fury" with big-screen actor, Bruce Lee. For the film, he had to perform the highest fall in the history of the Chinese film industry.
The fall earned him respect from Bruce Lee, among many other people involved in the film industry.
He became the "king" of Hong Kong cinema after the unexpected death of Bruce Lee in 1973. Chan starred in a number of kung fu movies with the director and producer most closely tied to Bruce.
Most of the movies were unsuccessful, and Jackie Chan decided to put his martial arts and stuntman talents to use, in order to recreat his image. Within the next few years, Chan became the highest paid actor in Hong Kong with international fame throughout Asia.
He created his own genre known as "kung fu comedy" and by 1986, had his own production company called Golden Way. Jackie Chan did not receive recognition in the United States until the mid-1990s with the creation of his own comic book character known as Jackie Chan's Spartan X.
In 2000, Chan starred in "Shanghai Noon", an action comedy which featured Owen Wilson and Lucy Liu, and in 2002, he starred in "The Tuxedo' with Jennifer Lov Hewitt. These films helped grow his career in Hollywood and that same year, he received a star on the Hollywood Walk of Fame.
In the next two decades, Chan continued to grow his career and take his stunt skills to the next level by starring in a number of films, across many different genres.
The Famous Stuntman's Real Estate
Jackie Chan supposedly spends a majority of his time back in Hong Kong, although not much is known about his exact address or what his home actually looks like. He also owns a home in Beverly Hills, California and has invested in property all over the world.
Chan also used to own two apartments in Beijing, China, although they were auctioned off due to an ownership dispute. The total area of living space between the two adjacent apartments was said to be around 13,100 square feet and the market value is reported as $14.6 million.
Jackie Chan paid around $4.9 million for the two apartments, but apparently the real estate company from which he bought the property from, Yujia Real Estate, did not properly transfer the ownership rights to Chan.
Chan also purchased a home in Beverly Hills when his career in Hollywood started to take off, but it sold back in 2015. Since then, Chan has reportedly bought another home in Beverly Hills for $10.8 million.