Jimmy Kimmel is an American comedian and television host, known for his late-night television talk show called "Jimmy Kimmel Live!". The show features celebrity guests, live music, and comedy bits. Kimmel hosted the American Music Awards five times, along with the Emmy Awards, ESPY Awards, and the Oscars. With his experience co-hosting Comedy Central shows, has become a popular comedian in Hollywood.
Jimmy Kimmel currently resides in the Hollywood Hills with his family, which he is no stranger to. Kimmel has owned previous homes in the Hollywood Hills and since March of 2020, he has been able to give his audience a closer look into his residence from working at home.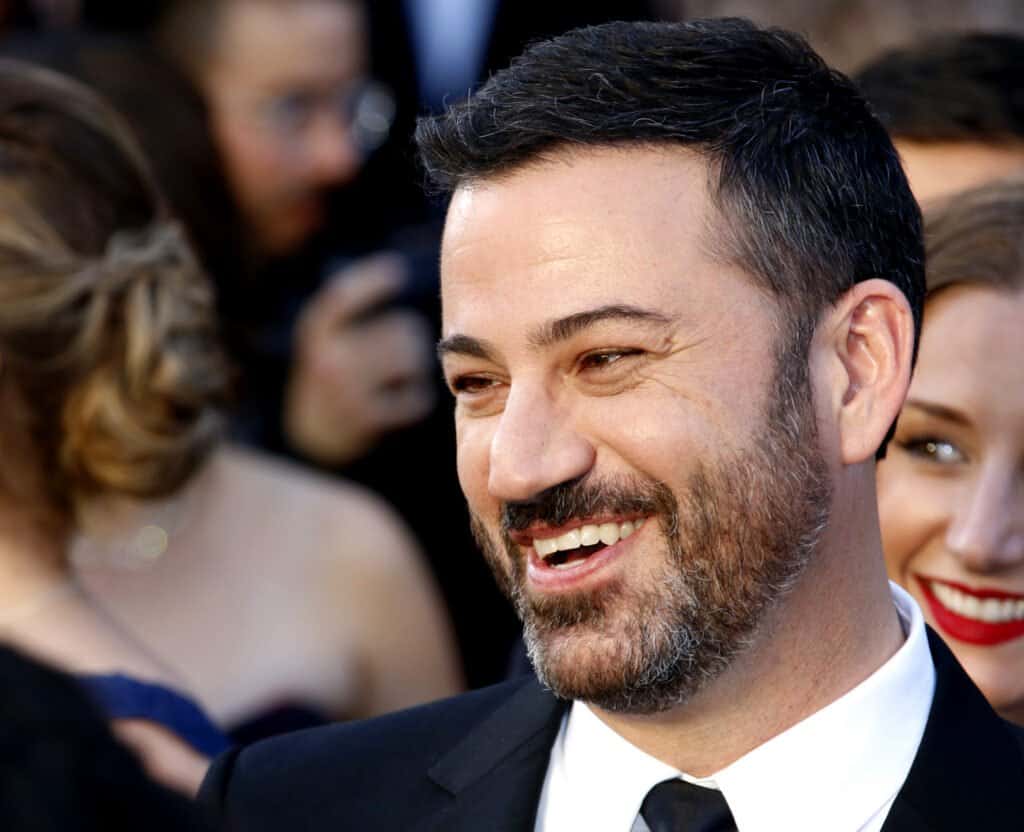 The popular comedian has lived in a few different places during his lifetime. Born in Brooklyn, New York, and raised in Las Vegas, Nevada, Kimmel bounced around to different locations for his early radio talk show host career. He worked in larger cities such as Phoenix, Tampa, Tucson, and Seattle at morning radio shows, but ultimately, was fired from every single one.
Kimmel now has his own late-night talk show, "Jimmy Kimmel Live!" that airs every weekday on ABC. The show featured a live audience in previous years, and his studio is right on Hollywood Boulevard. Fans from all over the country are able to see exactly where the episodes are filmed when visiting the famous Hollywood Walk of Fame.
Jimmy Kimmel's Early Beginnings in Los Angeles
With spirits high after getting fired time and time again from different morning shows, Kimmel decided to take up comedy in Los Angeles. He was known as "Jimmy the Sports Guy" on KROQ-FM Los Angeles' "Kevin and Bean Show". His comedy sketches brought in quite the crowd, and his fame was just beginning.
Jimmy Kimmel became a popular comedian in Los Angeles in the early 2000s, with various comedy shows seeking to get in touch with him. He started appearing on Comedy Central in 1999, where he and Adam Carolla hosted "The Man Show". The show was meant to be satirical and uncensored, with humor that not many people dappled with during the time.
Ultimately, the show propelled Kimmel's career because it simply got people talking about him. He was viewed as sexist and the humor was considered "over the top", but people seemed intrigued by this style of humor.
The show aired from 1999 until 2004, but the duo started a spinoff show called "Crank Yankers" in 2002, in which they bought puppets to life by recreating crank phone calls.
Jimmy Kimmel was first invited to the Academy Awards and hosted his first awards show, The American Music Awards in 2003. In just a few years, Kimmel was able to create a name for himself and become established as a popular comedian in Hollywood.
ABC showed major interest in the comedian during the early 2000s and believed that Jimmy could start a show on the network by himself. Years later, he agreed, and the debut of his late-night talk show, "Jimmy Kimmel Live!" was at the beginning of 2003. The show itself had a rocky start, with mediocre reviews and not many guests wanting to make an appearance, but thousands of episodes later, A-list celebrities were more willing to be featured.
After a decade of being on-air and thousands of positive reviews, ABC decided to extend their contract with "Jimmy Kimmel Live!". It has been popular ever since, and because of the 2020 pandemic, Jimmy has been hosting the tv show from home. He announced that every episode would raise money for a new organization.
The Kimmel Residence
Although Jimmy Kimmel likes to keep his real estate endeavors quite private, he is one celebrity that gave his audience a look into his home during the pandemic. The talk show typically includes a live audience, but ever since March, Kimmel has been working from home like many others, allowing more eyes into his private residence.
He has an entire series on YouTube called, "Jimmy Kimmel Live From His House" that features clips from his talk show.
Kimmel, being no stranger to the Hollywood Hills, previously owned an older, "vintage" house which he bought for $925,000. He sold the home in 2016 for $2.38 million after it had been on the market for four years. In the meantime, he purchased his current residence, where he has been living ever since.
His name is not on any public records online when it comes to real estate, but his wife, Molly McNearney is connected to an address in Hollywood Hills. The house is around 4,809 square feet, featuring five bedrooms and five bathrooms.
It is invisible from the street and near other celebrity homes such as John Krasinski and Emily Blunt's house. The residence was purchased in 2008 for around $6 million, but now it is worth approximately $9.4 million.