Former NFL quarterback and professional baseball player Tim Tebow is known for being one of the most accomplished players around and for his unique practice of "tebowing" on the field. Where does Tim Tebow live now that he's retired from sports?
Tim Tebow lives in Jacksonville, Florida with his family. Tim Tebow has owned a number of homes in the Jacksonville area over the years, most recently purchasing a second home there for just under $3 million.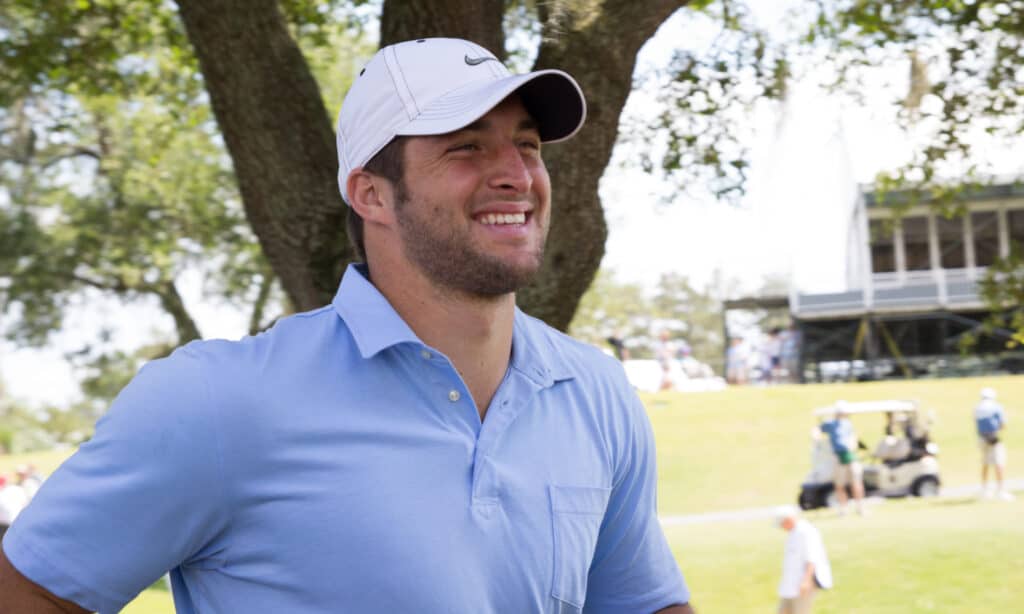 Tim Tebow has a long-standing legacy in the sports industry, but less is known about his real estate portfolio. However, since Tim Tebow grew up in Jacksonville, Florida, it makes sense that the football legend would want to stay there.
Home in Jacksonville, Florida
CNBC Make It reports that Tim Tebow owns a home in Jacksonville, Florida. His most recent purchase was a $2.99 million home in 2019, although the former Florida Gators quarterback also purchased his first Jacksonville home in 2014 for $1.4 million.
Tim Tebow lucked out by purchasing the residence for $500,000 below the original asking price of $3.5 million.
The two-story home was built in 2016 and had five bedrooms and five and a half bathrooms. It sits on 1.49 acres of Florida land.
Tim Tebow purchased the new mansion after his engagement to Miss Universe winner Demi-Leigh Nel-Peters. The couple married in 2020.
In addition to the land itself, the home has some luxurious amenities, including a 120-bottle wine cellar, a saltwater pool, and a home theater. It also has a five-car garage to match its five bedrooms.
Tim Tebow's house is built with an open-concept, contemporary design. Its large veranda overlooks the nearby lake and golf course, providing the former footballer with some stellar views.
Sale of Former Jacksonville Home
Prior to the purchase of his $2.99 million mansion in Jacksonville, Tim Tebow owned another home in the area. However, he sold the house in 2021.
The Los Angeles Times reports that Tim Tebow sold the home for the same price that he purchased it for in 2014 — a staggering $1.4 million, although he had originally listed the house at an asking price of $1.7 million.
The home sits on three-quarters of an acre of land and has 6,500 square feet of living space. Within the home's two stories, there are five bedrooms, four and a half bathrooms, and a media room for entertaining.
Fascinatingly, the person who bought the home also has a tie-in to the sports industry. Robin Ann Eletto, the buyer, is the chief people officer at an official sports merchandising company, Fanatics, Inc., according to The Baltimore Sun.
Hopefully, he will enjoy living in the same home that once housed a professional football player. If that isn't enough of a draw, there's always the 175 feet of waterfront views and a gorgeous en suite marble bath to keep him happy.
Early Life in Jacksonville
Although Tim Tebow was born in the Philippines as his parents were Christian missionaries, he grew up in Jacksonville, Florida, as his parents moved there when he was just three years old.
As he grew up in Jacksonville, Florida, it makes sense that Tim Tebow would like to stay close to where he spent his early years during his retirement.
He was the youngest of five children and was homeschooled by his mother as per his family's Christian beliefs. Tim Tebow continues to follow his family's religious beliefs, as has been covered in many media portrayals of the sportsman.
Tim Tebow has stayed true to his early life, as photos from his official website picture him posing with a football at just six months old. He began playing football as a toddler.
He attended the local Nease High School, where he lead their football team in the State Championship. Eventually, Tim Tebow accepted an athletic scholarship to play football for Florida State University.
Now married to South African model Demi-Leigh Tebow, it totally makes sense that Tim Tebow would want to settle down and start a family in the same city where he grew up and got his start in the industry.