Aaron Paul Sturtevant — known professionally as Aaron Paul — is an American producer and award-winning actor who rose to fame thanks to his incredible portrayal of Jesse Pinkman in AMC's 'Breaking Bad'. The family man keeps his personal life private, with many people not even knowing who the star's friends are.
Most of Aaron Paul's closest friends are his 'Breaking Bad' costars, with Bryan Cranston being his real-life best friend. The actor is also friends with his other colleagues from the show as well as those he worked with on the set of BoJack Horseman and West World.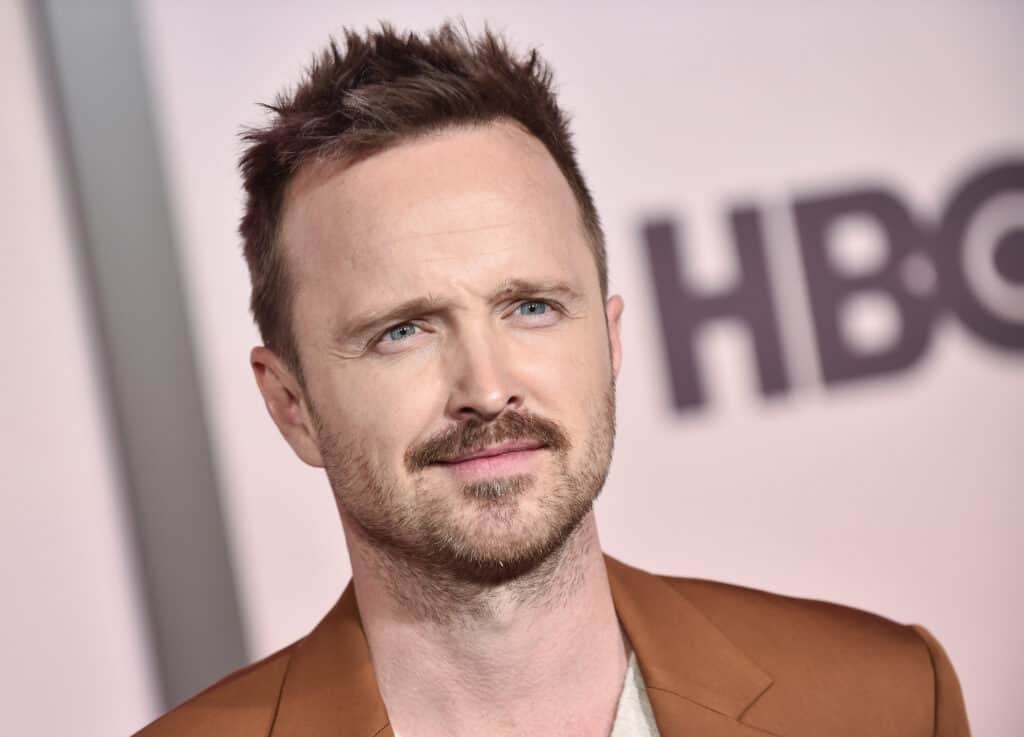 Do you want to know more about Aaron Paul and who he spends his time with? Little is known about Aaron's personal life, but what is known can be discovered in this article — starting with who Aaron really is, who he counts among his closest friends, and who his wife is.
Who Is Aaron Paul?
On 27 August 1979, Darla Haynes and her Southern Baptist minister husband Robert Sturtevant unexpectedly welcomed their fourth child in the bathroom of their Idaho home. Though born a month premature, their son Aaron Paul Sturtevant was healthy.
Aaron grew up in Emmett, Idaho, and he began participating in plays for his church at an early age. He attended Centennial High School in Boise and by the time he was in eighth grade he decided he wanted to become an actor and joined the school's theatre program.
Motivated by his dream to become an actor, Aaron picked up an assortment of odd jobs and began saving up to move to Hollywood to pursue his career. He graduated from school a year early and saved $6,000 in a glass jar that he kept beside his bed and used this money to fund his move to Los Angeles.
Once he had moved to LA, Aaron found success in a number of guest spots on shows such as 'Beverly Hills, 90210', 'Melrose Place', 'ER', 'NYPD Blue', 'The X-Files', and even scored a recurring role in HBO's 'Big Love'. By the age of 27, the guest role opportunities began running dry and after six failed pilots he couldn't pay his bills anymore — a time which he describes as "the low point" of his career.
It was around this time that the audition for 'Breaking Bad' came his way and even though his character was supposed to survive for just one season, Aaron grabbed the opportunity with both hands. The rest, as they say, is history.
Who Are Aaron Paul's Closest Friends?
'Breaking Bad' fans who enjoyed watching the characters Walter White and Jesse Pinkman develop a friendship will be thrilled to discover that the stars who play these roles are the best of buds in real life. Aaron and Bryan Cranston met on the set on 'Breaking Bad' and are such close friends that they even started a mezcal company together.
But it's not just Bryan from the 'Breaking Bad' cast that Aaron is friends with. Aaron is also good friends with Dean Norris who plays DEA's Hank Schrader, RJ Mitte who plays Walt Jr., and Krysten Ritter who plays his early love interest.
Another one of Aaron's friends who he met while working is his BoJack Horseman co-star Will Arnett. Aaron is also close to Evan Rachel Wood and Jimmy Kimmel who he describes as a "dear friend".
Aaron is also very close friends with his wife Lauren Parsekian. The two of them welcomed a daughter, Story Isabelle, in February 2018.
Who is Aaron Paul's Wife?
Though he was not interested in dating during his highschool days, that all changed when Aaron was an adult, and his love life blossomed as he dated actresses Nicole Eggert, Samaire Armstrong, Amara Zaragoza, and Jessica Lowndes. But it wasn't long before Aaron met 'the one' and settled back down in his native Idaho.
Aaron met his now-wife Lauren Parsekian on 1 January 2012 at the Coachella Festival. They married the following year in Malibu in a 1920s Parisian carnival-themed wedding. Even though she once appeared on a 2012 episode of NCIS, Lauren prefers to be behind the camera rather than in front of it and directed the indie documentary 'Finding Kind' that focuses on girl-on-girl bullying.
Lauren is also the co-founder of the anti-bullying NPO 'Kind Campaign'. Aaron, who helped raise $1.8 million for the organization in 2013, describes Lauren as his "pretty little bird" and often gushes about the beauty on his social media pages.