Gigi and Bella have a little bro who is also becoming a pretty popular model due to that famed Hadid face symmetry.
Anwar Hadid likes to keep the names of his closest friends a secret. Looking at his Instagram, it can be determined that he is friends with Mustafah the Poet and Chass Bryan as they both frequently appear in his photos with him. Other than them, he is definitely friends with his girlfriend Dua Lipa and his sisters, Bella and Gigi.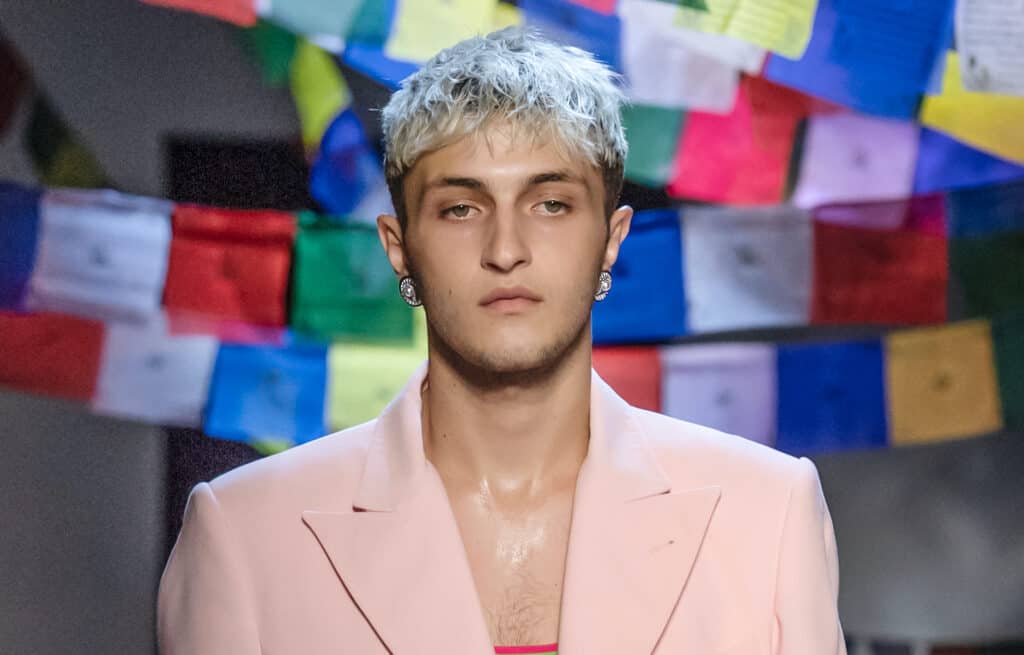 You can read more below about Anwar Hadid's opinion on his friends, his relationship with his girlfriend Dua Lipa, and his family ties.
Anwar Hadid's Secret Friends
Despite his family and two sister's fame, Anwar managed to stay under the celebrity radar until sometime around 2018. That was when he was seen kissing his sister's good friend, Kendall Jenner.
Up to 2016, he had said that he wasn't really interested in following in his sister's footsteps and modeling. He originally said he saw himself on the design side of things, as he told Teen Vogue.
However, something changed in him because he did sign to IMG Models, the company that represents both of his sisters. This big change didn't stop him from wanting to keep his closest friend's identities a secret.
In 2018, he did an Instagram Live Q&A where he answered fan's questions. He did this not that long after being spotted making out with Kendall Jenner in NYC.
W Magazine reported that one of his fans asked what his thoughts were on friends and loyalty. His response was "It's like I don't really have to talk about it with the people I know got me for life… if u gotta speak on it and question it…sorry kid."
Although a kind of cryptic message, reading between the lines you get the feeling that he doesn't want to reveal the identity of his closest friends. However, you can deduce some of those friends from the pictures he tags them in on his Instagram.
Two of his friends are definitely Mustafah the Poet, a Toronto based rapper, and Chass Bryan, who was a point guard on the USC men's basketball team. As the Teen Vogue article above points out, Hadid has also been friends with Jaden Smith and Lucky Blue Smith when he started his modeling career.
Hadid's GF & BFF Dua Lipa
Maybe we don't know exactly who is Anwar Hadid's best friends, but one thing is certain, he is definitely best friends with his girlfriend Dua Lipa. In 2019, Anwar started to pursue Lipa after finding out that she had split from her boyfriend Isaac Carew.
According to TMZ, Hadid reached out to Dua Lipa in early June of 2019 to go on a date. In July the same year, the pair announced that they were a couple.
Dua Lipa also said that she slid into Anwar's DMs before they were official. Watch her talk about that in the below video from Watch What Happens Live with Andy Cohen.
Since announcing their relationship, the two spent time between the US and the UK attending music festivals. In 2020, they even spent the entirety of lockdown in the UK before heading to Los Angeles to spend the summer with Anwar's family.
During their time in LA, the pair adopted a puppy from The Labelle Foundation that they named Dexter. Before they two became a couple, they were familiar with each other because Lipa is actually good friends with both of Anwar's sisters, Gigi and Bella.
As mentioned above, this isn't the first time he has cozied up to one of his sister's friends, but this seems to be the first time that he ended up in a long-term serious relationship with one.
Anwar Hadid's Family Friendship
The entire Hadid family appears to be super tight as they all hang out in the same friend group. His sisters and his mom, Yolanda, can definitely be grouped into the category of Anwar Hadid's closest friends.
Something that certainly brought the family together is the fact that Yolanda, Anwar, and Bella all suffer from the same illness: Lyme Disease. Yolanda was diagnosed with Lyme disease in 2012 after long-term health problems.
It was that same year that Anwar and Bella were both diagnosed with the disease and the entire family has struggled together through thick and thin since. While Gigi does not have Lyme disease, she suffers from a thyroid condition known as Hashimoto's disease.