Ben Stiller is a part of a group known as the 'Frat Pack' due to their appearances together in some of the biggest comedies of the 90s. Some of those members are also Ben Stiller's friends.
Ben Stiller's closest friends are Jerry Stahl, Kriss Roebling, Jennifer Anniston, and his wife Christine Taylor. Stiller has been working with Jerry Stahl on the TV series Escape at Dannemora. Kriss Roebling is one of his friends from high school with who he wrote and recorded an album. While Stiller is probably still friends with members of the 'Frat Pack' it's hard to say how close.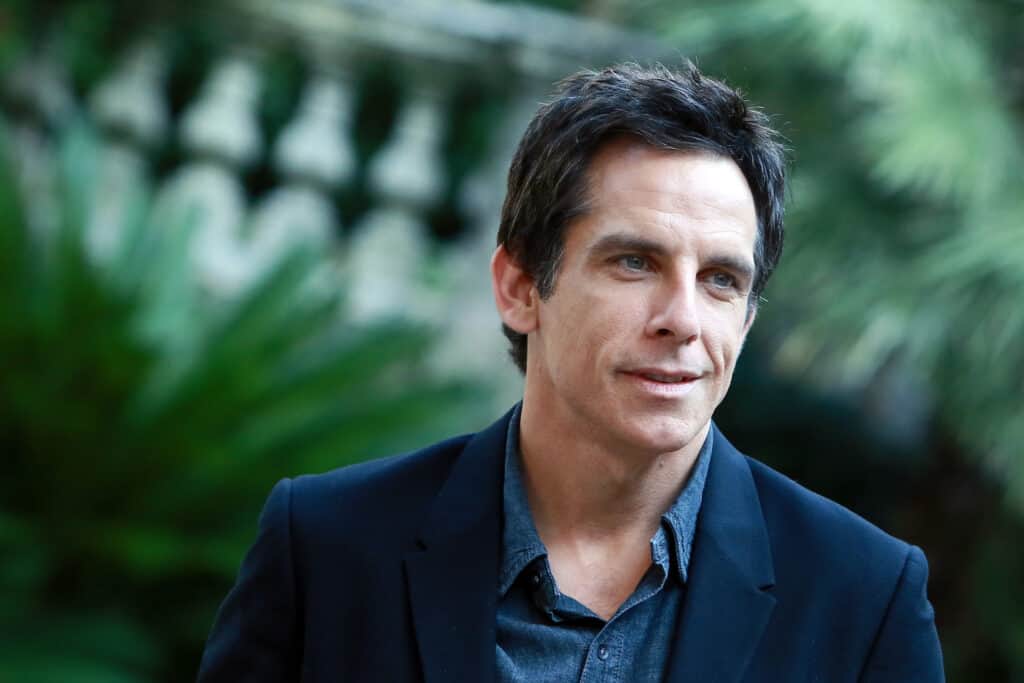 You can read more below about the group that was the 'Frat Pack,' how Ben Stiller became good friends with Anniston, and how he and Christine Taylor get along.
Ben Stiller and the 'Frat Pack'
The group that is known today as the 'Frat Pack' was originally known as the 'Slacker Pack' and was a group of comedians who appeared in some of the highest-grossing comedy films of the mid-90s to 2010s. The name 'Slacker Pack' was replaced by 'Frat Pack' in 2005 after the frat film Old School was released.
The original group members were Ben Stiller, Owen Wilson, Luke Wilson, Will Ferrell, Steve Carell, Jack Black, and Vince Vaughn. The group was known for making smash comedy hits that usually had at least two of them as a part of the cast.
Well-known Frat Pack movies include Zoolander, Dodgeball: A True Underdog Story, Starsky & Hutch, Old School, Wedding Crashers, Night at the Museum, and Tropic Thunder to name a few. To date, the film with the most Frat Pack actors in it is Anchorman: The Legend of Ron Burgundy.
The only original Frat Pack member to not appear in that film was Owen Wilson. Everyone else had roles from leads all the way to cameos.
Unfortunately, all good things must come to an end and there haven't been any massively successful Frat Pack films in a long time. The group of fast friends seems to have diminished in the past five years.
In 2015 Benjamin Lee at The Guardian even wrote a piece on how the Frat Pack was essentially finished and its actors are having to either adapt or face becoming obsolete.
As the Frat Pack dissolved, Stiller has used his fame to work on supporting and funding humanitarian efforts more specifically refugee crisis' around the world. Through that work, he has made a lot of non-famous close friends like photographer Michael Muller.
You can watch the infamous news team fight scenes that feature the 'Frat Pack' members from both Anchorman films in the below YouTube video.
Ben Stiller & Jennifer Anniston's Friendship
While he has his out of the spotlight close friends, Stiller is still close with some celebrities too. One of those celebrity friends is Jennifer Anniston.
Jen and Ben met back in 1997 when he was a guest star on the hit sitcom Friends. He appeared in the third season's episode 'The One With the Screamer' where he played the guy that Anniston's character, Rachel, is dating.
Seven years after his guest appearance on Friends, Stiller and Anniston ended up filming the comedy Along Came Polly. The movie followed Ben's character, Ruben, a neurotic guy that runs into his free-spirited old classmate Polly, played by Anniston.
From there the two became good friends and Anniston also became a good friend with Stiller's wife, Christine Taylor. He was even the person that introduced Jen to her future husband Justin Theroux back in 2007, although Anniston and Theroux split in 2017.
Ben Stiller's Friendship With Wife, Christine Taylor
In 2017, Ben Stiller and Christine Taylor announced that they were separating after 17 years of marriage. This seemed to shock Hollywood because not only did they have two kids, but they were super close, essentially best friends.
Many people close to them said that it wasn't due to the spark fading but that they had neglected their relationship to focus on their careers. The two met in 1999 while filming the TV Pilot for Heat Vision and Jack– a show featuring Stiller's friends Owen Wilson and Jack Black.
Taylor had roles in some films alongside Stiller like Zoolander, Dodgeball, and Tropic Thunder. This wasn't enough to keep them together, but the speculation of those close to the couple turned out to be true; the spark hadn't faded between the two.
In 2019, it was announced that they were giving their marriage another shot after rekindling their friendship.