Community college dropout turned international music artist, Halsey has had a rise to fame that's well-documented. But who are her parents?
Halsey was born in New Jersey to Nicole and Chris Frangipane who became pregnant with Halsey whilst they were in college. Her Mom is an Emergency Medical Technician, whilst her Dad manages a car dealership.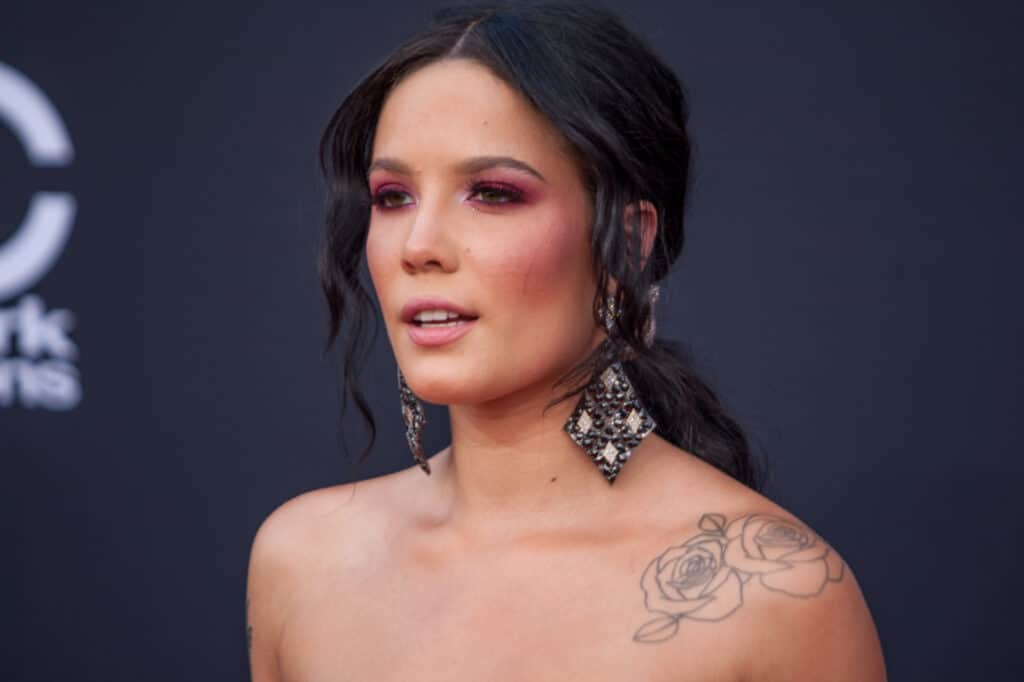 Read on to learn more about Halsey's parents, their influence on her career, and the relationship she shares with them.
Growing Up
Ashley Nicolette Frangipane, famously known as Halsey, was born on September 29, 1994 to Nicole and Chris Frangipane. Halsey is biracial and told her twitter followers that her Dad is African American, with Irish roots, and her Mom is of Hungarian and Italian descent.
She was born in Edison, New Jersey and her parents became pregnant with her whilst they were in college. Though she spent the beginning of her life in their college dorm, they later dropped out to commit to raising Halsey, and had two sons, Sevian and Dante.
Her parents struggled to make ends meet and often worked two jobs, initially picking up jobs as a car salesman and a security guard.
The youth of Halsey's parents meant she learnt to do a lot for herself, including cooking. Looking back on her childhood, Halsey told Rolling Stone, "I grew up in a really chaotic household," adding "there was always shit being thrown".
Her parents' job searches meant Halsey enrolled in lots of different schools and Halsey told Billboard, "I'm used to ­packing up and leaving, to condensing myself into a digestible version because people don't have much time to get to know me".
Her parents moved frequently in search of better jobs and cheaper housing and finally bought their first house in 2015, according to Halsey.
Not a Regular Mom
According to Halsey, her Mom is the coolest, and they have a great relationship, which extends to their love of tattoos.
In an interview with iHeartRadio, Halsey said, "she has her tongue pierced. She's super, super cool, really beautiful, and always had tattoos when I was growing up". She added, "so I think looking up to her, I always saw it as an artistic thing".
It was Nicole who took her to get her first tattoo when she was 15, after serious begging from Halsey who was desperate for some ink. They decided to get matching anchors with their initials, and Halsey has followed her Mom's footsteps with lots more ink since.
She told her Instagram audience that her Mom is now an Emergency Medical Technician, and is clearly proud of her.
Music Influence
Her parents' music tastes influenced Hasley's creative streak and whilst her Dad was massively into hip hop, Halsey's Mom was into alt-rock, with a particular interest in The Cure.
However it was her Mom who really encouraged her love of music and Nicole persuaded Chris to get Halsey a second-hand guitar for Christmas one year, insisting "we can't hold her back".
Whilst Halsey recognizes her Mom's support, she's equally grateful for her father's influence, who's determination to remember the names and faces of his customers has affected her as "an artist tremendously". She insists she never forgets a fan.
Close-knit Relationships
Though Nicole and Chris kicked Halsey out after she dropped out of community college, they have a very close-knit relationship, with Halsey gushing about her family on social media.
She shouted out her Dad on Instagram saying "I love you and I'm grateful for everything you have blessed me with" and even took him to the Grammy awards in 2017 as her date.
Watch Halsey and her Dad speak to PeopleTV at the 2017 Grammy awards in the YouTube video below.