Former jewel of the Carolina Panthers' defensive line, Luke Kuechly has racked up a record over the course of his seven-year journey in the NFL that any professional player could be proud of. Your family is often instrumental in the encouragement of greatness amongst gifted athletes, especially our parents who are in a unique position to push us when we most need to be pushed.
Luke Kuechly's parents are father Tom Kuechly and mother Eileen Kuechly. Kuechly's parents have three children, of which Luke is the middle child, sibling to older brother John and younger brother Henry.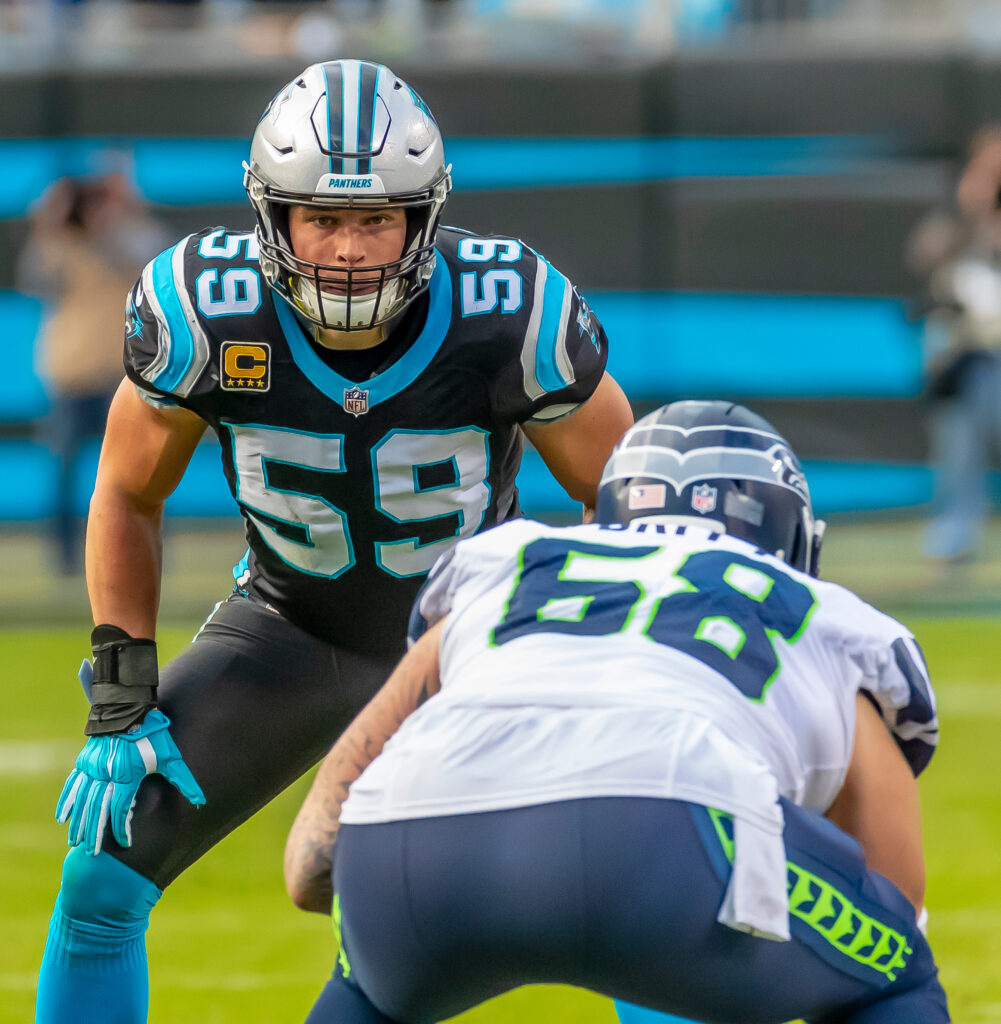 Luke isn't the only member of the Kuechly family possessing some natural god-given gifts in the athletic world, he's the son of two parents that were both heavily invested in their respective sports of soccer and basketball. Perhaps it was his parents that he inherited his explosive yet analytical playstyle from.
A Brief Overview of Kuechly's Career
If you're a fan of the Carolina Panthers, then you'll almost certainly already be familiar with the man that was essentially the heart and soul of their defensive line. Before we have a look at his parents, let's take a quick look at some of the finer points of his career to better understand why he was such a significant player for the Panthers.
Holding multiple records and awards for his performances on the field, when Kuechly retired in 2019 it took players and fans alike by surprise since the linebacker had a stellar year prior to the retirement.
He won defensive player of the year in 2013, six years before reaching his retirement, and continued to produce similarly solid and at times game-changing results for his life-long team the Carolina Panthers. Unfortunately, however, the nature of the position that he played and his high-activity high-aggression playstyle meant that he suffered a number of concussions over the years, which goes a long way to explaining the reasons behind his retirement.
Despite his retirement, Kuechly was determined to retain some level of involvement with the sport, and after a brief consideration of the avenues that he could potentially pursue to keep his finger on the pulse of the sport, he decided on a position as a pro scout for the Panthers, his beloved team.
One For The Hoops
Although their individual styles and sports might not have been passed down to their son, Keuchly's parents certainly did hand over their love for sports to him. Interestingly, though, none of their sports are anywhere close to the one that Keuchly has a talent for.
His mother is Eileen Kuechly, and while Luke chose to become a defensive terror on the fields of the NFL, his mother instead had a talent for the hoops of the basketball court, with a sprinkling of volleyball on the side. Perhaps if she hadn't quit from her sporting activities prior to entering the University of Cincinnati, we might have seen another Keuchly name on the list of influential sporting stars.
Of course, his mother isn't the only one that was capable of achieving that kind of accolade, as his father also had some talents of his own.
One For The Net
Depending on what part of the world someone lives in, they could have easily mistaken Kuechly and his father for being players of the same sport. Tom Kuechly, who first met his beloved wife in 1985, made soccer his sport of choice.
He had some serious talent for it too, playing for Xavier University as a goalkeeper. The fact he was a goalkeeper goes some ways to explaining Luke's comment that he takes after his father when he's on the field, the tactical decision making and athleticism to employ a skilled defense clearly runs in the family.
The Kuechly Brothers
Kuechly also has three siblings, Henry Keuchly and John Kuechly. Although Luke didn't decide to follow in either of his parents' footsteps when it comes to his favored sporting activity, brother Henry found a common interest with his mother by playing basketball.
Going by the apparent success of all three brothers, especially with what we know about Luke's highlight-filled NFL career, both Eileen and Tom did a fantastic job of raising their three sons. All of them have become high-achieving members of their respective fields.