Saweetie is an American musician known for her massively popular debut single "Icy Girl." She often pays tribute to her family through her musical career — does she get any of her "ice" from her parents?
Saweetie's parents are Johnny Harper, a former San Jose State football player, and Trinidad Valentin, who often appeared in music videos for stars such as L.L. Cool J. Saweetie's parents' musical backgrounds helped foster her love for music.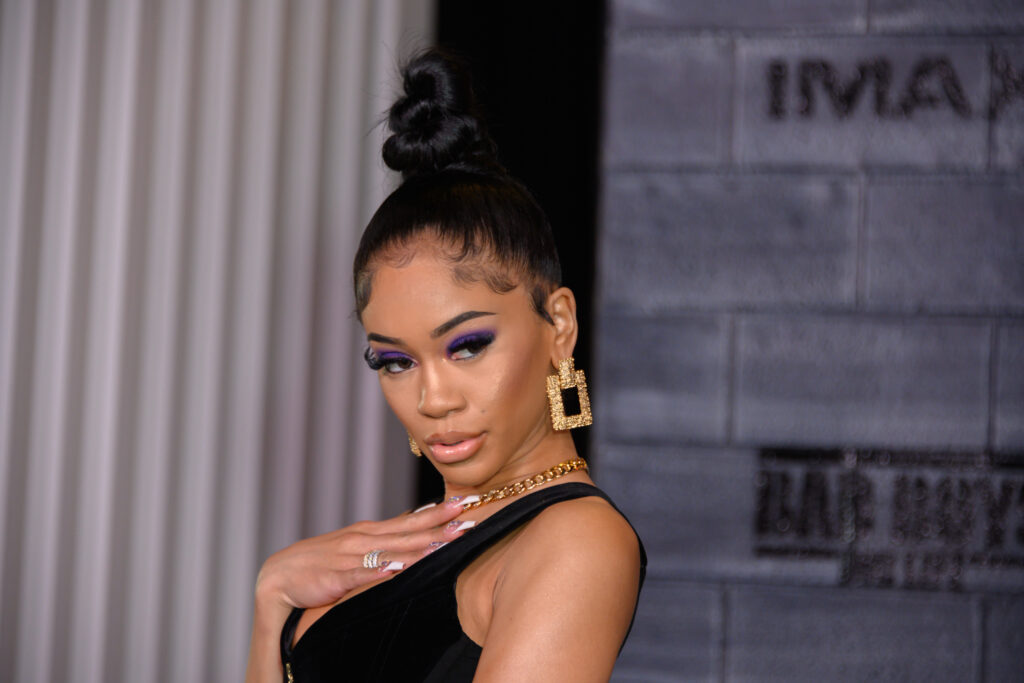 As she grew up in a musical household, with her parents often playing music from legendary musicians such as Delfonics and The Isley Brothers, this must have helped her turn into the star she is today in some ways.
Family and Early Life
Saweetie is a rap sensation, making waves in the music industry for her viral hits like "Tap In" and "My Type." However, she started out just like anyone else, a young person with big dreams and aspirations — how did her early life influence her musical career?
Saweetie's stage name actually comes from her grandmother, Roxanne Glass; her real name is Diamonté Qiava Valentin Harper, but she chose the nickname that her grandmother gave her to use for her rap career. That's so sweet!
Additionally, Saweetie's mother also has a musical background of her own. Trinidad Valentin, who is Filipino-Chinese, appeared as a video vixen in several notable music videos in her youth, including DMX's video "What These Bitches Want," and Nelly's music video for "Ride Wit Me."
Capital Xtra reports that Saweetie's mother, Trinidad Valentin, raised her with love for music and poetry. She had Saweetie when she was seventeen years old.
Saweetie said in an interview quoted by Capital Xtra, "My mom was 17 when she had me, so my parents were always working, and my grandma took care of me."
Perhaps it is due to this deep connection with her grandmother that Saweetie chose to use her nickname for her professional career in the music industry.
Saweetie also shared this sweet snap of her dad on her Instagram.
Although she takes after her mother in the realm of the music industry, Saweetie also takes after her father and grandfather, who played for the San Jose State and San Francisco 49ers football teams, respectively. Saweetie actually played football in a powderpuff league, although she also excelled in track and volleyball.
Interestingly, Saweetie also has another familial celebrity connection through her first cousin, actress Gabrielle Union.
Discography and Musical Influences
Although Saweetie certainly has a talented family, that doesn't mean she hides her light under a bushel — instead, she's allowed herself to shine through her musical career.
In 2018, Saweetie was named one of Complex's best new artists to watch. At the time, she was releasing solo content such as a freestyle rap titled "High Maintenance" that went viral after posting a video from her kitchen.
She was soon signed to Warner Records and subsequently released her debut EP, "High Maintenance." Saweetie quickly followed "High Maintenance" up with her sophomore EP, "Icy."
The EP's single "My Type" became a viral sensation and quickly charted on the Billboard's Hot 40 hits.
Saweetie began promoting her upcoming album, "Pretty Bitch Music." She also released another EP, "Pretty Summer Playlist: Season 1," possibly drawing inspiration from Megan Thee Stallion's "Hot Girl Summer."
Rolling Stone profiled the song "Risky" from the "Pretty Summer Playlist: Season 1" EP, saying that the music video "is fittingly packed with only good vibes." The "Risky" music video features Drakeo the Ruler, although he isn't the only artist Saweetie collaborated with for songs.
Saweetie also collaborated with Doja Cat for another single, titled "Best Friend," which is sure to be the new anthem of dynamic duos everywhere, and collaborated with Gwen Stefani on her "Slow Clap" remix.
In an interview with Cosmopolitan, Saweetie talked about how she had previously been underestimated in the rap game due to her incredible good looks, saying, "I wish me, or someone, would have thought, You know what? That's not right."
It's impossible to underestimate Saweetie's capabilities now, as she's climbed to the top due to her multi-talented and intense efforts. In her own words, "I know that as long as I work hard, I'll become one of the best."
Saweetie has made it clear that she's here to stay — we're looking forward to it.