At the time of his death, Dean Martin had an approximate net worth of around $30 million, leaving us wondering whether his fortune was left to any of his 8 children, or one of his ex-wives, whom he had reconciled within the later years of his life.
It is unknown exactly who Dean Martin left his money to after his death, as there are no records on his last will and testament. It is possible that he left some money to his ex-wife Jean Biegger at the time of his death, and he also could have left some money to his children. However, the exact details are unknown.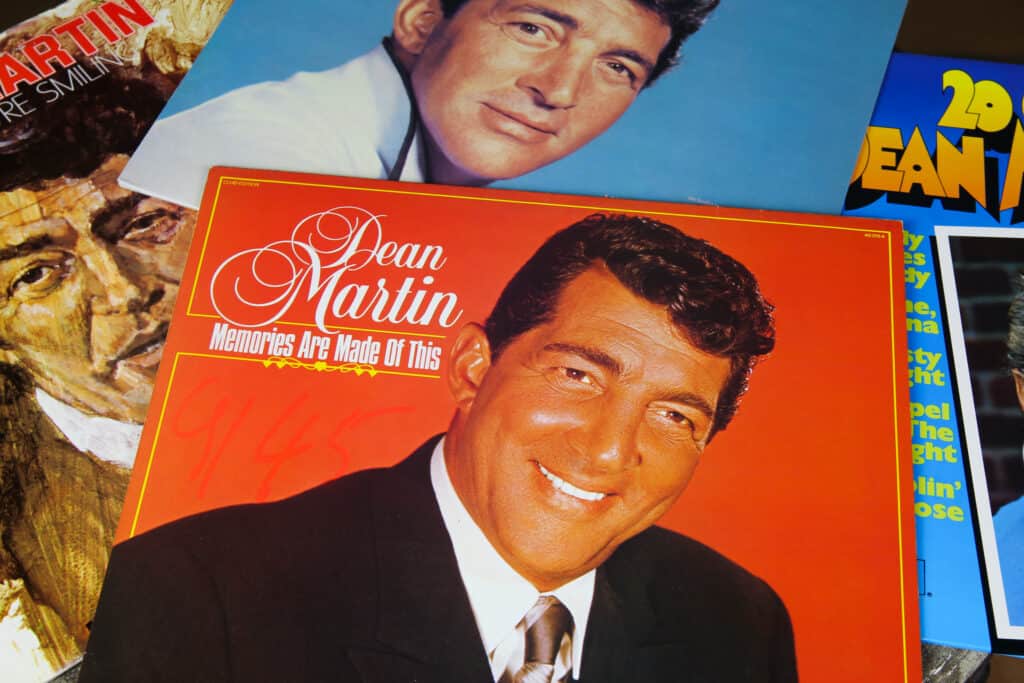 Keep reading to find out more about Martin's fascinating life and career, as well as his children and relationships.
Becoming the "King of Cool"
Born Dino Paul Crocetti on the 7th of June 1917 in Ohio, Dean's parents were immigrants from Italy, Gaetano Alfonso, and Angela.
Dean became quite an outspoken young man and eventually made the rebellious decision to drop out of high school. His reason? He believed that he was much smarter than his teachers.
Since school was out of the question, he began to work a bunch of odd jobs. These included working in a steel mill, transporting alcohol illegally, and working as a dealer at a speakeasy.
He even tried his hand at boxing, where he named himself "Kid Crochet" at 15 years old. His short-lived boxing career wasn't entirely successful in the sense that he barely won, but the experience basically set him up for his singing career.
Amidst a broken nose, broken fingers, and a damaged lip, Dean managed to cement some important connections within the nightclub scene.
While stocking items at a local tobacco shop and working as a croupier, Dean sang in bands and gave himself another stage name: Dino Martini. This name was inspired by Nino Martini, a famous Opera tenor.
His music career breakthrough came when he joined the Ernie McKay Orchestra, where he adopted the crooner technique of singing that would later become one of his trademarks.
Following the Ernie McKay Orchestra, he joined the Sammy Watkins Orchestra. It was around the late '40s that Watkins told Dean to use the name Dean Martin, instead of Dino Martini.
In 1941, Martin got married to Elizabeth Anne McDonald. Their relationship ended up spanning 8 years before a divorce, and they had 4 children together: Deana, Gail, Claudia, and Craig.
Teaming Up With Jerry Lewis & His Film Career
While performing one night at New York's Glass Hat Nightclub, Martin met funnyman Jerry Lewis. Little did they know that their partnership would become known as one of the best comic-music duos in history.
At first, their act wasn't much of a hit when they performed at the 500 Club in Atlantic City. They were told by the owner that they had to come up with something better, which resulted in a series of skits and comical material that was largely ad-libbed.
Throughout their partnership, Martin released big hits like "Powder Your Face With Sunshine" and "You Belong to Me". They also made movies together.
Even though it was a success, the pair soon fizzled out and eventually broke up to pursue solo careers.
He decided to turn to television and the big screen, starring in his first movie, Ten Thousand Bedrooms in 1957, and The Young Lions the following year. While Ten Thousand Bedrooms had a dismal reception at the box office, The Young Lions was much more well-received.
As a result of this film's success, Martin was considered for a larger amount of roles. He began growing his career as a Hollywood star, appearing in big films like Rio Bravo (1959), Who Was That Lady? (1960), and Ocean's 11 (1960).
Just before they departed, Martin had married his second wife, Dorothy Jean "Jeanne" Biegger in 1949. They had three kids: Dean, Ricci, and Gina.
Martin's Later Years
Martin's marriage to Jeanne lasted for 24 years, as they subsequently divorced in 1973. Not long after, Martin married then 23-year-old Catherine Hawn, but they only lasted a few years.
He reunited with Lewis for Labor Day in 1976 and made a brief return to the film scene.
In 1995, Martin sadly passed away from a series of health problems, including lung cancer. He and his ex-wife Jeanne were reportedly back together after the tragic death of their son in '87.
In the video below, you can see the estate he left behind in Hollywood below.