Scooter Braun. Entrepreneur. Investor. Media Proprietor. Philanthropist. Is there nothing Scooter can't do? Arguably one of Scooter's most successful career paths is the one he took as a record executive, but how successful is he? Which artists does he have in his roster?
Only some of the biggest names in the world. Scooter Braun's all-star line-up includes artists Justin Bieber, Ariana Grande, Kayne West, Carly Rae Jepsen, Black Eyed Peas, David Guetta, Demi Lovato, Psy, Hillary Duff, and many more.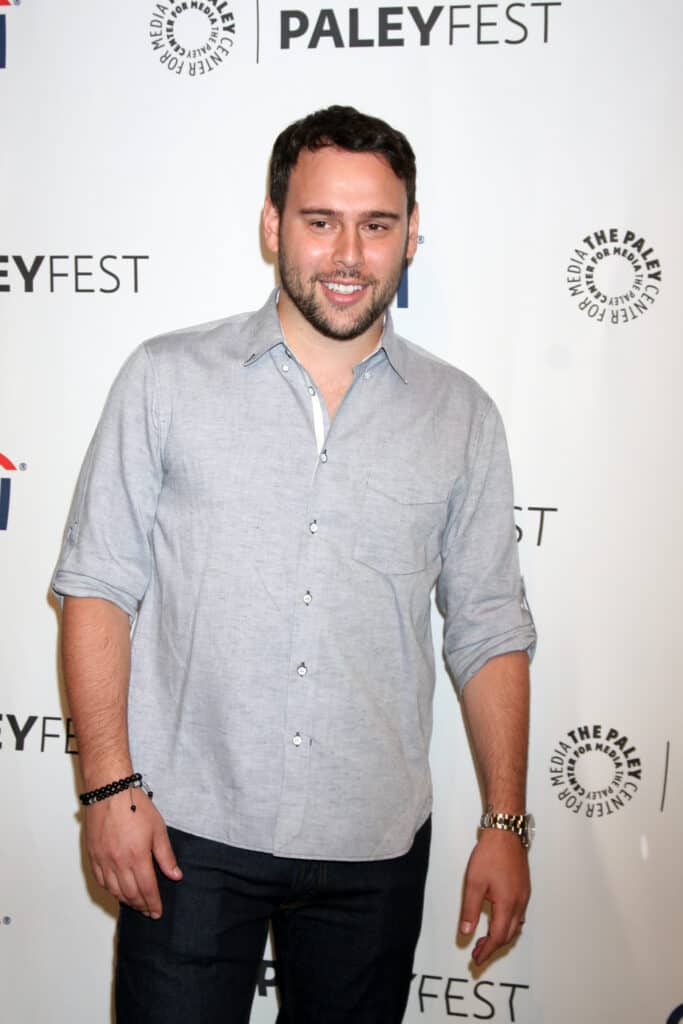 If you want to learn more about Scooter's reach, the artists under his management, and the complete list of people he manages, then read on.
Justin Bieber's Long-Term Manager
There's no denying that Scooter is the manager to some of the biggest names in the entertainment industry, and it's incredible to think just how many of the world's current stars are working with him.
Household names like Justin Bieber have been around for decades, starting from making videos on YouTube to racking up over 100,000,000 plus views on every song he releases.
Braun actually discovered Bieber back when he was only 12-years-old when he was making YouTube videos, and the two have been together ever since. Back in 2018, Braun purchased Taylor Swift's record label, Big Machine Records, and, therefore, everyone who was a part of the label.
Taylor went onto Tumblr to call Braun a 'bully' and that him buying the record label was her 'worst-case scenario.' However, Bieber actually responded and backed Braun up with his own Instagram post, showing how close both of them are.
Other artists under Braun, including Demi Lovato, also posted in response, clearly stating that Braun is respected and doing right for the people he works with.
The Complete List of Managed Artists
Bear in mind that Braun list of managed may change at any time since people will join, and some will go elsewhere or retire, and situations like this. However, this is the complete list of artists managed as of November 2020. If you want to find the most up to date list, you can check out Braun's project website here.
But, without further ado, here is the complete list of music artists;
Ariana Grande
Ashley Graham
Asher Roth
BabyJake
Black Eyed Peas
Callista Clarke
Carley Rae Jepson
CL
Dan & Shay
David Guetta
DeathByRomy
Demi Lovato
Eden
Gunnar Gehl
Hillary Duff
Idina Menzel
Justin Bieber
The Knocks
Lil Dicky
Psy
PushBaby
Social House
The Spencer Lee Band
Steve Angello
Tori Kelly
The Wanted
Usher
Watt
YG
How does Scooter find and secure such fantastic talent, and how has he grown such a gigantic empire in the entertainment industry? Well, he reveals all in this interview with Fast Company.
If you want to be noticed by the best, here are the tips for what someone like Braun is looking for and how he created the business he runs today.
Spoiler alert: like all rags to riches stories, it wasn't easy, and Braun had to put in so many hours and make sacrifices to get where he is today. It's a genuinely inspirational watch, that's for sure.
Joint Ventures and Other Projects
In the list above, you'll see all the names of the artists Braun manages under the record label SB Projects (Scooter Braun Projects), but this isn't the only label and organization he works with.
Scooter works with two other labels; Schoolboy Records and Sheba Publishing.
Schoolboy Records has even more artists, including CL, Psy, Rixton, Sheppard, Tori Kelly, and Moxie Raia. Sheba is another joint venturing project that is run alongside Universal Music Group Publishing that aims to help connect artists and songwriters who can work together to create art.
Some of the artists listed here including top names like Daniel Bedingfield, Kwesi, RJ Ferguson, Bernard Harvey, Jeeves Du Cornet, and many more.
A Jack of All Trades
While music is a massive part of Braun's career, he doesn't just stop there. He also dabbles in film, TV, and movie production and has worked on some rather unsurprising projects, including Justin Beiber's Never Say Never movie and the follow-up; Believe.
Never Say Never went on to become the number one grossing concert movie in all US movies.
It's clear that Braun has had such a massive impact on the world as we know it. The hours he has put into his career and his business have brought happiness and incredible music and movies to millions of people worldwide, touching them and changing their lives.
All we can cross our fingers for is to see what beautiful creations he helps to bring out next.