Did you ever hear about the girl who was selling her bathwater online? That's an interesting product to sell, to say the least, so who is this girl anyway?
Mary-Belle Kirschner, who goes by the stage name Belle Delphine, is a South African born British YouTuber and internet personality. She is probably most famous for her cosplay and internet trolling. One of her most famous stunts would have to be selling jars of her bathwater online dubbed Gamer Girl Bathwater, but she has also been embroiled in controversy surrounding some of her other online activities.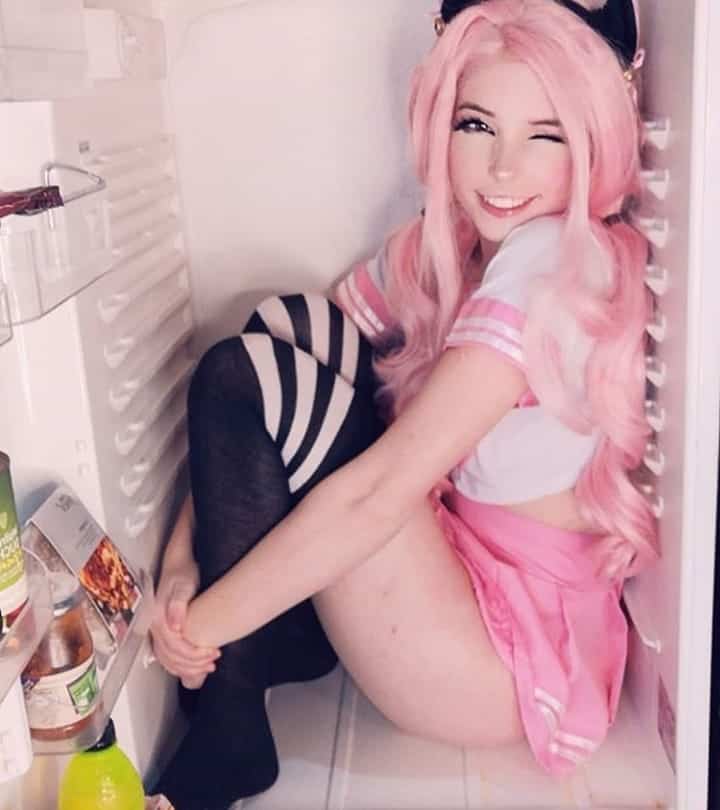 You can read more below about Belle Delphine's bathwater stunts, how she got started as an internet personality, her controversy with Instagram, and her NSFW Videos.
Belle Delphine's Early Work
Belle Delphine dropped out of school at the age of fourteen and was working multiple part-time jobs before she decided to try out the whole YouTube thing. She started with makeup tutorials but quickly progressed to cosplay starting in 2016.
Cosplay is a play on "costume play" and basically means that people dress up as different characters from fictional works. In Belle Delphine's case, that has been dressing up as characters like Harley Quinn, Link from the Legend of Zelda, and Sailor Moon from the popular anime of the same name.
In 2018, Delphine started to post consistently and her content became much more adult and "not safe for work." She set up a Patreon account where fans could pay a monthly fee to have access to her adult content through Snapchat.
It was also in 2018 that she started to change up her posting style, opting for more adult content combined with trolling her followers. She posted a lot of content that featured her with a dead octopus.
Gamer Girl Bathwater
So what's this about the bathwater? Well, maybe you hadn't heard of Belle Delphine, but maybe you have heard of Bathwater Gamer Girl.
That would be because, in July of 2019, Delphine launched an online store where she was selling bathwater that she called GamerGirl Bathwater. The asking price per jar was $30 USD and the jars sold out within a mere three days!
Apparently, Belle Delphine got the idea directly from her fans. In this article from The Cut, she said "Lots of people would comment on my photos saying they would drink my bathwater. I was thinking of ideas one day, and it just popped into my head. What if I actually bottled and sold my bathwater?"
One of the number one rules to marketing is listening to what your audience wants and then giving it to them. Delphine was praised by many critics for her marketing savvy business skills.
Along with her Bathwater stunt came a tidal wave of criticism from other YouTubers, but it also started trends of other YouTubers actually showing what they did with the bathwater they purchased. One YouTuber even put the bathwater in his vaporizer and "vaped" it.
You can watch Horror History's YouTube video that does a great job highlighting Belle Delphine's career
NSFW Videos & Instagram Controversy
Belle Delphine seems to be a bit of an internet troll, so it might not shock you to find out some of her other tricks. In June of 2019, she told fans that if her post reached one million likes, she would create a P***Hub account and post videos to it.
It only took a short period of time for her likes to skyrocket to one million. Delphine delivered on her promise, but the videos she posted were definitely not what her fans were expecting.
Each of the videos featured a title that implied sexual content but was in fact not. However, you have to hand it to her, all of the content was exactly what she described, if not a little abstract in nature.
With all of the scandal surrounding her, Belle Delphine became embroiled in another one when her Instagram account was banned in July 2019. Instagram reported that her account had broken its community guidelines.
It was around this time that Delphine stopped posting consistently on social media. Then in November of 2019, she took a hiatus from social media altogether.
That wasn't the last that everyone heard of Belle Delphine though. She resurfaced in June 2020 with a parody rap video that promoted her new accounts on Instagram, TikTok, and OnlyFans.
Although her popularity on Instagram isn't what it was, we wouldn't expect tough times to beat down the girl whose best friend is a dead octopus.