Even if he races swiftly on the F1 field, his heart races for someone off the game and camera. And honestly, humans were made to love so it's not a surprise that the popular F1 racer has chosen to commit.
Charles Leclerc, the F1 sweetheart, is in a relationship with his heartthrob Charlotte Sine and they have been dating for some years.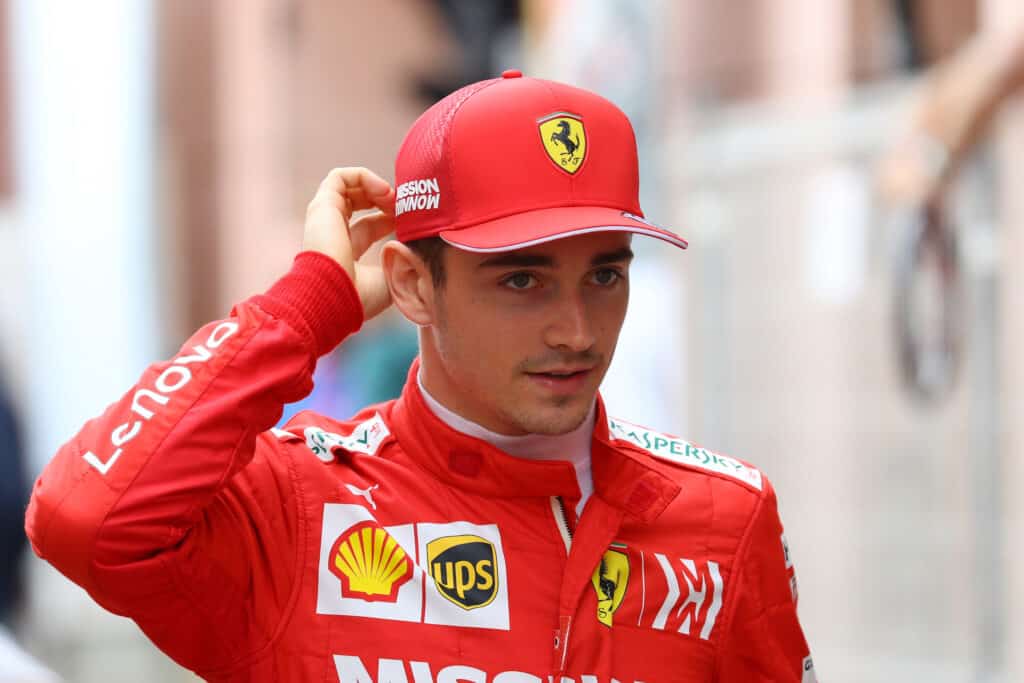 Here's all we know about Charles and his girlfriend, from how they met to everything Charlotte Sine does.
How did Charles Leclerc and Charlotte meet?
In September 2019, Charles and his ex-girlfriend, Giada Gianni broke up. The motivated F1 race car driver apparently spent more time on the field than he did with his lover. It was frustrating for Giada to endure not having her man all to herself so she ended the relationship.
While people may have suggested an extended timeframe like one to two years for people to heal from breakups, Charles Leclerc went against all that and got into a relationship two months later.
In December 2019, Instagram influencer and model, Charlotte Sine, came out to confirm her relationship with the F1 star. Charlotte is one of Giada Gianni's closest friends and Charles Leclerc ignored what the world may say and went for her.
Who is Charlotte Sine?
Charlotte Sine is an architecture student and Instagram model + influencer. She's the daughter of Emmanuel Sine, the general manager of Société des Bains de Mer, an entertainment company. 
Born on September 19, 1999, the beautiful model is a Monaco native. After her education in Monaco, she started pursuing an architectural degree. She's not just beautiful and influential, she also has brains.
How long have Charles Leclerc and Charlotte been dating?
Charles Leclerc and Charlotte Sine started dating in 2019. Prior to that time, they were friends as they had been captured multiple times together in different places.
Despite Charlotte being friends with Charles' ex, the trio (Giada, Charlotte and Charles) still hang out together occasionally.
It's also a shocker that Charlotte and Charles are still together, because Giada broke up with him due to lack of time. But the lockdowns in 2020 gave the couple an opportunity to spend more time together.
So, since there were no F1 races to keep Charles busy, he took the time to give his new girlfriend attention.
Are Charles Leclerc and Charlotte Sine married?
Charles Leclerc and Charlotte Sine have been together for a while now. The model is always at all his races to cheer him up. She doesn't mind travelling miles to see her man do his thing.
The love they share makes people wonder if they are actually married. Well, they aren't and they haven't revealed to the public if they have any intentions of settling down. They are still exploring their relationships, getting to understand each other and going on as many trips as possible. 
Who is Charles Leclerc's ex?
Charles Leclerc dated Italian Giada Gianni for four years before breaking up with her in September 2019. The duo were delightful to watch all over Instagram as she consistently documented their trips together, fun moments they had and other lovely things that made people fall in love with them.
However, posting your relationship online doesn't always mean it would last. According to Giada, Charles was married to Ferrari. What did it mean for their relationship?
Charles' union with Ferrari meant that their relationship would suffer due to no attention. And if there's anything we know about women, it's that they thrive on their partner's attention. If you want to date a woman, you have to be ready to devote your time.
Anyway, the couple called off their relationship and there isn't much known about Giada Gianni.
Are Charles Leclerc and his ex still in contact?
When you break up with a lover, the ideal thing is to take space away from each other and possibly avoid spending time together again. It's the unspoken breakup law.
But, Charles Leclerc doesn't seem to live by these conventional beliefs. He was spotted at a club with his new girlfriend, Charlotte Sine, and ex, Giada Gianni. The three seemed to be having a jolly good time and honestly, you can't blame him.
Giada and Charles spent four years together as lovers. Whether they would like to admit it or not, spending that much time with a person can make them grow on you. So if the two still have a solid friendship, it's not a surprise. Plus, he's dating one of her friends so if they bump into each other, it's normal.