If you are a fan of 80s television, and Magnum P.I. in particular, you might remember a character by the name of Sally Ponting in the episode Professor Jonathan Higgins. This character was played by Jillie Mack, who has an interesting connection to the show and the show's lead actor.
Jillie Mack was a dancer turned actor from England, who after some small single-episode roles in a few popular TV shows, married Tom Selleck. That marriage has been long-lasting and without any negative publicity.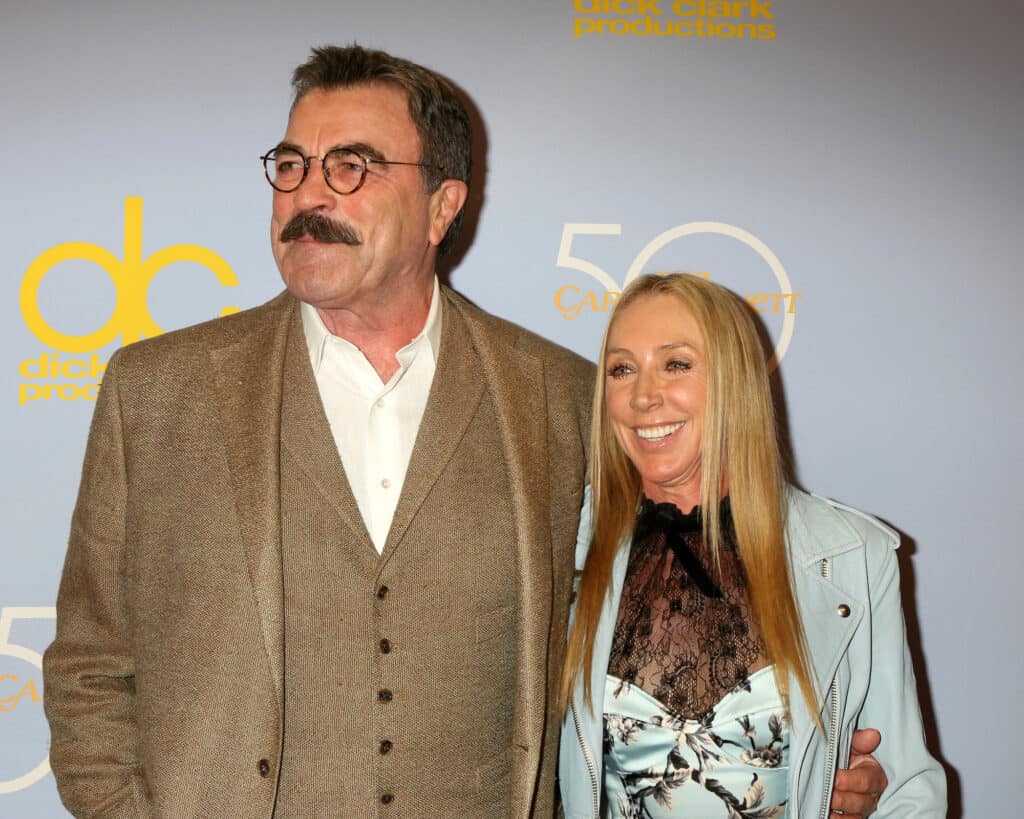 Mack appears to enjoy keeping a low profile as far as social media and celebrity gossip is concerned, preferring to maintain her private life. Selleck does the same, with neither of them commenting on their successful and long marriage.
How did Jillie Mack end up from dancing in England to marrying Tom Selleck?
Jillie Mack's Roots
Mack was born in Wiltshire, in England, and that's about all that's known of her upbringing. Mack hasn't chosen to reveal any personal information about her family or life back home in England.
One thing we know for sure about her was that she had a passion for the theatrical, a passion that she pursued throughout her schooling and into her adult life, embarking on a career in dance. Being in the lights of the entertainment industry apparently intrigued her even further, as she would then begin exploring the world of acting.
Her skills and talents would take her into the role of Rumpleteazer in the musical Cats. It was here that the feline wiles of Mack's character would ensnare a certain American actor who had currently found himself in London filming a movie.
That actor was Tom Selleck, who was in the process of filming Lassiter, a heist movie. Although the movies heists wouldn't earn it too much popularity, the real heist was taking place in theatres across London, where Mack was stealing Selleck's heart.
Some Feline Magic
Selleck apparently went to see the Cats show with a regularity that was somewhat shocking to his fellow cast members, reiterating to them how impressed he was with the production, much to their confusion.
It wasn't long before Selleck's admiration and adoration of Mack would be returned, however, and the two began dating whilst they were both continuing on their filming and performing. Eventually, however, it would soon come time for the Magnum, P.I. star to return home to the States, leaving Mack with a decision to make.
A decision she made gladly, opting to travel to the states with Selleck, continuing both their relationship and Mack's career in acting. It was here that Mack would begin getting some televised acting roles, such as her first part in Magnum, P.I. where she would get to enjoy a spot on two episodes of the hit US show.
The Value of Privacy
Mack's acting parts were few and far between, with the most notable mentions being a small part in hit US comedy Frasier and a larger role in TV movie Silverfox. After her initial few outings on screens across America, however, Mack's main focus would be drawn elsewhere.
She was more concerned with the idea of raising a family with Selleck, whom she had married in what the media and public would likely have regarded as secrecy since almost nobody knew about it.
Selleck was far more protective over his second shot at marriage, seeking to protect the relationship between himself and Mack from the same prying eyes that had done so much damage to the marriage with his ex-wife, Jacqueline Ray.
Not only would Mack be taking it slowly with her acting, but even Selleck himself, at what was the highest point of his career with the stardom earned from Magnum P.I., chose to put family first over his career.
This was mainly due to the two of them bringing their newly born daughter Hannah into the world, whom they wanted to give the time and attention to raising. After stepping away from his incredibly popular show, Selleck and Mack retreated to their 65-acre California ranch.
Built to Last
Clearly, the relationship between Mack and Selleck that bloomed in those fateful London theatres proved to be a match made in heaven, as their relationship has gone strong for more than three decades.
A good idea to raise their daughter Hannah on a ranch also, as she's now a seriously skilled equestrian!