Perhaps you know her from 'Uncut Gems', from the front row of fashion shows, or from TikTok. Or maybe you've heard of her because she was Kanye West's first girlfriend after splitting from Kim Kardashian. Either way, many people are eager to know: who is Julia Fox?
Julia Fox is an Italian-American actress, filmmaker, and model who is known for her role as Julia De Fiore in the 2019 film 'Uncut Gems.' The film catapulted the socialite to international stardom, earned her hundreds of thousands of followers, and the title of 'Meme Queen of TikTok.'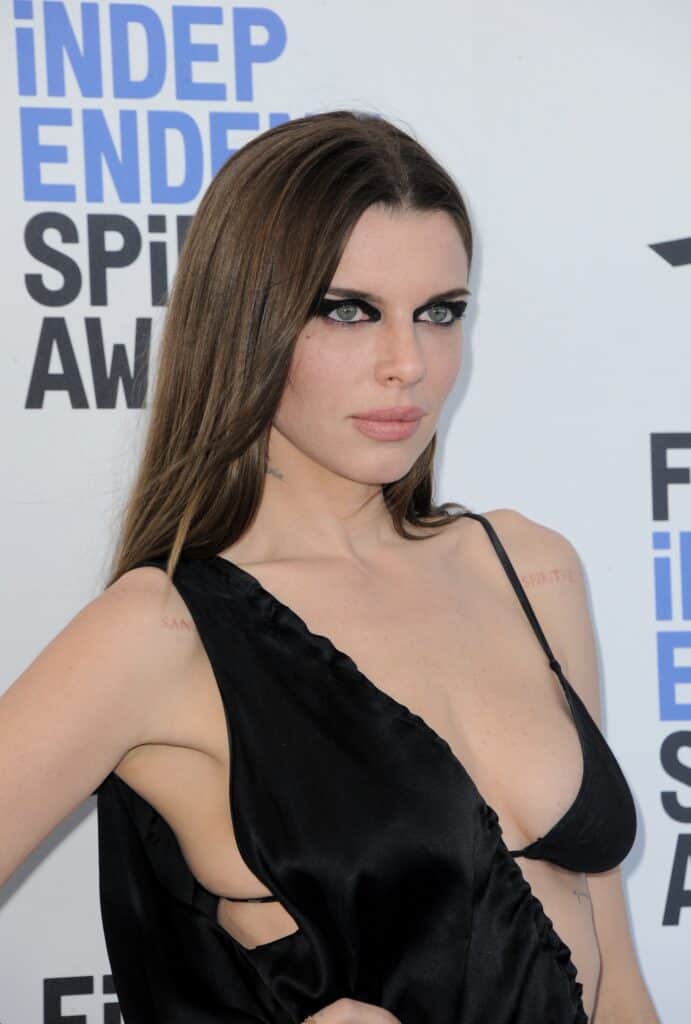 Are you eager to discover who this woman, who is likely splashed all over your News Feed or For You Page, really is? Then you're in luck because this article will fill you in on everything you need to know about who Julia Fox is, why she is famous, and who her friends are now that she is a certified celebrity.
Who is Julia Fox? All You Need To Know
Julia Fox was born on 2 February 1990 in Milan. Her parts are Ann Darwin and Samuel Fox. Ann is an Italian native while Samuel hails from America. Ann and Samuel had a troubled relationship, which saw Julia living with her grandfather on the outskirts of Milan for the first few years of her life while her father was, in her words, "figuring it out."
When Julia turned six, her father had 'figured it out' by landing a construction job and finding an apartment, and she moved to Manhattan's Yorkville. When speaking to The Hollywood Reporter, Julia would describe the change in location as "a total 180" and said, "My family is Italian, traditional Catholic, and suddenly I was living with a crazy man in New York."
As a teenager and student at City-As-School High School, Julia worked in an ice cream shop, a pastry shop, and a shoe store before discovering the world of sex work. While still a high school student, Julia became a dominatrix, a position she would hold for 6 months.
Julia then entered the fashion world in 2014 when she and her best friend Briana Andalore created a line of luxury knitwear called 'Franziska Fox.' In 2015, she began working as a model and posed nude for 'Playboy', after which she self-published two photography books.
By 2019, she was convinced to try her hand at acting by Josh Safdie and was cast in 'Uncut Gems' alongside Adam Sandler. The film catapulted her to fame, and she now has millions of followers, as well as a projected net worth of around USD $30 million.
Why is Julia Fox Famous?
Julia's debut performance as Julia De Fiore in 'Uncut Gems' earned her worldwide fame and recognition – as well as nominations for awards such as Breakthrough Actor, Best Supporting Actress, and Most Promising Performer by the likes of the Film Critics Associations for Chicago, Georgia, and Toronto.
Since starring in 'Uncut Gems', Julia has appeared in the films 'Puppet', 'PVT Chat', and 'No Sudden Move' and has modeled for brands such as Diesel, Vogue, The Face, Paper, and Interview. She has also written and directed a short film called 'Fantasy Girls' which, naturally, tells the tale of a group of teenagers involved in sex work.
Commercial success aside, Julia garnered plenty of mainstream attention when she began dating Kanye West (now known as Ye), even if their relationship only lasted a few short months. She has become a social media sensation and is often dubbed 'the Meme Queen of TikTok.'
On top of having more than 30,000 followers and her very own filter on TikTok, she has inspired countless memes including the 'Unkah Jams' meme, the 'I Did It Myself, Yeah… Yeeeahhh" meme, and the 'It's So Far a Masterpiece, If I Do Say So Myself' meme.
Who Are Julia Fox's Friends?
Even before she became an actress, Julia had influential friends and was something of a New York socialite. After all, it was her decades-long friendship with the Safdie brothers that essentially got her the role of Julia De Fiore – which actresses including the likes of Jennifer Lawrence, Scarlett Johansson, and Lady Gaga were considered for before her.
These days, Julia has a friend group that includes celebrities like Madonna, Floyd Mayweather, Adam Sandler, Antonio Brown, Megan Fox (who, by the way, is not related to her), Travis Scott, and even the notorious Anna Delvey.
It's also worth noting that, despite breaking up on 14 February 2022, Julia and her ex-boyfriend Kanye West are still close friends and collaborators.