It seems as though Lewis Capaldi simply cannot write or put out a bad song. The Scottish singer-songwriter has a handful of number one's under his belt, but none have quite sparked as many conversations as 'Someone You Loved'. The chatter is usually centered around the inspiration behind the chart-topping song.
Lewis Capaldi's hit song 'Someone You Loved' isn't about an ex-girlfriend as many believe, but about his late grandmother. The song, which took him six months to write, achieved global success and peaked at number one — where it remained for seven consecutive weeks — on the UK Singles Chart.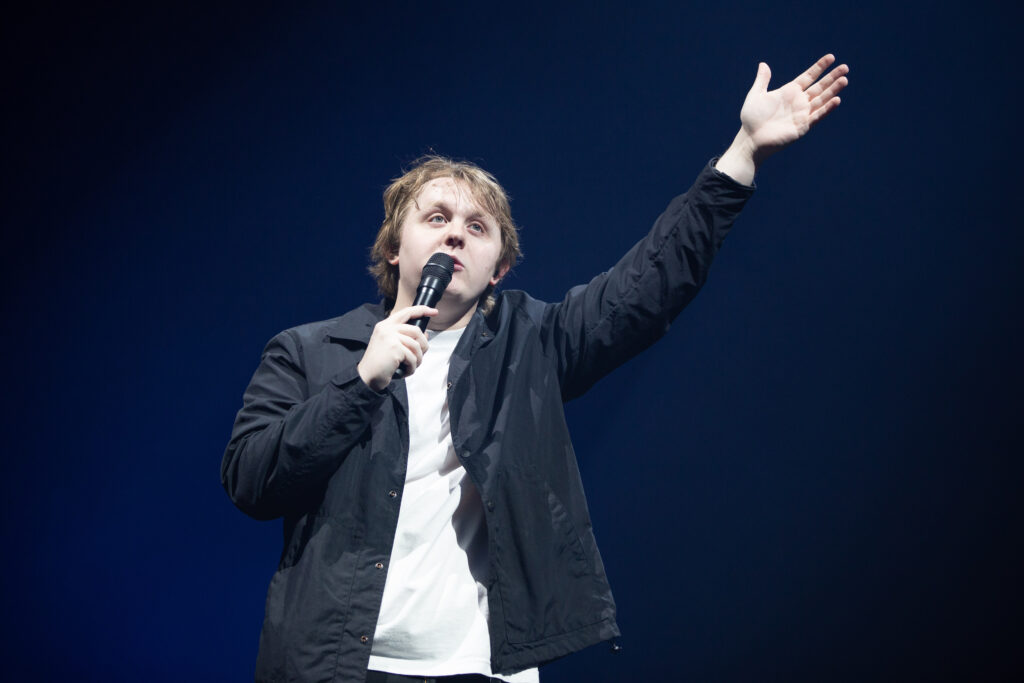 If you're looking to find out more about how 'Someone You Loved' was written, who the ex-girlfriend who thought it was about her is, and the inspiration behind some of his other songs, you've come to the right place.
Someone You Loved About Someone He Loved
When Lewis released 'Someone You Loved' it was number one around the world for quite some time. Notably, it reached number one on the US Billboard Hot 100 and the UK Singles Chart.
The song took home the Brit Award for Song of the Year in 2020 and was nominated for Song of the Year at the 62nd Annual Grammy Awards, but lost out to Billie Eilish's 'Bad Guy'.
Most people believed the song was written about Lewis's ex-girlfriend, including Paige Turley herself, but Lewis revealed that the song is about his grandmother who had passed away a few years earlier.
When speaking about the creative process, he says he had started messing around at the piano, and "as fortune had it my gran had just died – I went into a session and was like 'I can't write another heartbreak ballad".
In an interview with NME, Lewis admitted that he kept the lyrics "open-ended" so that they could be apply to a broader audience.
Who Is Paige Turley?
Paige Turley is Scotland's first winner of Winter Love Island. The boisterous blond was born and raised in Fauldhouse and appeared as a contestant on Britain's Got Talent in 2012 when she was just 14 years old. She is also musically-inclined and studied piano, percussion, and guitar at the University of West Scotland.
The pair, whose mutual love for all things music brought them together, met when they were 18 years old and started dating the following year before splitting up the next. The breakup has been described by Lewis as amicable.
Like pretty much everyone else, before Lewis cleared the air, Paige assumed that 'Someone You Loved' was written about her. In an ITV interview before her first appearance on Love Island aired, she said "According to the papers, they think the song was about me. If that's the case, Lewis, I'm so sorry."
While Paige cannot take credit for inspiring 'Someone You Loved', she can pat herself on the back for her role in the writing of 'Hold Me While You Wait'. Lewis admits that the song is about Paige and how she never really committed to the relationship as she was in "two minds".
The Inspiration Behind Other Lewis Capaldi Hits
Now that you know 'Some You Loved' is about his grandmother and not ex-girlfriend Paige Turley, let's take a look at the inspiration behind some of his other top tracks. His song 'Before You Go' was also rumored to be a breakup song, but in reality, it is about his aunt's tragic suicide and his mother's feelings of guilt after the incident.
But 'Bruises', another of his No.1 hits, is in fact about a breakup. In the song, he says "I hope to never lose the bruises she left behind" which indicates that, even though the relationship was tumultuous, he hopes he never forgets her and the impact she had on him.
His song 'Forever' is also about a breakup, but this time he sings about unexpectedly bumping into his ex-girlfriend and the old feelings that the surprise encounter brought up. In 'Grace', which many people incorrectly interpret as a song about religion, Lewis is singing about being with someone who lessens the burdens of life.
When speaking about his undeniable skills as a lyricist, Lewis says "I don't have a f***ing clue how to write a song that does well." So it seems as though the artist, who can break and mend your heart in a single song, does so by chance.