Like all pursuits of the heart, finding love can be a tricky and treacherous affair, fraught with all manner of obstacles and obstructions on the way to happiness. How did American tennis star Sam Querrey find his lady love?
Sam Querrey is married to Abby Dixon, a model, who he first met following his description of the ideal woman on a matchmaking show. The show was designed to matchmake lovelorn celebrities with the partner of their dreams.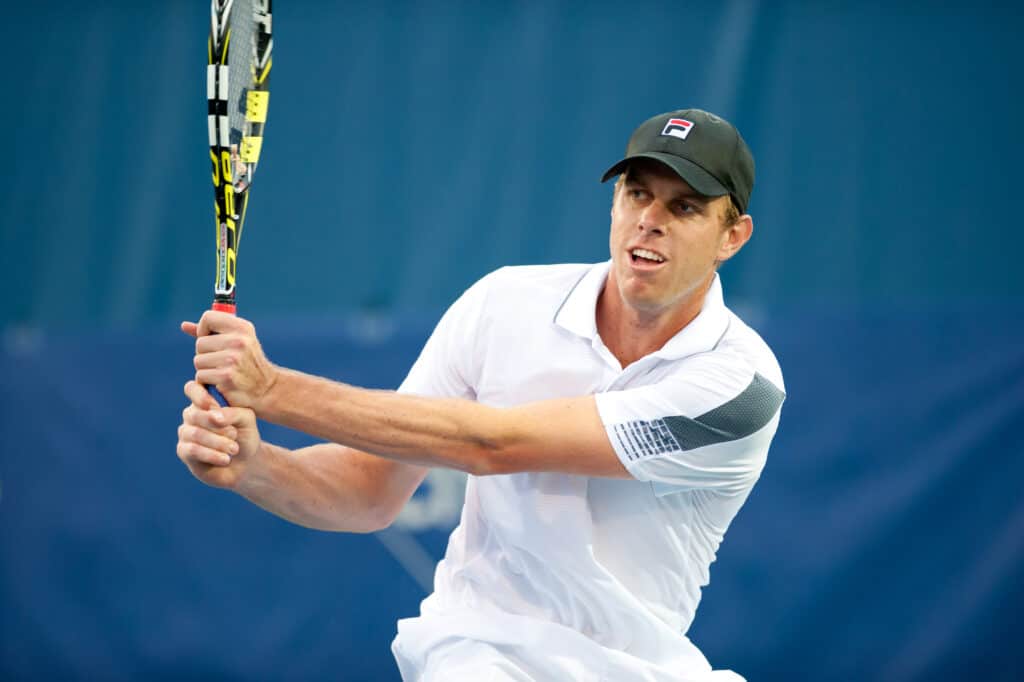 A lot of dating shows might have left you pessimistic, thinking that there's no hope for the matchmaking TV format. It's a system that usually ends with a breakup after some awkward exchanged glances as the unlucky pair end up enduring a miserable mini vacation together.
Not always though, as it was after his appearance on the show that Querrey went 15-love against the matchmaking odds.
The Man With The Racket
Before we get to know the lucky lady in our tennis star's life, it might be best to take a quick look back at exactly who Querrey is and what he's achieved. We'll try to keep it brief since we've got over a decade of world-class tennis to cover!
For the better part of ten years, Querrey was a top-10 contender in tennis. It didn't matter where you were on the list of the best players worldwide, if you saw Querrey opposite you on the court then you knew that anything could happen.
He never actually managed to seize a winning spot at any of the Grand Slam tournaments, but he more than once showed off the potential and ability to do so. Defeating players like the United Kingdom's Andy Murray when he was the top seed at Wimbledon demonstrated that capacity for a championship, even if it was never fully realized.
Despite some heartbreaking losses, Querrey still left a strong legacy: From being one of the few Americans to reach a finalist spot at Wimbledon, to his record for most consecutive aces.
The Model Woman
Now we move on to the woman in Querrey's life, just who exactly is the court wizard's partner in courtship? She tours the world just like Querrey does – just not with a racket in her hands.
His partner is not just the model woman for Querrey, she's a model in her day job too. Like Querrey, she's often seen jetting around the world to photoshoots way out of her US home, meaning that she understands all too well her husband's desire for a wife who can cope with his frantic travel schedules.
She's been represented by multiple modeling agencies across the world, like Wilhelmina NYC, Donna Tokyo, and Le Management Denmark & Sweden. When she's not busy focusing on her husband and her family, she's as in-demand as any high-profile model.
As far as her focus on her husband is concerned, the keyword to describe Dixon would have to be "supportive." She made a point to be able to attend as many of her husband's tennis games as possible and was one of his staunchest and most vocal supporters online.
The Matchmaker
In 2015, Querrey made an appearance in episode twelve of the eighth season of the show. It wasn't his eventual wife Dixon that appeared alongside him, however. His pairing on the episode was with Sheree Whitfield.
Alright, so it probably wasn't directly related to his meeting up with Dixon. Still, Querrey's description of the perfect woman that he gave while on The Millionaire Matchmaker pretty much fits her to the letter.
That description that Querrey gave was of a woman who, alongside enjoying some outdoorsy activities, could see herself traveling around to various tournaments with him. His romantic side showed as well, as he expressed interest in someone who wanted to be there for the long haul, the real deal.
Even if his original date on the TV show didn't end up panning out, he at least raised his profile enough in the dating world to catch the attention of Dixon. Not only has she lived up to the supportive side that he was looking for, but the long haul too, as the pair married and ended up with a few children too!