Bubba Wallace is a professional stock car racing driver. Starting his NASCAR national career in 2012 at the age of 19, he has gone on to achieve many things, most notably perhaps is the instigation and subsequent banning of the Confederate flag at races. But who owns his car?
Bubba Wallace's car is owned and operated by none other than NBA legend Michael Jordan. Denny Hamlin, a current Joe Gibbs Racing driver, is also a minority partner in the organization that has car numbers 23 and 45.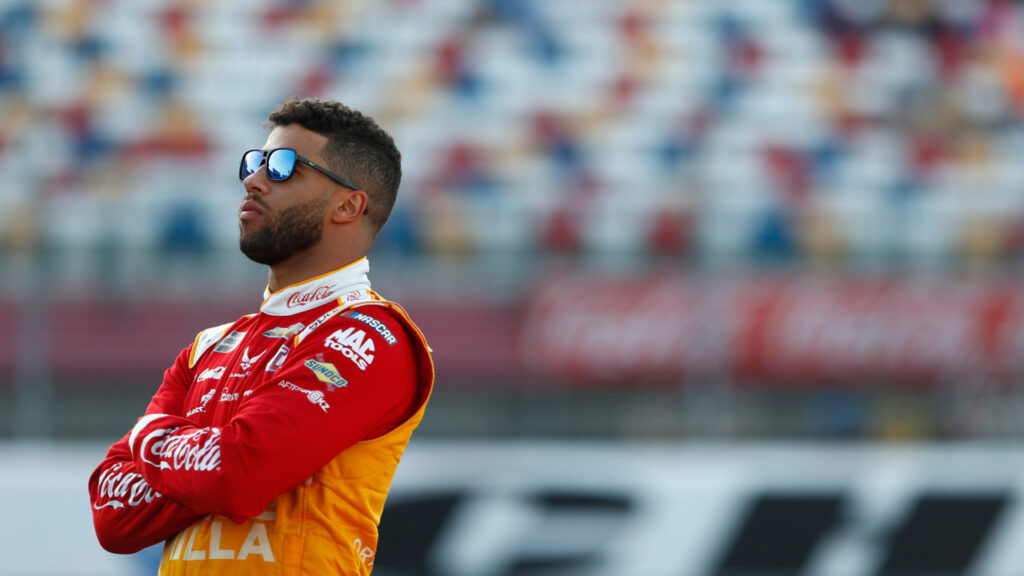 NASCAR has a sordid history when it comes to the topic of racism, and this article takes a look at how the fans of this American staple took to an African American racer, whose car is owned by an African American basketball player.
Who Is Bubba Wallace?
William Darrell Wallace Jr, better known as Bubba Wallace, was born in Mobile, Alabama in 1993, and like many professional racers, Bubba got an early start to his career when he started racing at the tender age of 9 years old.
Bubba's first races were in the Bandolero car racing series where he won 35 out of 48 races in 2005, and the Legends Car Racing series. Bubba also took part in local model events. By 2008, Bubba was named the youngest driver to win at Franklin County Speedway.
At 17 years old in 2010, Bubba started racing in the NASCAR K&N Pro Series East regional and developmental series. He was also Rev Racing's driver during the NASCAR Drive for Diversity program that sought to recruit female and minority group drivers.
May of 2012 marked Bubba's big break into national series NASCAR racing with the Xfinity Series, where he finished 9th in his debut race. After another two top-ten finishes, Bubba went on to win his first Nationwide Series pole position at Dover International Speedway in September of that same year.
When Did Michael Jordan Get Involved In NASCAR?
When anyone hears the name Michael Jordan, the first thing that comes to mind is his legendary basketball career, and a close second is (obviously) his appearance in the movie 'Space Jam.' All jokes aside, no one immediately thinks of NASCAR.
Back in 2006, Michael Jordan became an investor in the Charlotte Bobcats. At the time, Denny Hamlin was the driver for the Bobcats and formed a fast friendship with Michael. The two became golf buddies, and Denny had the jumping man logo on his firesuits before long.
Fast forward 11 years and the dynamic duo announced that they had launched their single-car NASCAR Cup series team 23XI, with none other than Bubba Wallace as their driver. Denny posted to his Instagram explaining why it was such an easy decision to pick Bubba as their driver.
NASCAR Faces Critisism
Since its beginning in 1948, NASCAR has raced its way onto TV screens all across America for more than seven decades. It took over ten years for the formation of the National Stock Car Racing Association that would be founded by William France Sr with the help of several other stock car racers of that era.
Originally starting with racers using legitimate stock cars to participate in the series, the cars that are driven around the track these days are a far cry from the true meaning of a stock car. NASCAR has faced criticism about its car specifications.
One contentious issue for many years was the allowing of the Confederate Flag to be flown by racers and fans alike while a race was underway. In 2015, former chairman Brian France tried to ban the flag by asking fans to stop flying the flag voluntarily.
Unfortunately, not even the Charleston church shooting could end the ingrained practice. Bubba Wallace, NASCAR's only African American top circuit driver, sought to see the ban of the Confederate Flag conclude and drove his car with #BlackLivesMatter displayed in 2020.
During the wake of the protests after the murder of George Floyd, NASCAR announced on 10th June 2020 that the display and flying of the Confederate Flag were officially banned from all of its events and properties. This was seen as a step in the right direction to the association's claim of an inclusive agenda.