Bob Marley occupies a position of legendary status in pop culture, a status that he will likely never lose. Why is it that he became a globally known figure?
Bob Marley was famous in addition to being an icon of pop culture and of Jamaica because of his music. He is famous for trailblazing the reggae genre with his unique new sound and political voice.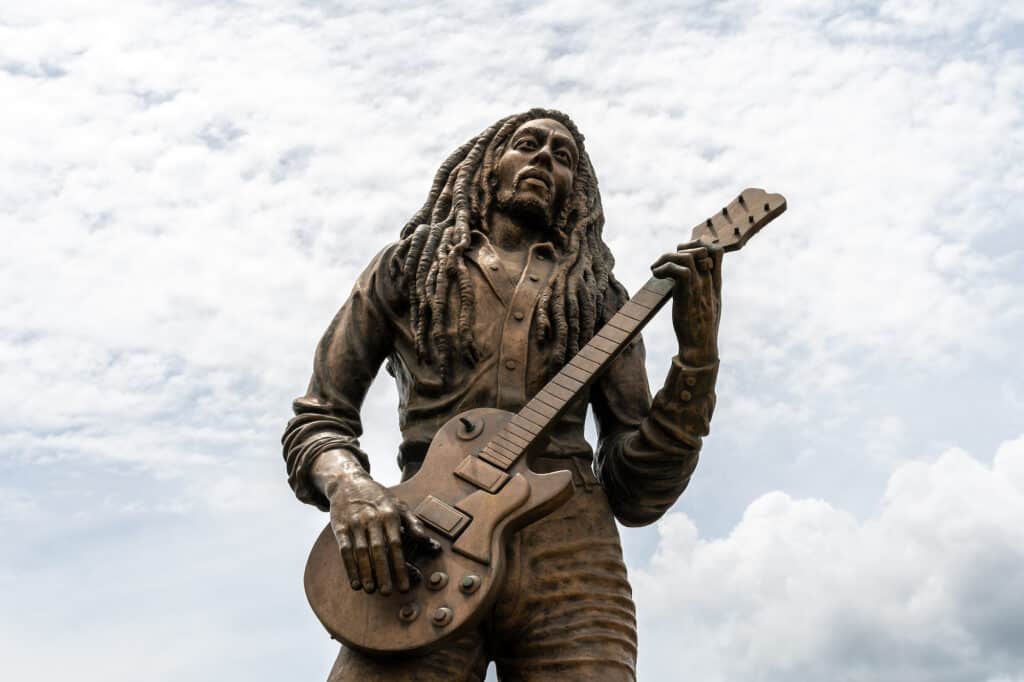 Marley was one of the first artists to release reggae music that would be met with large scale mainstream recognition. Together with his band, The Wailers, Marley's music enjoyed success in the charts with a variety of albums and singles, both while he was alive and posthumously.
Pioneer of the Genre
Before he was Bob Marley and the Wailers, it was just The Wailers, created by Marley, Peter Tosh, and Bunny Wailer. After going through a few shifts in identity and branding, including dancing between names like the Teenagers, the Wailing Rudeboys and the Wailing Wailers, they settled on the name that they carried with them for the remainder of their career.
Long, long before anyone was aware of Bob Marley for his work in reggae music, Marley was working on something in an entirely different genre and style from what he eventually became famous for.
That genre was ska, one of the early influences and roots of reggae. Like Marley, Ska was Jamaican born, a genre that fused together elements of Carribean and American musical styles.
While ska became popular throughout America and Britain, with a special emphasis on a specific subculture in Britain, Marley found his first taste of musical success with his new group and the ska genre.
That success was the release of the single "Simmer Down". No small success, either, the song managed to achieve the accolodate of being a number one hit in Jamaica. Although it didn't possess the features that one might commonly expect from a Bob Marley track, the one trait that it did have in common was the social commentary.
Inspired by the desire to attempt to cool off a crime wave that Kingston was experiencing at the time, "Simmer Down" was something of a call to peace to the warring and criminal elements that were rife in the Jamaican ghettos.
With his affinity for the cutting-edge of new Jamaican sounds and a deep interest in the social and spiritual aspects of the Rastafari religion, we began to see the Reggae genre take shape, with Marley at the forefront of its development.
Marley's Mainstream Reggae Success
Marley and The Wailers released a number of studio albums over the course of their musical career, all of which contained songs that went on to be played and loved by many, but the mainstream and chart success was limited upon their initial releases.
Of all the albums that did well commercially, it was the second-to-last release Marley made that reached the largest audience, the album Uprising. The album did incredibly well for a reggae release, especially in the UK, where it managed to pierce the top 10 on the charts.
Of all Marley's music that he released, this was also the one that most closely documented his beliefs. Many of the tracks had lyricism that went into great detail about Rastafarianism, showcasing just how dedicated to the religion that he was.
Sadly, the following release of Confrontation was Marley's last studio album of new material released by Marley posthumously, years after his death. It would have been hard to predict what was to happen next, however, as Marley's music was soon to take off like never before.
Marley's Legacy
In addition to his unique brand of reggae and important voice for his people, his long standing fight for the issues that mattered to him, both socially and spiritually, had resonated with his fans for quite some time.
Events like the One Love Concert, an effort on the part of various artists and Marley to help defeuse political tensions in Jamaica, helped to flesh out the morals and the belief in freedom that he held, themes that were an undercurrent to almost all of his music.
When a compilation of all of his best hits in the form of compilation album Legen was released, it proved to be one of the cornerstones of his musical legacy. One of the best selling albums of all time, and the best selling reggae album of all time, Marley's music and his message was forever cemented into popular culture.