Maybe you've heard her name from your reality TV geek friends or saw her name while scrolling through the news, but why exactly is Katie Price famous?
Katie Price is originally famous for her modeling career and appearances in magazines like Playboy. However, she more recently gained fame for her multiple ventures into reality television, singing, and even writing books. On top of all of this, Price has been the subject of many legal scandals surrounding her driving record, bankruptcy, and drug use.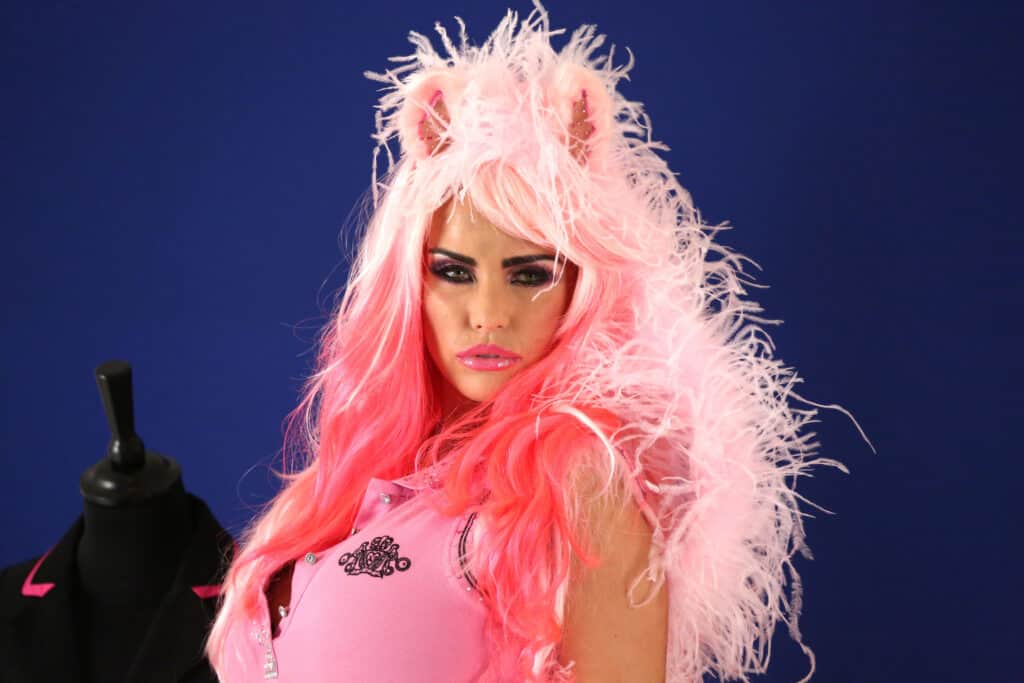 Scroll down to read more about Katie Price's rise to fame, her many different careers, and some of the scandals she has been involved in.
Prices' Modeling Career
Katie Price's rise to fame all began with her pictures being published in the British tabloid newspaper's The Sun and The Daily Star back in 1996. In these photos, Price is scantily clad and she went by the pseudonym "Jordan."
After these photos were published, she was able to afford breast enhancement surgeries and increased her breast size from a 32B to a 32FF. This decision created more opportunities for her in the genre of glamour modeling.
As a glamour or erotic model, Price appeared as a regular in magazines like Maxim, Esquire, Loaded, British Playboy, and even Vogue. In 2002, she was the cover model of the September issue of Playboy, and then her career moved away from modeling and more towards other ventures.
Reality TV, Singing, Books, & More!
Katie Price's television career began small with few cameos in different British drama series, an appearance on Top Gear, and the role of guest host on a British comedy show called The Friday Night Project. During this time period, she also released an exercise DVD titled "The Jordan Workout."
Her first appearance on a reality television show was in 2004 when she was a contestant on the British survival TV show I'm a Celebrity… Get Me Out of Here! This show is similar in format to Survivor but involves British celebrities living in a jungle compound in Australia for only a few weeks; Price didn't win that year.
Price also had a late-night chat show called Katie & Peter: Unleashed that wasn't on the air for very long. There have also been many reality shows, on and off, surrounding her personal life with Peter Andre until their divorce in 2009.
Price's biggest success in reality television would have to be when she won Celebrity Big Brother season fifteen. You can watch her reaction to winning Celebrity Big Brother by following the YouTube link below.
Other than her reality television and modeling careers, Katie Price has also published over twenty books, released her own nutritional supplements, launched a perfume, created an equestrian clothing line, and been credited with singing on Peter Andre's album A Whole New World.
Price has openly admitted that all of her books have been ghostwritten. Despite that fact, she was still able to land a column with The Sun on Sunday in 2012 where she wrote about her personal life.
Katie Price's Legal Issues
After reading all of the above information about Katie Price, you're probably intrigued by how diverse her business ventures have been, but she has also been surrounded by tons of legal scandals.
To begin with, Katie Price has had her license suspended five times in the past ten years. These suspensions have all been related to having too many driving fines on record, or operating a vehicle while under the influence.
Price was arrested in 2003 for assault at a night club, but the charges were dropped. She was issued a restraining order in 2019 after verbally assaulting a woman at a playground.
Also in 2019, she was fined for an illegal demolition and construction project at her home. She was ordered by the court to take down her ner construction and restore the building she had demolished; then she filed for bankruptcy.
Price had originally filed for bankruptcy in 2018 but was able to avoid it with an agreement. The stress of the situation was so much that she started using cocaine and subsequently ended up in rehab.
Katie Price appears to be a jack of all trades and there really isn't just one single thing you can pinpoint her for being famous for. With her history, there is likely more to come.