The Harry Potter series is a staple of practically every child's childhood since its release. Friendship, love, trust, and even kindness are lessons that the film clearly teaches children and adults. This is partly due to Ron and Harry's friendship. Many would wonder if this friendship was carried on to their real lives, which begs the popular question, Are Daniel Radcliffe and Rupert Grint friends?
Although they both went their separate ways after the end of the last Harry Potter movie, Daniel Radcliffe and Rupert Grint are still good friends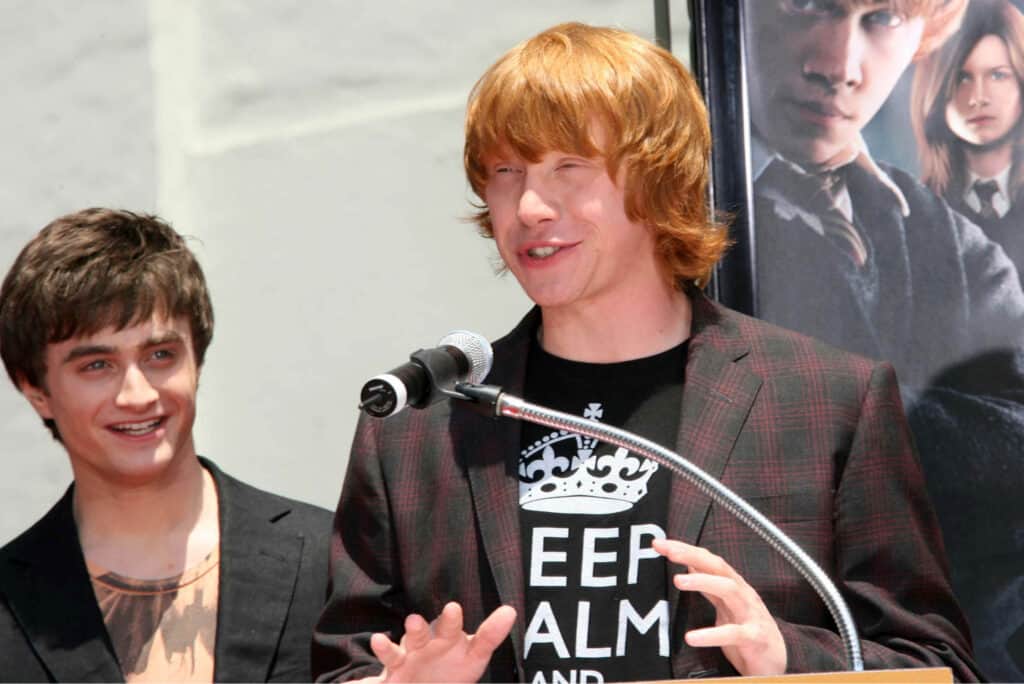 Here is some evidence showing their special bond, plus a few things you need to know about them.
Who is Daniel Radcliffe?
Daniel Jacob Radcliffe was born in 1989, on the 23rd of July. He is an English actor who played the role of Harry in the Harry Potter movie series.
He made his acting debut at age ten in David Copperfield, a television series on BBC. He also played a feature role in the film The Tailor of Panama in 2001, and in that same year, Radcliffe seemed to have caught the eyes of the producers of Harry Potter.
Over the next ten years, Radcliffe played the lead in the J.K. Rowling-adapted fantasy novel, Harry Potter, in seven films, including Harry Potter And The Deathly Hallows – Part 2 in 2011.
This film franchise catapulted Dan to worldwide stardom at a pretty young age. He became one of the world's highest-paid young actors and gained global popularity and critical acclaim.
Who is Rupert Grint?
Rupert Grint was born in 1988, on August 24th in Harlow, Essex to Nigel and Soanne Grint. While in school, Rupert Grint took an interest in theatre. Grint's avid interest in the craft soon paid off as he began landing and performing in school productions. He joined the Top Hat Stage School, a local theater group that cast him as a fish in Noah's Ark and as a Donkey in a Nativity play. 
Before the Harry Potter franchise, he never had, unlike Radcliffe, acted professionally. He got cast in the movie at eleven and eventually dropped out of school to fully focus on his acting career at sixteen.
Are Daniel Radcliffe and Rupert Grint friends?
The two actors getting cast together in lead roles in Harry Potter was a rare opportunity for Radcliffe and Grint, as they acted together for almost a decade of their lives. It is inevitable to build a friendship offscreen since they spent that many years working together on-set.
In 2012, Daniel Radcliffe classified himself and Grint as "lazy texters," and they never seemed to reply to each other's texts throughout their ten years of working together. When news and publications about the pair not being in contact or even texting each other were released, fans and the media alike were somehow confused and wondered if the pair never got along offscreen.
Luckily, Radcliffe publicly denied the rumors and clarified his unique friendship with Grint. Even though they don't frequently text each other, they do have a good chat when together. Grint shared in one interview that fame is one topic he doesn't talk about with his co-stars, Daniel and Emma Watson. This sounds like the trio share a more "normal people" friendship than most Hollywood-type BFFs do.
Are Daniel Radcliffe and Rupert Grint still in touch?
The two actors may have long left behind their days of being together daily on the set of Harry Potter, but contact is not zero for them.
They have stayed in touch through important phases of their lives as individuals. In 2020, Grint had his first daughter with actress Georgia Groome. Radcliffe texted his buddy a congratulatory message when he heard that he had become a father.
Being exposed to fame at an early age can be truly challenging. But we're glad that they both never really lost touch after parting ways. We might have Emma Watson to thank for that! The actress shared in one interview that she started a WhatsApp text thread for the main cast to stay in touch.
At age ten, gathering around your age group would seem like a big party. While shooting a movie may be far from being at a party (it's work, after all), Dan and Rupert shot so many great scenes together, which speaks to the two young actors sharing a great bond, something that will never really leave them.
Check out the adorable young actors being cute and candid together, with Radcliffe clearly enjoying his buddy Rupert's deadpan jokes: