Rupert Grint was only 11 years old when he starred in the first film Harry Potter film and played Ron Weasley for the next ten years of his life. His name has become synonymous with the role–but fans are curious about the real guy behind the character. Is Rupert Grint married?
Rupert Grint has been with his girlfriend, Georgia Groome, since 2011. They are not married, but they have a daughter—Wednesday G. Grint.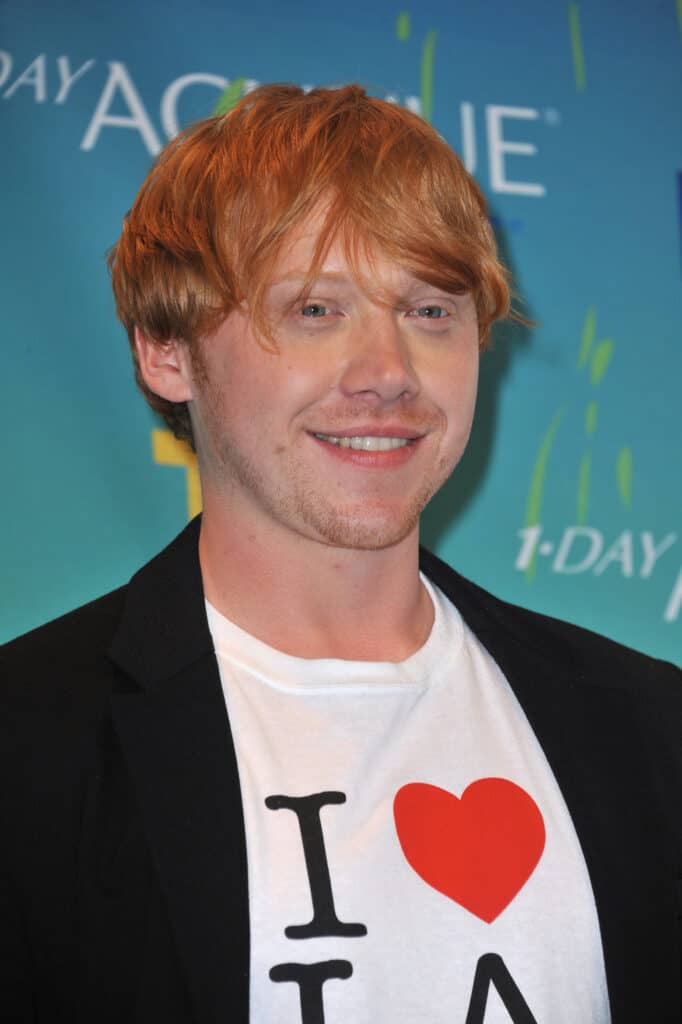 Private Couple
Rupert and Georgia have not shared their love story publicly, nor have they been in interviews together. But, what we know is that his partner is a fellow child actor who was also in a book-to-film project. Sounds like a perfect match!
The said project is called Angus, Thongs and Perfect Snogging. According to the Harry Potter star, their relationship is a very natural thing, and that they are the best of friends. Both are deeply committed to making things work, and perhaps that's their secret to longevity.
Grint shared with the Radio Times that it was normal to date with people in the same industry, and having a mutual understanding of it was helpful.
About Georgia
Georgia Isobel Groome is an English actress from Nottingham who was born on February 11, 1992. She has three siblings. She is the daughter of Paul Groome (deceased), a publican and chef, and her mother is Fiona Watson, a drama and vocal coach.
She did her training at Nottingham Television Workshop, Derby Youth Theatre, and Trent College. Her acting debut was in a TV film called A Fish Out of Water in 2001.
Angus, Thongs and Perfect Snogging was the actress' most notable work in 2008— a teen romantic comedy based on the book of Louise Rennison. Groome played 14-year-old Georgia Nicolson who, in her attempts to have a boyfriend, finds herself in awkward situations. She keeps a diary about the pains of being a teenager.
Grint on Fatherhood
His daughter, Wednesday G. Grint, was born in May 2020. Her name was inspired by Wednesday Addams from The Addam's Family. Rupert was always fond of that name and stressed that it was cool for her to have a middle initial like Samuel L. Jackson and Michael J. Fox.
In an interview with Glamour, the Servant actor opened up that he has been feeling really comfortable being a dad. Fatherhood has changed him as a person–he has since stopped smoking and now even sleeps better.
Before having his daughter, he told The Guardian that if he had a son, would he be named Ron? He mentioned that it was a good name but probably not because Grint is a tough name to pair with a one-syllable first name.
A Guinness World Record Holder
Upon joining Instagram on November 10, 2020, Rupert posted a picture of himself and his daughter—not knowing he'd be breaking a record! The actor had broken the Instagram followers record for the fastest time to reach 1 million followers, which he achieved in only four hours and one minute.
He was sure to thank his followers after 241 minutes and even joked that he was ten years late in joining the social media platform.
He simply wanted to show the world his beautiful baby girl–but breaking a record is a nice plus! Grint is not new to breaking records, though, since he is part of the highest-grossing fantasy film franchise of all time—Harry Potter.
Shopping for Glasses
In an NYT interview, the actor talked about having his eyes checked while spending time in New York's Lower Eastside. The actor was taking time from his temporary Philadelphia home from filming the hit series, Servant.
He shared that having a daughter made him more aware of how precious life is. This, and working on a show that deals with heavy themes like loss and tragedy, prompted Rupert to look into his own health; thus, he got his eyes checked.
He eventually picked the Yukel frame with a thick tortoiseshell browline and thin bottom.
Upcoming Projects
Grint is currently starring in Servant, released by Apple TV +. The series is a psychological horror-thriller co-produced by M. Night Shyamalan. He co-stars with Lauren Ambrose, Toby Kebbel, and Nell Tiger Free.
It follows a Philadelphia couple in mourning after the unforeseen tragedy of their infant son's death. The plot paints tones of grief, denial, and supernatural forces. Grint plays Julian Pearce, the alcoholic brother of the lead actress' character, Dorothy.
The series premiered on November 28, 2019, with 10 episodes. It is currently on its third season, which premiered on January 21, 2022. The show was renewed for season 4 and is currently undergoing production.