If there's any billionaire that has had the most relationship scandals, it'd be Elon Musk.
People have asked if Elon Musk and Grimes are married, but they haven't tied the knot, although they share two kids together.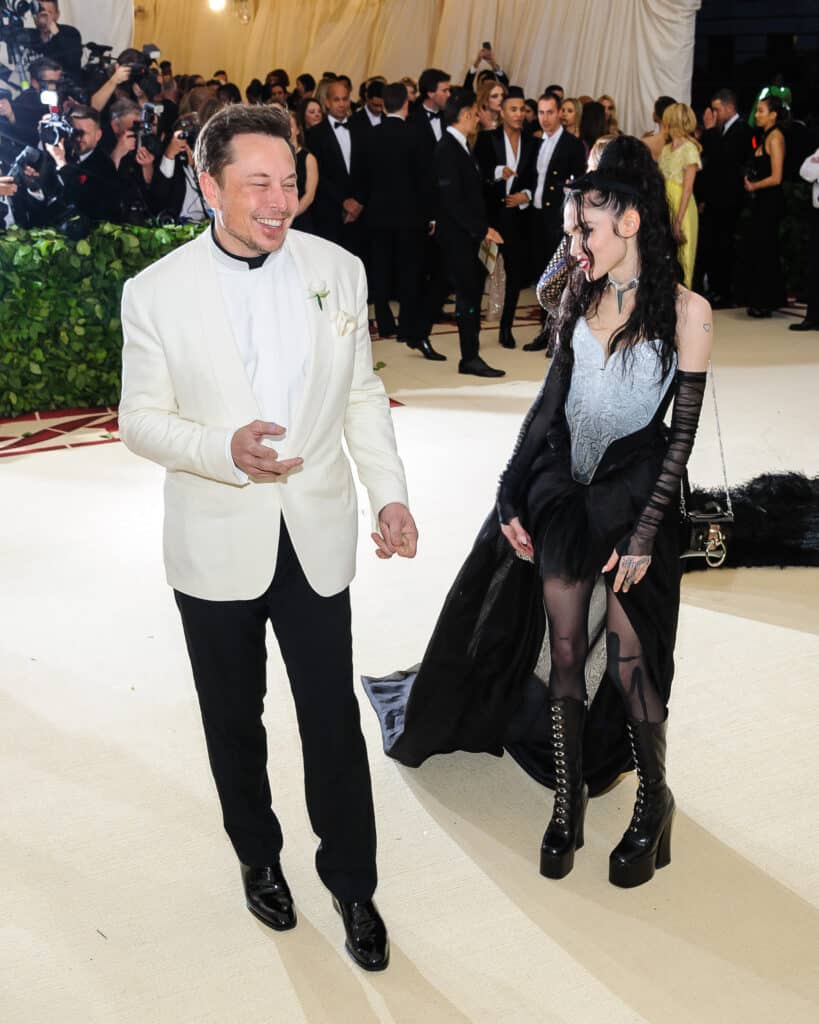 Grimes and Elon Musk have a close relationship which may be the basis for the rumors. So, let's take a quick dive into Elon Musk and Grimes' lives.
Who is Grimes?
Claire Boucher Elise is a Canadian artist, songwriter, and producer. She's nowhere close to being a tech expert like Elon Musk, but she sure knows how to include science fiction into her music. Grimes also tells funny tech jokes, which has a way of cracking up Elon Musk.
Although her music has been regarded as songs that vampires would enjoy, she still renders more tracks with her electrifying voice.
Grimes is an art lover, and it is evident all over her Instagram page. The singer shares pictures of herself in colorful makeup and avant-garde fashion.
Grimes' dating history
Before Grimes started her relationship with Elon Musk, there was Devon Welsh – the lead vocalist of Majical Cloudz. They had an inconsistent relationship from 2007 to 2010 before eventually going their separate ways.
In 2018, she dated Jamie Brooks, an electronic singer like her. However, they didn't stay together for a long time for reasons best known to them.
In the same year, she met Elon Musk, and the two started a love relationship.
What's the relationship between Grimes and Elon Musk?
Grimes and Elon Musk have an unconventional relationship as they both seem to have nothing in common based on their outlook. Elon is a business magnate in the tech space – he's constantly looking for ways to make life easier for people using physics. And honestly, he has made significant progress doing that, especially with Tesla. The electronic car reduces fossil fuel and carbon footprints, producing a cleaner and greener Earth.
On the other hand, Grimes is an electronic singer with shrilly vocals. She's into her music as she dropped out of school to focus on her career.
So people think that their union is uncommon.
However, both of them have an inconsistent relationship – similar to what Grimes had with Devon Welsh. Her relationship with Elon Musk is almost like a shift job as they keep going off and on.
The couple has two children together. Although Grimes still claims that he's the love of her life and close friend, they have been apart for a while. Elon also confirmed via a tweet that they weren't together but were still going to remain friends.
How did Elon Musk meet Grimes?
Elon Musk and Amber Heard had a love relationship that ended in February 2018. Afterward, rumors sparked online about Grimes and Elon having an intimate relationship. The billionaire businessman and singer had a flirtatious Twitter conversation that went viral.
All people had were speculations, but as the famous saying goes, "there's no smoke without fire."
At the 2018 Gala, the couple showed up in matching colors, loving up on each other. That was when we became sure of their relationship.
Elon Musk's Exes
As we mentioned earlier, Elon Musk has a controversial love life, and honestly, we can't blame him. He's dated incredible women, but when things don't go the way you expect, the next logical thing is to step back. So, here's a rundown of all the women Musk has dated.
Justine Wilson
Justine Wilson, the famous fantasy novel writer, was Elon's first wife and fondly referred to herself as the "starter wife." Elon met her while schooling at Queen's, and the duo got married in 2000. However, they got divorced eight years later for undisclosed reasons.
Talulah Riley
Elon Musk met actress Talulah Riley in 2008, and they dated for two years before getting married in 2010 in Scotland. However, Elon Musk filed for divorce in 2012, saying he couldn't give her what she wanted.
In 2013, they got back together but had a final divorce in 2016.
Amber Heard
Elon and Amber courted for a while in 2017 before breaking up. There isn't too much information on their relationship except Johnny Depp's accusation that Amber was cheating on him with the billionaire.
Grimes
Grimes and Elon Musk had an off-and-on relationship from 2018 until 2021, when they officially broke up. Despite having children together, they don't seem to be holding each other to any form of expectations. They both affirmed that they wouldn't be together as lovers but as friends.
Who is Elon Musk involved with?
Elon Musk is rumored to be dating Natasha Bassett, an Australian actress, and screenwriter. She has been attracted to him for a while, but they only got affectionate after his split from Grimes.