One of the most well-known relationships, perhaps even infamous relationships, on the hit US TV show The Real Housewives of Beverly Hills was the one shared by co-stars Kyle Richards and Brandi Glanville. They've had their fair share of differences, but through it all, are they friends now?
Kyle Richards and Brandi Glanville are friends once again. After some rocky tensions between the two, back in 2019, the co-stars decided to leave the past in the past, settle their differences, and move forward together as friends. And all of it happened thanks to Lisa Vanderpump.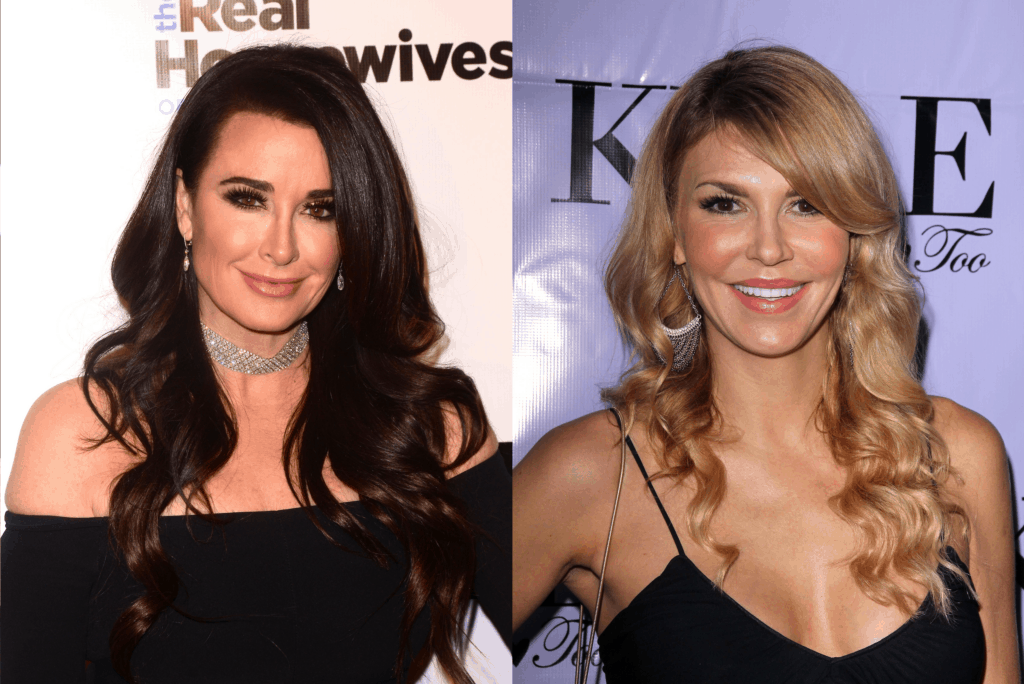 To find out what happened in this explosive relationship broadcast to millions of fans, what went wrong, and how the two got through to the other side as friends again, just scroll down!
So, What Actually Happened?
Just in case you missed the show, for many years, it was clear that Kyle Richards and Brandi Glanville, two of the main characters in the hit reality TV show aired on Bravo, did not get on. The show premiered back in 2010 and has aired over ten seasons, and won the 2011 Critics Choice Award for the Best Reality TV Series.
Now, don't get these two Richards confused. Brandi has been friends with Kim Richards throughout the series and for many years. The two have shared a stable relationship and have even publically aired this affection in Instagram posts, where she referred to Kim as being 'one of the best friends in the whole world.'
The same can not be said for Brandi's relationship with Kim's younger sister Kyle.
The two have been seen feuding both on and off the screen for many years now. In one episode, the two even got physically aggressive with each other and were pushing each other around saying, 'don't f*****g touch me.'
In another instance, Kyle said her co-star was 'scary' to work with, and in another episode, Brandi threatened Kyle by saying she would 'knock her front teeth out' during one of the most explosive episodes in the 2015 season.
Take a look for yourself;
Some problems have been relatively small. In one episode, the two were arguing after attending a party together with Kim, and one of the duo wanted to leave. The other didn't, and they started arguing about who can say what and that they are both independent enough to choose whether they want to leave or not.
However, other situations have been a little more intense.
In a Season Five episode titled 'The Gay Mixer,' it was clear that Brandi and Kyle being in the same room was tense, and although they tried to remain civil towards each other, it didn't last long whatsoever, and both ended up in tears.
There are endless examples where tensions like this have flared up, and many would wondering whether a tense relationship like this could ever come to peace.
The Olive Branch
With years of tense history, you'd be forgiven for believing that the civilities between Brandi and Kyle would never come, but they did.
In April 2020, an anonymous source told Hollywood Life, "Brandi and Kyle are happy to be friends again, and Lisa Vanderpump is the reason why." The beef has been put aside, and peace reigns, however, perhaps not in the way that would imagine.
During an episode in 2019, Brandi publicly spoke out against Lisa, saying the series is 'more fun with Lisa', which was backed up by threads of Tweets on the subject, attacking both Lisa and her husband, Ken Todd.
However, before Brandi slammed Lisa and her husband, she handed an olive branch out to Kyle, which was to say she wanted to let bygones be bygones and let the past rest, all because Brandi believed Lisa and Ken had been treating Kyle inappropriately and unfairly.
It's been suggested that Brandi had reached out to Kyle on social media, following each other back on all platforms, and have a shared disliking for Lisa that has bought them back together, despite not speaking with one another for several years.
They even publicly thanked Lisa for being the one to bring them back.
While it's unclear whether Brandi will rejoin the show for the newer seasons, it's nice to see the two have been able to put their differences aside get along, especially since Kim and Brandi are so close. However, how long this peace lasts is yet to be seen.