In June of 2013, the Real Housewives of Beverly Hills star, Brandi Glanville, was devastated when her family's dog Chica went missing.
Brandi Glanville never got her dog Chica back. The chihuahua was stolen from Glanville's home in 2013 after burglars broke in and stole it. In the aftermath of the loss, Brandi ended up blaming and then firing her personal assistant for Chica going missing. In 2014, a woman reached out to Brandi claiming she had found Chica, but it was a false alarm.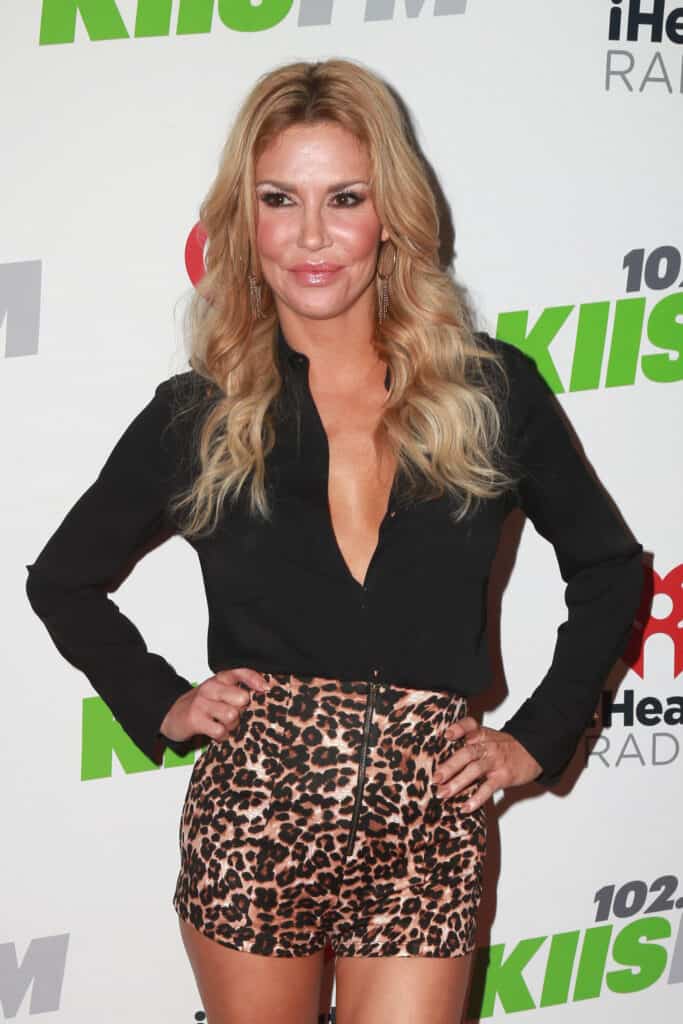 You can read more below about the dog Chica, what was thought to have happened to Chica, and Brandi Glanville firing her assistant over it.
Chica the Chihuahua & Brandi Glanville's Other Rescues
Brandi Glanville's family adopted Chica in 2010 from a shelter in Van Nuys, California. Chica was a brown colored Chihuahua mix.
From the looks of Chica, she was probably mixed with another small breed dog like a Jack Russell Terrier. We come to this conclusion because of the white pattern that she had on her face.
Brandi Glanville is a self-proclaimed animal lover and appears to only adopt rescue dogs. This is instead of purchasing purebred dogs from a breeder like so many other stars do.
It was only a week after Chica went missing that Glanville adopted another Chihuahua that she named Chico. Her son Mason renamed the dog Chody.
To date, Chody is still with the family although she has said that her sons aren't big fans of him because he can be aggressive.
Other than Chody, Glanville and her family have at least one other Chihuahua mix who is named Sugar. Sugar was in the photos that Brandi Glanville provided to try and get Chica back after she went missing.
What Really Happened to Chica?
On the day that Chica went missing, Brandi was on a girls trip to Palm Springs, California. She received a text message from her assistant Cameron who told her that her home had been burglarized.
Glanville rushed back to her Bel Air home to see the damage. When she arrived at the scene she found out that the only thing missing was her precious dog, Chica.
Initially, Glanville believed that Chica had been stolen by burglars. She said that she wasn't blaming anyone for her missing dog and that she just wanted Chica back home safely.
The loss of Chica was probably reminiscent of a dog she had lost only a few years earlier. In 2019, she posted a picture to Instagram of her deceased dog Jesse James who was sadly killed by coyotes in her backyard.
This happened after she split from her ex-husband Eddie Cibrian due to his affair with country singer LeAnn Rimes. When Glanville moved into her new home without Cibrian, Jesse James was attacked by the coyotes and killed.
After Chica was stolen, Brandi took some time to look at the situation and started to think that the whole thing seemed very suspicious. When she was on TMZ Live, she broke down in tears.
The media outlet reported that someone had broken into the home but only stolen the dog and nothing else. That seems kind of fishy, right?
Still, Glanville offered a $10,000 reward to anyone who found Chica. That never happened, but something else did.
Brandi Glanville Fires Her Assistant
It was the week after her dog went missing that Brandi fired her 23-year-old assistant on the grounds of being irresponsible with Chica and Brandi's home. This was after she said she wouldn't blame the personal assistant.
However, this could have been due to some thinking on her part. As People reported, Glanville said that their house had computers, TVs, jewelry, and more, yet the only thing missing was her dog.
The article goes on to highlight that the assistant was known to have a bad habit of not locking or closing doors in the home.
Glanville told the magazine "There are coyotes and cars. I don't know what happened. I'll never know. I can't blame her 100 percent. But I let her go because of the irresponsibility factor I just couldn't imagine [someone] losing my dog."
In December of 2013, Lalate News reported that Glanville's assistant had accidentally let the dog out a week before it went missing, but Glanville was able to find her that time.
Whether it was the fault of burglars or her assistant none of that matters because Brandi Glanville never was able to find Chica.