Arianna Grande and Selena Gomez are two of the most popular, multi-talented pop artists to grace the airwaves in recent memory. Both of their sales together, they've sold tens of millions of albums and singles, and they both possess a strong following of their own, but who is more popular?
Out of Ariana Grande and Selena Gomez, if you use social media followings as a measurement device, Ariana Grande is more popular. Their follower counts have a thin gap between them but Grande edges out Gomez slightly.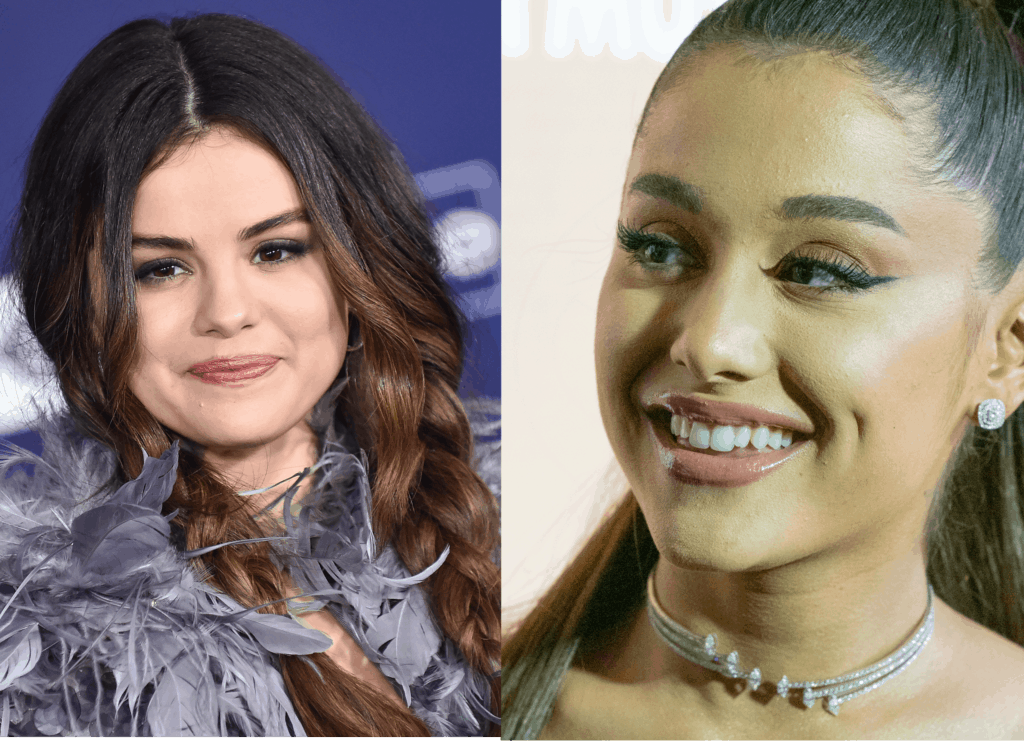 Although it's not a perfect method to weigh the popularity of the two stars, looking at their social media followings can at least help us to understand how many people are interested in them and how much engagement they receive with what they are currently doing.
Followers vs Engagement
Before we go tallying up the numbers on Grande's and Gomez's social media pages, it's good to understand the difference that having people engage with your posts makes to your perceived popularity.
We need to know this because despite Grande and Gomez having very similar numbers of followers, they have a different level of engagement with their posts.
It's easy enough to just have a quick scan of the follower counts that someone has on a social media site like Twitter or Instagram and judge that they are either popular or unpopular. It's not the whole story, however.
Of course, this number is important, but there's also some nuance involved. If you and a friend both have 1000 followers on the social media site of your choosing, then it seems fairly evident that you are equal in popularity.
Not quite.
You see, if your friend has a majority of those followers actively responding and interacting with the posts in some way, it demonstrates a far greater level of popularity with the audience.
In the case of Grande and Gomez, despite Grande having more followers, Gomez in fact has more engagement. The gap is still slim, however, almost as slim as the follower count itself, so it's hard to say whether or not this is actually indicative of who is the most popular.
It's a little bit of a fall from grace for Gomez, who was at one time the most followed woman on the entirety of the Instagram website, with the highest engagement to boot. Her downfall might have been the cause of the break from social media she took, but there's no way to tell for sure.
If social media is proving to be too complicated a battleground to determine popularity, then perhaps an easier measurement would be record sales?
Record Sales
Although the style and sound come down to personal taste, what doesn't have any opinion or bias are the raw numbers that their releases manage to put out. For determining the answer to the question of who is most popular, however, it's still not very clear cut.
By all accounts Grande does seem to shift more records than Gomez, looking at the Billboard reports of their chart success, album sales, and how long they have been released for. Similar to the social media issue, though, it's not quite as black and white as it seems.
A lot of Gomez's studio releases have been out for longer than Grande's, due to her long career, which skews the numbers in favor of Gomez. If we look at an album that was released at the same time, however, the numbers favor Grande quite heavily.
Chart Popularity
All of this aside, the two singers tend to utterly dominate the charts whenever they release a new album. For both of them, it almost seems like it's impossible for their new albums to not be a smash hit.
Looking through each of their discographies, every single album they have released has hit the number 1 spot in the charts in at least one region, if not multiple. That kind of level of success speaks volumes about both of their popularity.
The one place they differ here is that Grande has successfully broken the number 1 spot on the singles charts far more often, even getting back to back number 1's from her album Thank U, Next with the tracks "7 Rings" and "Thank U, Next".
Regardless of who is most popular, both artists are incredibly talented in their own right, with devoted and loving fanbases.