He is the creator of not just Virgin Records, but Virgin Atlantic Airways as well, which was born out of his frustration at a canceled flight.
Richard Branson cannot fly a plane because he does not have a pilot's license. This fact didn't stop him from starting an airline business in the 1980s that is still successful today. Even if he can't fly a plane, Sir Richard Branson owns his own private jet that flies him to and from his private island in the British Virgin Islands.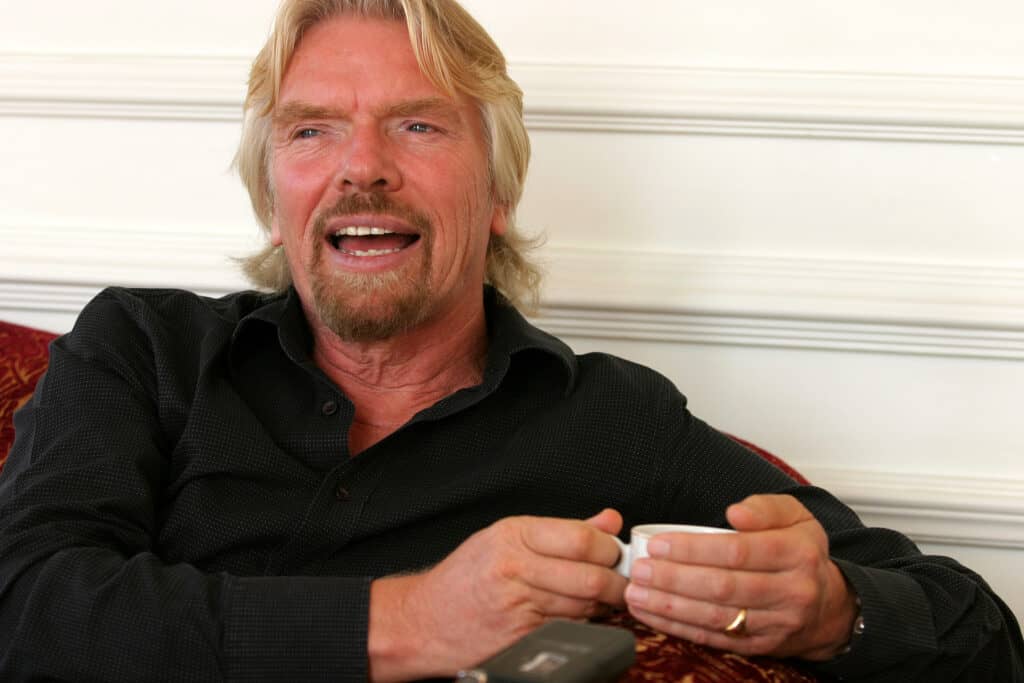 You can read more below about the story behind Richard Branson's founding of Virgin Atlantic, his private jet, and his new flight venture called Virgin Galactic.
Richard Branson Creates Virgin Atlantic
As Travel and Leisure reports, the year was 1984 and Richard Branson was set to fly from Peurto Rico to the British Virgin Islands anticipating being reunited with his girlfriend. Only that reunion was looking out of reach because his flight was grounded.
Instead of doing what most of us would do and accept his fate, Richard Branson decided to see how much it would cost to charter the flight instead and sell seats to passengers who were also grounded.
So it was that he walked around the airport selling one-way tickets for his chartered flight from Peurto Rico to BVI on a blackboard that he borrowed from the airport. This was the birth of Virgin Atlantic.
His creation was out of his annoyance at the airlines' complete disregard for their passengers, something that we can all probably relate to today.
Of course, by this point in time, Branson was already an extremely successful business owner due to the success of Virgin Records which he cofounded in 1972. His success and capital earned from this business venture made his next steps fairly easy.
Upon returning to London, Branson leased a used Boeing 747 jet to chart his very first flight from London Gatwick Airport to Newark Airport. The flight was in direct competition with British Airways and he didn't stop there.
His goal was to create an airline that put its customers first. This mindset led to innovations like in 1991 when the airline was the very first to offer individual TV screens to all passengers in every class.
This mindset is something that the airline still strives towards today and they seem to be doing well, however, online customer reviews are mixed.
You can watch the video where Richard Branson recalls creating Virgin Airlines on The David Rubenstein Show here.
Branson's Private Jet
While Richard Branson can't fly a plane that doesn't mean he can't own one. In fact, he has his own private jet.
Before 2019, the billionaire was the owner of a Dassault Falcon 900EX a 66-foot long jet with a 70-foot wingspan. It has a range of just over 5000 miles and can reach a speed of up to 540 miles an hour.
However, in 2019 he opted to replace this jet with the Dassault Falcon 50EX a smaller jet that is 60-feet long with a wingspan of 61 feet. He said the switch would make it easier for him to fly into and out of the British Virgin Islands.
Branson's Falcon 900EX has since found a new home. In November of 2020, the private jet was sold to the Formula 1 racer Max Verstappen.
Verstappen is on the Red Bull racing team and ranked third overall in the 2019 racing year.
Richard Branson's Newest Flight Venture
Like other billionaire CEOs Jeff Bezos and Elon Musk, Sir Richard Branson has space in mind. That is why he created the spaceflight company Virgin Galactic in 2004.
The company was the world's first commercial spaceline and is focused on space tourism. They shuttle paying customers from earth into space and back again using their spacecraft.
As it states on the Purpose page of the Virgin Galactic website, "Despite the fact that millions of people would love to experience space, fewer than 600 have been given that opportunity. And despite there being a common understanding of the benefits of space-based research, there are still few scientists who have the chance to reap its benefits. It was this that inspired the creation of Virgin Galactic."
Richard Branson has a vision of a world where space is more accessible for everyone in order to create a better future for the entire planet. While he's not piloting any of these flights, he is certainly helping to make a lasting impact on the world.