A nice watch is often a clear cut sign of wealth and stature. As a billionaire, Richard Branson wears some very nice yet affordable watches.
Richard Branson wears the Torgoen T16 and is also the backer of Vitae London watches. In the past, Branson was also the brand ambassador for the Japanese brand Bulova who he worked with to release a limited edition watch called the Bulova Accutron Sir Richard Branson Limited Edition Watch. Branson also likes smartwatches, owning a Vivofit 3 and Garmin Forerunner.
You can read more below about the Torgoen T16, the company Vitae London, and the limited edition watch Richard Branson put out with Bulova.
Richard Branson Like Torgoen
In a 2014 interview with The Wall Street Journal, Richard Branson said that he wears the Torgoen T16 watch because he likes the look and feel of it. This watch brand is actually a pretty modest price for a billionaire.
The price ranges from $450 to $490 for one of these watches depending on the style and size being purchased. Compared to the $10,000 watches that some millionaire celebrities wear, it's clear that Branson looks for the most value for the price.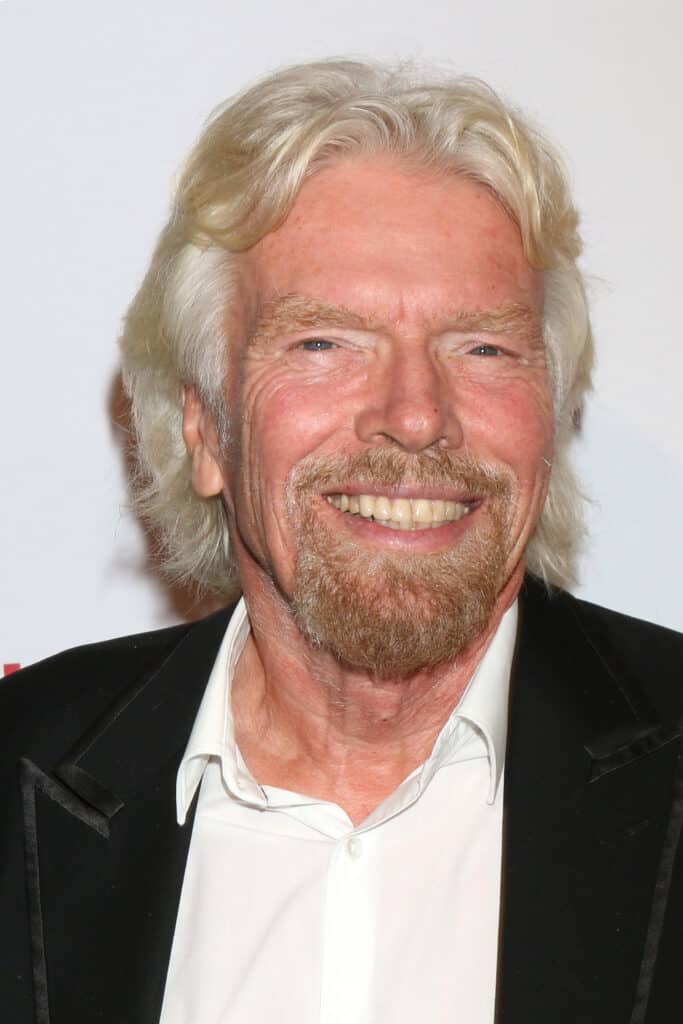 According to the Torgoen website, the T16 was designed in memory of the aircraft designer R.J. Mitchelle. Mitchelle was the man who designed the Supermarine Spitfire Fighter aircraft.
The T16 was designed to look timeless and simple for any wearer and all of the brand's watch designs are inspired by aviation. That's quite fitting for the man who owns Virgin Atlantic Airways and Virgin Galactic.
Torgoen's T16 watch uses what they call a Swiss quartz chronograph movement, which is made by a manufacturer named Ronda. Its case is made from 2161L stainless steel and can have either a mineral or sapphire crystal lens.
This watch is also water-resistant up to 100 meters of depth. It has an Italian leather wristband with a stainless steel buckle.
Many watch enthusiasts are fans of this watch's style and affordability. It has tons of amazing reviews online from experts in the watch field.
Branson Backs Vitae London
The watch brand Vitae London was founded back in 2015 by William Adoasi with the idea to create classic timepieces that were affordable and also helped future generations. The idea was to donate 10% of the profits from their sales to a non-profit, House of Wells.
House of Wells is based in South Africa and helps to support the education and livelihood of African children who are subject to poverty.
Adoasi entered Vitae London into the Virgin StartUp program in order to get off of the ground. They were one of 1,000 startups to receive funding from the over 10,000 applicants.
Then they were offered the chance to submit a video to have the chance to become one of Virgin StartUp's ambassadors in the United Kingdom. Adoasi and Vitae London created a short video while he was in South Africa that showed just how much had been achieved due to their involvement with Virgin StartUp.
You can watch Vitae London's Ambassador Pitch in the below video.
Vitae London was one of only 12 companies to be chosen for the ambassadorship. Through the ambassadorship, Adoasi was able to gift Branson one of their watches.
Bulova Accutron Sir Richard Branson Limited Edition Watch
In early 2011, the Japanese brand Bulova announced that Richard Branson would be the new ambassador for their watch brand. Then in September of 2011, they announced that they would be releasing the Bulova Accutron Sir Richard Branson Limited Edition Watch.
The slogan for the watch campaign said 'Swiss Made. Self Made.' There were only 500 of the limited edition watch made available for purchase and were accompanied with a certificate of authenticity.
In terms of its specs, its movement was certified by the Controle Officiel Suisse des Chronometres and featured a second timezone reading.
It was reported that the watch was "Crafted of titanium, with black alligator strap, the watch includes sapphire crystals over both the dial and the open exhibition case back, to permit a first-hand view of the classic, 21-jewel self-winding mechanical movement in action."
Like Branson's beloved Torgoen, the Bulova watch also featured a water resistance up to 100 meters. Although Branson hasn't really been seen wearing the watch since it was launched.
Nowadays, Branson tends to wear his smartwatches sometimes two at a time. Either way though, it's clear Branson likes a good watch.