Robert Pattinson gathered super fame when he starred as Edward Cullen in the teen vampire films Twilight. His character plays the piano and there is a scene where he sits at a grand piano playing a song, so does Pattinson play?
Robert Pattinson can play the piano. Pattinson has actually been playing since before he started acting. He is actually playing in the scene from Twilight where his character, Edward Cullen, plays 'Bella's Lullaby' for his love interest, Bella Swan. While many sources state Pattinson actually wrote 'Bella's Lullaby', he did not. It was written by Carter Burwell.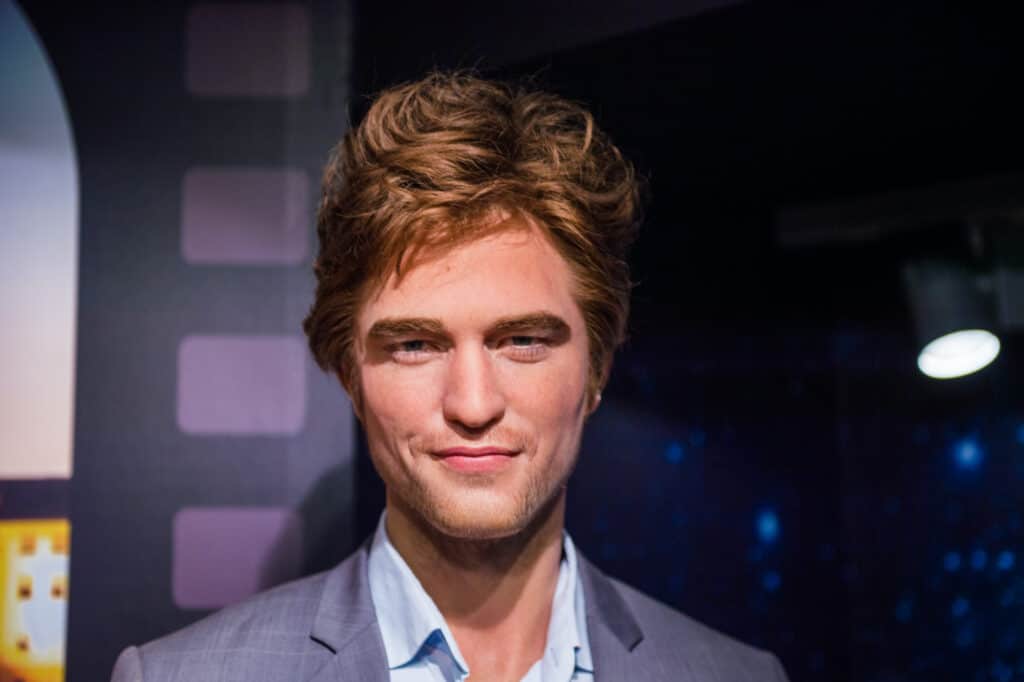 Scroll down to read more about Robert Pattinson's musical background, more about 'Bella's Lullaby', and if he plays piano in any other films.
Robert Pattinson's Musical Upbringing
Robert Pattinson actually learned how to play the piano well before he was acting. He started to learn how to play when he was only three years old.
The piano wasn't the only instrument that Pattinson picked up when he was a child either. When he was five years old, he started learning how to play guitar.
From there, he was really into the whole idea of becoming a famous musician. He even told Vanity Fair back in 2008 that he wanted to be a musician before the whole acting thing took off.
Pattinson told them that all of his friends are also musicians who have album deals, but he is acting now. During the filming of Twilight, he often played at different venues in Portland.
He isn't the only one in his family that is musically inclined either. His older sister, Lizzy, is a talented singer and songwriter.
Lizzy Pattinson appeared on the hit UK television show, The X-Factor, in 2014. Despite having a very famous brother, Lizzy refused to acknowledge that connection when she auditioned for The X-Factor.
Before she auditioned on the show, she had contributed vocals to some of the songs on the Twilight soundtrack.
You can watch Pattinson playing the piano in Twilight: Breaking Dawn Part 2 below.
Who Was Behind Bella's Lullaby?
There are tons of sources out there stating that Robert Pattinson actually wrote the song 'Bella's Lullaby,' which appears in the first Twilight film. However, he didn't actually write it.
The rumors started back in early 2008 when the film was being shot in the Portland area. In an interview with MTV, Kristen Stewart, who played Bella Swan, confirmed that the song 'Bella's Lullaby' was being composed.
Not only did Stewart confirm this, but she also stated that Robert Pattinson was the one who was working on it. In that same interview, director Catharine Hardwicke said "I told him he should write one, and let's see if we can make it work because that would be really cool if it was Rob's song."
This article goes on to say that Hardwicke stated she wasn't committing to Pattinson's version of the song because she had to hear the finished work. It was very possible that she would go with someone else's piece.
As it happened, she ended up passing on his song in favor of a different composer's work. It was the music of Carter Burwell that was chosen to be 'Bella's Lullaby.'
Carter Burwell has consistently worked with the Coen brothers throughout his career, doing the scores on films like The Big Lebowski, No Country for Old Men, and Burn After Reading. So composing a song for a film like Twilight was a big change.
As this Nylon article points out, Burwell had actually written the song before it appeared in the Twilight film. It was a song he had composed about being in love with a "challenging" woman who "pierced" his heart.
That's a very different motivation than the one of extraordinary love and caring that backs the composition of 'Bella's Lullaby' in the Twilight Universe. While Robert Pattinson didn't actually compose the song, he did play the piano on-screen.
Pattinson's Other Music Contributions
Well, Pattinson has a few musical credits like singing on some of the tracks in Twilight, but he's done some other stuff too. In 2013, he played the guitar on the track 'Birds' by the group Death Grip.
Pattinson also worked on the song 'Honeybun' for the 2018 film Damsel and three songs that appeared in the 2009 film How to Be.
In 2019, he collaborated with the English band Tindersticks to compose the song 'Willow.' This song was featured in the film that he also starred in, High Life.