Maybe you saw the video of Robert Pattinson singing in the film High Life or heard that he sang in the Twilight film series. Was it really him singing though?
Robert Pattinson can sing. He has sung on tracks that were featured in the Twilight series of films, as well as in other films like the movie High Life. He has also done on-screen singing performances like when he sang in the 2018 western comedy film Damsel. He even sang karaoke with Katy Perry once!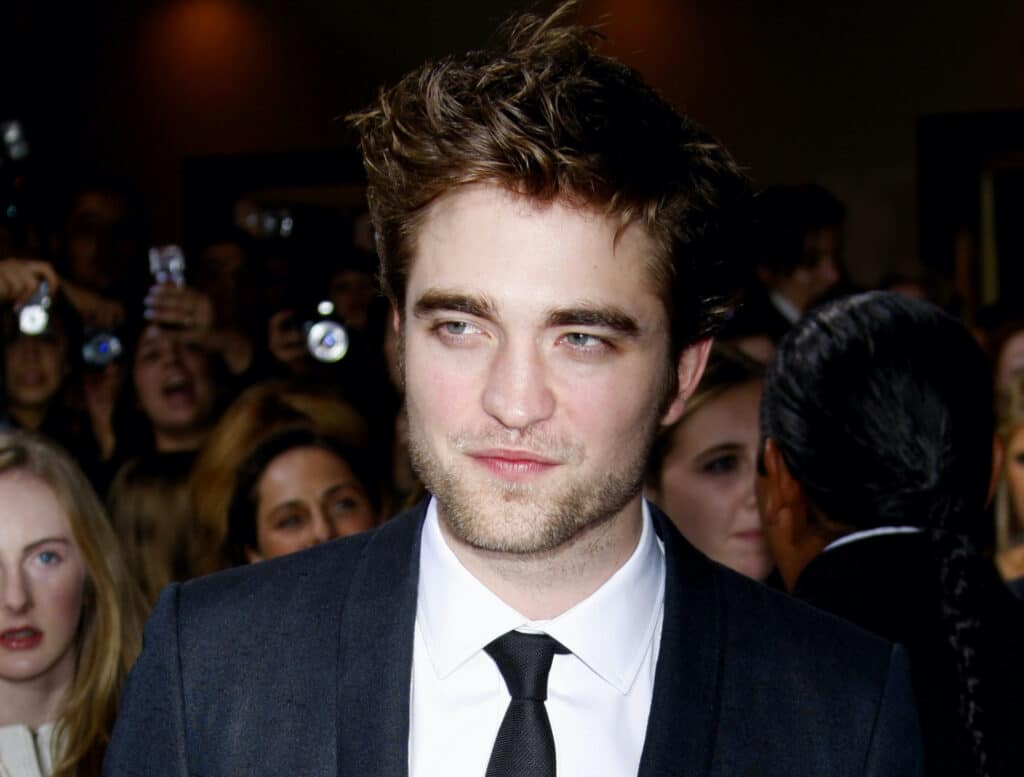 You can read more below about Robert's time pre-Twilight spent moonlighting as a musician, that time he sang karaoke with Katy Perry, and what songs he sang for different films.
Robert Pattinson Was a Musician First
You may not have known this, but before he even landed his role as Cedric Diggory in Harry Potter and the Goblet of Fire, Robert Pattinson was a musician. He had learned how to play piano and guitar when he was still a toddler.
His love for music was fostered in what some would describe as a bohemian household. His father was a car importer and his mother a model booking agent.
While he was in school, Pattinson expressed a love of the creative arts and wanted to pursue acting. However, his drama teacher told him that she didn't think he was the right fit for a life working as an actor.
Pattinson was deadset on acting though and he actually passed up going to college so that he could play Cedric Diggory in Harry Potter, hoping the role would lead to more opportunities. It didn't though and soon he ended up working as a musician to help pay the bills.
As this article from The Guardian points out, Rob was focused on the band he played with, Bad Girls. He was also playing solo gigs on his acoustic guitar under the stage name Bobby Dupea.
He moved to Los Angeles to try and break into Hollywood, but that was proving to be difficult as well. He slept on his agent's couch and continued to play gigs at bars while auditioning for any role he could.
That was all until Twilight happened and he finally got his big break.
Singing On Tracks & On-Screen
When Robert Pattinson became a teen idol and Hollywood star, he didn't drop all connection to singing. He, in fact, used the opportunity to showcase his skills.
In the very first movie in the Twilight film series, Twilight, Robert Pattinson was credited with singing two songs and writing one of them. He was a co-writer of the song 'Never Think' and went on to perform it as well.
He also sang the song 'Let Me Sign' that appeared as one of the iTunes bonus tracks on the feature film's album. His contributions to Twilight led to some other opportunities with singing in his future films.
After Twilight was complete, R-Patz focused on appearing in more independent films than big-budget productions. This could, in part, due to the insane amount of fame he garnered as Edward Cullen.
It seemed that after the massive fame he had and years of unrelenting Twihard fans, Pattinson needed a break from mainstream fame. Indie films were the perfect ticket to a more low-key life.
In some of these indie films, Pattinson was able to express his more creative side and sing on-screen. It was in 2018 that Pattinson sang once again, this time in two films Damsel and High Life.
Watch Pattinson singing the song 'Honeybun' in the movie Damsel below. He actually keeps his put-on southern accent through the whole song too, which is impressive!
Wait, Pattinson Did Karaoke with Katy Perry?
Like any teen heartthrob, there were constant rumors floating around about who Robert Pattinson was dating after he was cast as the alluring Edward Cullen in Twilight. One of those rumors was surrounding a relationship with singer Katy Perry.
Like many tabloid articles, these rumors were just that, rumors. Perry and Pattinson never had any sort of romantic relationship. However, he did show off his singing chops when a video from 2008 was leaked showing the two singing Karaoke.
They had each been invited to a social gathering by a mutual friend. As Perry recalled, everyone got "wasted" and ended up singing karaoke. The two of them sang the song 'I'll Make Love to You' by the pop group Boyz II Men.
Perry was quite furious that the video leaked because the night happened five years before the video came out.
Either way though, it shows that Robert Pattinson really can sing.