Bode Miller is the most successful American male alpine skier who has two world cup titles. He has an Olympic gold medal, so has he ever won an event at famed Kitzbuhel?
Bode Miller has won events at Kitzbühel twice, once in 2004 and again in 2008. In 2004, he won the Hahnenkamm combined event and, in 2008, he won the combined again. Outside of Kitzbühel, he has won the overall title at the world cup twice and has six Olympic medals. He achieved all of this before retiring in 2018.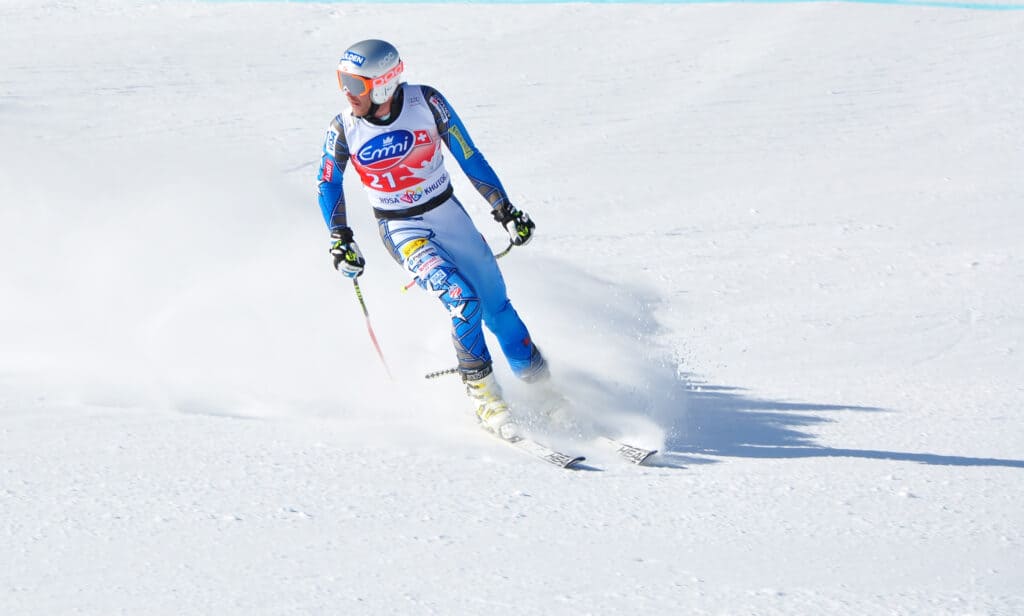 You can read more about Bode Miller's world cup titles, his Olympic wins, and what he has been up to since retirement below.
Bode Miller's World Cup Success
Bode Miller has won two overall World Cup titles for alpine skiing, but his journey to these titles took a lot of perseverance. While he had been representing the US Team since 1998, he didn't win his first World Cup Race until the end 2001.
This win ignited a streak that led to him being recognized as the top skier on the US team, but he still didn't have a World Cup Overall title. He came very close to a gold medal position in 2003, but was unable to beat the Austrian skier Stephan Eberharter.
It was in 2004 that Bode Miller won the combined title at Kitzbühel; his first-ever win at the tournament. That win, along with five others, was not enough to push him to a World Cup gold medal though.
It was the next year, 2005, that Bode Miller finally won the World Cup Overall title, broke a lot of records, and wowed his fans. One incredible incident was when he lost his one ski sixteen seconds into the downhill combined race and decided to continue on one ski for two whole minutes!
After his killer 2005 season, many people were disappointed with his 2006 season that fell short of any major titles, including the Winter Olympics. But, just two years later, in 2008, Bode brought out all the shots and won the World Cup title for the second time.
It was also during the 2008 season that he won the combined title once again at Kitzbühel. There was something a little more special about winning the Kitzbuhel combined this time though.
In 2008, the Kitzbühel combined win was the one that pushed Bode Miller's number of victories past his fellow American Phil Mahre's 27 victories. The win meant that Bode Miller was now America's most successful skier ever.
Road to the Olympics
Throughout his almost twenty-year career, Bode Miller competed at the Winter Olympics five times. His first appearance was at the 1998 Winter Olympics in Nagano, Japan when he was only 20 years old.
At the Nagano Winter Olympics, Miller qualified for the Slalom and Giant Slalom but did not finish either of his runs. This was in great contrast to his next Olympic appearance in 2002.
In Salt Lake City in 2002 on home soil, he won two silver medals and was praised for his determination to be a great skier. This was in stark comparison to his performance at the 2006 Olympics in Turin, Italy, where he failed to make the podium.
After a poor performance, Miller was criticized for constantly partying instead of focusing on his skiing. He was criticized by sports columnist Sally Jenkins, in this article, for failing to even try to perform.
It was at the 2010 Vancouver Olympics that he was finally able to live up to all the hype he had garnered eight years earlier. He won three medals, gold, silver, and bronze, and left as the most successful American skier of the games.
Bode Miller's final Olympic games were the 2014 Sochi Games where he won a bronze medal in the Super G.
Where Is Bode Miller Now?
At the height of his career, Bode Miller was known as the bad boy of skiing.
An article from Independent highlights in just one sentence what he was like during that time period. "The world's most controversial skier lies on the bed of his luxury motorhome, a scantily clad girl on each side, and a smile on his face."
That description is far from the family man that Bode Miller is today. He is now married to the professional beach volleyball player, Morgan Beck. They have four children together and Bode plays the role of a loving father.