Bode Miller is the most successful American male alpine ski racer of all time, having won an Olympic gold medal and two World Cup championships. When and why did he start skiing?
Bode Miller grew up in Franconia, New Hampshire, in the heart of the White Mountains skiing area. He began skiing as a youth and chose to pursue the sport as a career because he loved it. Miller's relaxed attitude about skiing often offended more serious members of the sport's establishment.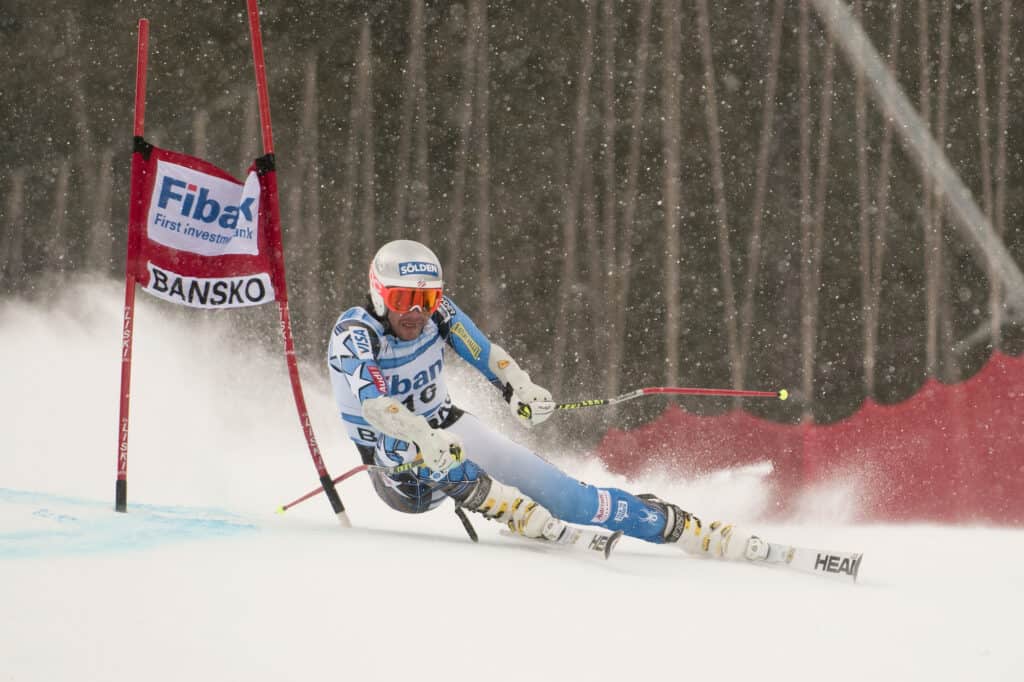 For more on Bode Miller's life and his success as a skier, read on.
Youth
Samuel Bode Miller was born in Easton, New Hampshire on October 12, 1977. His parents were Woody Miller and Jo Kenney.
Miller has described his parents as hippies. He has three siblings: an older sister, Kyla, a younger sister, Genesis Wren Bungo Windrushing Turtleheart, and younger brother, Nathaniel Kinsman Ever Chelone Skan. His younger siblings went by Wren and Chelone.
He grew up in Franconia, in the heart of the White Mountains, a famous skiing area. The family resided in a log cabin in 450 acres of forest land, where they lacked both electricity and indoor plumbing.
Miller was initially homeschooled but his parents divorced when he was in the third grade and he began attending public school. His maternal grandparents owned the Tamarack Tennis Camp, leading Miller to play tennis in his childhood.
He is a contrast to many athletes, who are the result of their parents pushing them into a sport and driving them to be successful, sometimes with negative results. On the contrary, Miller came from an excessively relaxed background and became a champion skier.
Miller became a skier because he loved to ski and he prioritized his enjoyment over any sense of obligation or pressure. Skiing was about having fun and ideally winning but not feeling as though he needed to write a great legacy for the history books.
He applied to the Carrabassett Valley Academy in Maine, a ski racing academy, and was granted a scholarship.
Skiing
Miller quickly became known for an unorthodox skiing style and his incredible ability to recover from situations that would usually spell the end of a run. His physics-defying recoveries earned him the nickname of the "Houdini" of downhill skiing.
In terms of form and personality, Miller was undoubtedly rough around the edges in comparison to many of his more refined skiing rivals. He frequently had fallings out with both his coaches and the wider skiing establishment.
He made his Olympic debut in 2002 at Salt Lake City, winning silver medals in the giant slalom and combined categories. Miller's good looks and unapologetic attitude made him an immediate star in the sport.
Four years later, at the 2006 Winter Olympics in Turin, Miller failed to medal in any category. Whatever his true feelings, his response was blase, saying that he had enjoyed "an awesome two weeks" and "got to party and socialize at an Olympic level".
The comments brought Miller significant criticism from the skiing establishment, who he referred to as "role-model Nazis". Angered, he quit the US team and spent a period skiing without their support, coming close to quitting the sport entirely.
Despite his career coming close to the brink, Miller returned to the Olympics in 2010 in Vancouver and won three medals, including his only gold medal in the super combined event.
He returned in 2014 at Sochi, having overcome a terrible knee injury, to bow out on sport's grandest stage. He won his sixth and final medal, in the Super-G event.
With his six Olympic medals, four World Championship gold medals and 33 World Cup race wins, Bode Miller is the most decorated male downhill skier the United States has ever produced.
He is one of very few skiers to have won a World Cup event in every skiing discipline.