James Dean was an American actor who starred in three films, all of which are celebrated and thought of as classics, and remains a revered icon to this day. He's a pop culture icon who died far too soon, but did he leave a mini-me in his wake?
At the time of his death, James Dean had not yet become a father and he left behind no children. Given the fact that the smoldering lady's man died at the age of 24, at a time where the average age to become a father was 26.1 years old, this fact is somewhat surprising.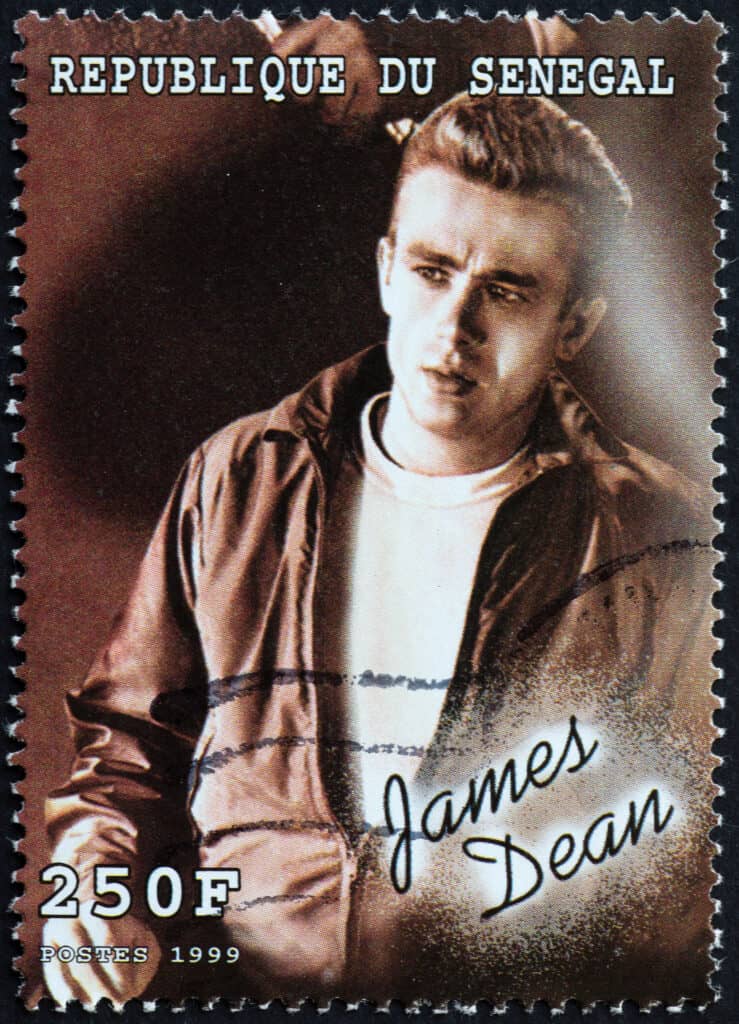 Despite passing away in 1955, people of today cannot get enough information about the brooding Hollywood bad boy. Let's take a deep dive into what James Dean's relationship was like with his father, and whether he fathered a child of his own.
Who Were James Dean's Parents?
Dean had a complicated relationship with his parents. He was extremely close to his mother, who biographer Michael DeAngelis describes as "the only person capable of understanding him."
Mildred was the daughter of a factory worker who had a deep interest in the arts and a passion for poetry. Winton was a farmer turned dental technician.
By all accounts, he was a happy but lonely child as is often the case with only children, who enjoyed his childhood for the most part. But all of that changed in 1938 when his mother began losing weight and complaining of acute stomach pain.
Devastatingly, those were the first symptoms of cervical cancer. Mildred passed away from the disease when James was just nine years old.
James Dean and His Relationship With His Father
Unfortunately, James' father was unable — or unwilling, depending on who you ask — to care for his son after the tragic death of his wife. As a result, James was sent to live with his aunt Ortense and uncle Marcus on their Fairmount farm.
Though harsh, this proved to be the right call, as the couple loved James deeply and encouraged him to be creative.
Over the years, James managed to rebuild his relationship with his father to such an extent that after graduating from Fairmont High School he moved to California to live with his dad and his new wife.
All was going well until James, while a student at UCLA, changed his major from pre-law to drama. This change resulted in the father kicking his son out of the house and the pair became estranged.
Sadly, James and Winton were never able to reconcile as Winton wholeheartedly disapproved of James' career choice and had high hopes for his son to become a lawyer. It's believed that James tried to reconnect on several occasions, but Winton declined his offers to meet up.
Given the devastatingly complicated relationship that James and Winton had, it would not have been surprising — should he have gotten the chance to decide — if James opted out of becoming a father.
Does James Dean Have a Secret Child?
James had an incredibly active love life and he had been linked to the likes of Marilyn Monroe, Natalie Wood, and Barbara Glenn. But his biggest love and best-remembered relationship was with a young Italian actress named Pier Angeli.
Much like James, Pier had a string of lovers behind her and was beginning to cement herself as a serious actress. Before her highly publicized relationship with James, she had been linked to Kirk Douglas and Marlon Brando.
The young lovers fell head over heels for each other and would shower one another with gifts. By all accounts, they were inseparable.
Ultimately, they split because Pier's mother didn't approve of her daughter's suitor, and James himself didn't feel he was stable enough to provide for Pier.
Shortly after the pair split, Pier announced her engagement to an Italian-American singer named Vic Damone. It would soon be revealed that Pier was pregnant.
Joe Hyams, a Hollywood columnist and author, claimed in his book 'James Dean: Little Boy Lost' that the baby was James'. He recalled going to Dean's home and came face-to-face with a tearful James who revealed that Pier was expecting and that it may be his.
As much as his fans may wish that this was the truth, it was not and the consensus is that Hyams included this in his book in order to boost sales. The baby — a little boy who Pier named Perry — was fathered by Vic Damone.